MIDDLEBURG, Pa. — When one of Nathan Blank's dairy cows rolled him onto the ground, he knew this was the last straw.
The struggles of the dairy industry were hitting his farm, which he shared with his father, Ken Blank, in Middleburg, and another injury just didn't seem worth it.
Nathan had just recovered from a 50-foot fall down a silo shoot a few years earlier. At 24, he did not want to take any more risks.
Still, watching the cows get loaded up and pulled away after the sale was not easy either.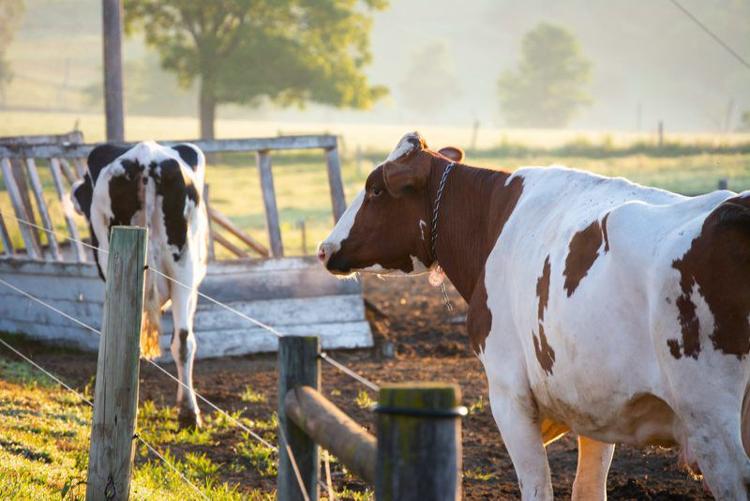 Local photographer Ashley Swineford was asked by the family to take photos of those moments to make a photo book. Images of Nathan with his head down watching the truck pull away were among the emotional moments she captured.
The farm had a lot of memories for the Blank family.
Ken Blank was 8 years old when his father, Joseph Blank, moved the family to Snyder County from Lancaster in 1974.
Joseph and Grace Blank rented the property in the village of Paxtonville near Middleburg for several years and milked up to 75 cows.
When Ken was 24, in 1990, he and wife, Joanne, purchased the farm with his parents. They continued to operate it as a dairy. Ken said the goal was to sell Joseph's portion to Nathan when he graduated from high school.
As the dairy industry started to turn sour when Nathan graduated in 2012, Ken decided to partner with Bell & Evans and raise chickens as a back-up plan and built a breeder barn. He later put up a second barn.
Nathan was ready to help with the cows full time. However, on the morning of Aug. 30, 2013, things rapidly changed.
Nathan slipped inside the shoot 50 feet up the silo. He came down hard on his feet, shattering his ankle and crushing his heel.
He was airlifted to a trauma unit where surgery was performed.
"The doctor said he went through two drill bits," Joanne said, to pass through Nathan's thick bones. The doctor joked his bones must have been solid from all of the milk he consumed his entire life.
Nathan was confined to a wheelchair for many months, but it didn't stop him from getting out onto the property, pushing his chair through mud and snow. He managed to go hunting for deer while wheelchair bound and often got himself stuck out in the fields.
It was not long after Nathan's accident that Ken rolled a tractor and tore his rotator cuff.
Ken said in 2015 his father handed over his share of the dairy farm. Nathan became an official owner with his dad in 2016.
It was questionable whether the dairy would continue due to cost.
"It cost $18 (per hundredweight) to produce it," Ken said of the milk, "It didn't take a brain surgeon to determine what we would have to do."
In May 2018, Nathan married his bride Sarah, who also grew up on a farm. One month later, as he was moving a cow into the barn, Joanne said, "(The cow) slipped and fell and took his feet out from under him."
"I said I was done," Nathan said of that moment.
"But I'm not sure if I really meant it."
Joanne said she and Ken often suggested over the past two years that maybe they should sell the cows. Nathan loved dairy farming and, despite that fall in 2013, he wanted to make the best of it.
But slipping on that concrete and just missing a cow lying on top of him was enough to give Nathan flashbacks.
He no longer wanted to face a serious injury like he had before, and then have no money to show for his perseverance.
"There was not enough help here to get anything done," Nathan said, as hiring additional laborers was not affordable.
Ken and Joanne's oldest child, Jeannette Blank Stackhouse, works with the state 4-H council. She helped the family get the word out that the cows would be put up for sale.
"We sold the bottom end of the herd first," Ken said.
The auctioneer was able to find three people in advance who talked to dealers for the cows.
"People were asking me what I was expecting to get (out of the sale)," Ken said, "I said whatever they bring, they bring."
The family sold 31 cows in Belleville on July 20. Ken later learned that a third of those cows came back to his area of Snyder County.
Some dry cows, Ken said, were sold privately.
"I decided anything I didn't want to buy at a sale I got rid of."
Ken and Nathan decided not sell the tank and pipeline in the barn.
"We let everything in there in case we wanted to start up again," Ken said, although that doesn't seem likely for a while.
The family kept a few cows that were personal favorites for sentimental reasons including some heifers and nine show calves.
"I showed some of them at the fair," Nathan said. That July 20, Nathan took time to say goodbye to each one. This was what he grew up knowing, and letting go was harder than he expected.
Joanne said Nathan and sister Jeannette were brought to the barn as infants in their grandfather's baby buggy.
"They knew milking from the time they were in diapers," Joanne said.
"Dairy farming was always my dream," Nathan said of his childhood.
The new plan is to keep up with the chickens. Joanne said the process began with Ross Reds, a European breed.
"Bell & Evans wanted us to do a slow grow," Joanne said, because chickens were found to be growing too fast and producing dry white meat.
"We had a lot of problems at first," Joanne said in regards to the adjustment.
Ken tossed around the idea of raising beef and buying some feeders, but chose to stay with chickens. Nathan said perhaps down the road he would consider beef, but he also has a desire to do some custom farming.
"People ask me 'How do you like chickens?' But I tell them it is not whether or not I like it, it's about if we want to keep the farm."
Nathan said he held onto the hope of keeping the cows and was not ready to let go until that fall this summer.
"If it wasn't for the silo accident, the fall, I would have tried to hold onto the farm," Nathan said.
The farm also consists of 135 acres which includes corn, soy beans, hay and barley. They have a second farm of 100 acres, 50 tillable.