ELIZABETHTOWN, Pa. — As a boy, Matt Espenshade often accompanied his father to farm meetings.
As he listened to the grown-ups talk, he picked up a repeated complaint — that the cards are stacked against dairy farmers.
"I remember thinking when I was young, 'Well, why doesn't anyone do anything about this?' " Espenshade said.
As an adult, Espenshade has taken that question to heart, working on behalf of his fellow dairy farmers in government and community settings.
For these and other efforts, the Pennsylvania State Grange named Espenshade its 2019 Granger of the Year.
Espenshade was honored at the group's annual meeting in October and his local Grange's holiday party last week.
"It was really the honor of a lifetime," Espenshade said.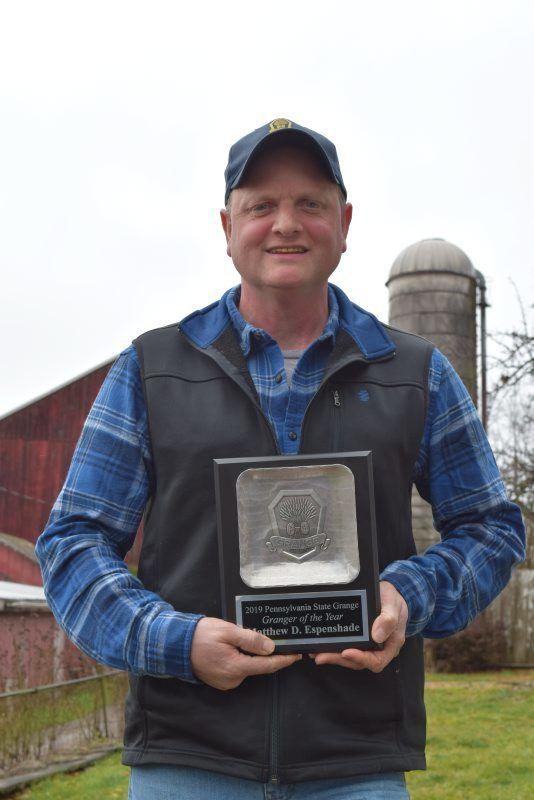 Though many Grangers get involved in the rural advocacy organization through their parents, Espenshade isn't one of them.
When he came back to his family's Lancaster County dairy after graduating from Penn State, he wanted to get involved in the community.
Espenshade thought of his local Elizabethtown Grange, which had presented him with a $50 savings bond in high school for being an outstanding ag student.
The Grangers quickly put their trust in their former awardee.
Espenshade was elected as overseer, or vice president, in 1996, the year after he joined, and he became master, or president, four years later. He's been in that role ever since.
Elizabethtown Grange was founded in 1982, making it a young sprout in an organization with many century-old chapters. It has about 60 members, with average meeting attendance of two dozen.
"We have a fantastic group of people that are really dedicated to the organization, and that makes it all worthwhile," Espenshade said.
Elizabethtown Grange nominated Espenshade for Granger of the Year.
The state organization has also given Espenshade a platform to speak for Pennsylvania's dairy farmers.
Since 2008, Espenshade has testified for the Grange at hearings of the Pennsylvania Milk Marketing Board.
One of the board's key duties is setting the over-order premium, which is paid to dairy farmers on fluid milk that is produced, processed and sold in the state.
The board has to balance aiding farmers with keeping the state's milk competitive on the market. The premium is currently at $1 per hundredweight.
Most hearing participants are not farmers. They're attorneys or economists who speak for the dairy cooperatives and processors.
Espenshade has learned a lot from them about the complexity of the dairy supply chain.
"A lot of times farmers, they don't think about the milk after it leaves the farm. But there are challenges along every aspect from the farm to the grocery store," he said.
For his part, Espenshade describes how his farm has been doing over the past few months. He builds his testimony over several weeks, gathering data on recent weather and expenses.
Talking about the farm's challenges isn't exactly fun, but Espenshade recognizes that he's speaking for many farmers whose situation is similar to his.
"Somebody has to share the story," he said.
The testimony seems to be having its intended effect. Espenshade believes the board considers how its decisions could affect small farms like his.
The board has also been accommodating when farm chores cause him to run a little late for the hearings. Espenshade and his father, Harvey, milk 75 cows and run the farm with no hired help.
Not all dairy farmers may be able to testify at a hearing, but Espenshade said they can still help the industry in other ways, such as promoting milk on social media and talking about farming with their neighbors.
"I found this to be my niche where I can help make a difference," he said.
With his local Grange, Espenshade is also making a difference in his community.
Elizabethtown Grange holds a dairy-themed coloring contest every June. Children's entries are displayed at the public library, and the winners are invited to an ice cream social.
The group has used proceeds from a milkshake fundraiser to help the local police start a K-9 unit. The dog and its handler visited a recent Grange meeting, which Espenshade counts as one of the highlights of the past year.
And Elizabethtown Grange still recognizes local high school ag students, though the savings bond has been replaced by a $500 scholarship.
The Grange experience has been good for Espenshade personally as well. He met his wife, Charlene, through the organization, and the pair were named the State Grange's Young Couple of the Year in 2005.
Espenshade has enjoyed watching their sons — Evan, 14, and Alan, 11 — grow up in Junior Grange and learn leadership skills they may one day use to serve the organization.
The National Grange was founded in 1867 — the same year, incidentally, that Espenshade's family moved to its current farm — and he believes the group holds a unique position in public life.
It represents farmers, to be sure, but also the broader interests of rural people and consumers. It's a community service, lobbying and fraternal organization all at once.
That big-tent vision is one reason the State Grange has championed rural broadband expansion.
Farmers need the service to make full use of precision ag tools, while everyone can benefit from increased access to telemedicine.
Espenshade also sees the Grange as a check on the busyness of modern life.
"The Grange is something that the entire family can go to, and we're all in the same meeting room together," he said.
Espenshade takes a similarly hopeful approach to agriculture.
Consumer demands will determine what dairy farms look like in the future, he said, but there will always be a place for small family farms.