Sometimes genetic traits skip a generation. For a family in Central Square, New York, it seems the "dairy gene" skipped from grandparent to grandchildren — make that granddaughters.
Sisters Trista VanDuzer and Melissa Booth joined forces in reviving their grandparents' farm and bringing a dairy herd back to the 220 acres — an enterprise the older generation had quit in the 1980s.
While the sisters' parents had raised beef cattle on their own farm as the girls grew up, dairying was completely new to the women.
When he was in college, their brother, Edson House, wanted to return their grandparents' farm to run a dairy. He and Booth began planning the venture in 2017 with their parents' help. By 2018, VanDuzer left her 20-year career in the corporate world to help her siblings.
To make the farm work, the siblings decided they had to automate. The cost of labor and quality of life issues were big factors in deciding to go with robotic milking and feeding systems.
With Farm Credit and family funding helping, they purchased two Lely Astronaut milking robots, a Lely Vector feeding robot and Valmetal Combox silage machine.
This equipment enables their team of one full-time employee and six part-timers to care for 115 Holstein and Jersey cows. The farm raises the same number of dry cows and calves, though the calf care is still done by hand.
The siblings also built a new barn to accommodate the equipment and herd.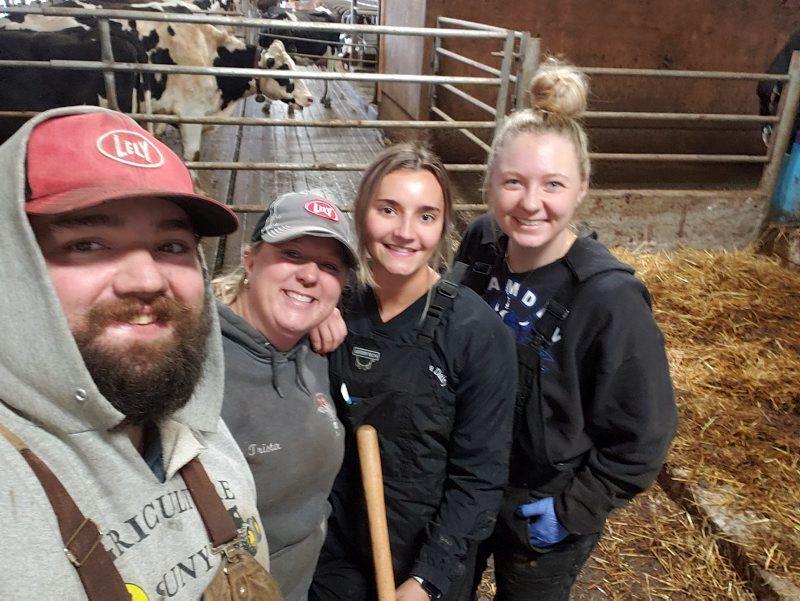 In 2019, Edson decided to pursue other ventures, but his sisters kept running the farm. They built up the herd and hired workers. They had a hard time finding labor — a common theme among dairy farms.
One day, VanDuzer realized that the duo had hired an entirely female crew.
"I didn't intentionally hire all women," she said. "I was so desperate to find employees, and every person I hired until the most recent hadn't been around cows."
The sisters learned together by asking more experienced farmers, calling the vet and researching online.
"There were several male friends who would stop in and were amazingly empowering," VanDuzer said. "They wouldn't just do things for us but teach us to do things for ourselves."
Cross-training is a big part of learning on the farm. The sisters want to make sure any worker can cover for nearly any other worker, which improves the team's flexibility.
Modern Equipment, Traditional Values
Lately, the sisters have hired a couple of men. Though recruiting employees has been tough, VanDuzer is thankful for the labor-saving equipment that has helped keep costs low, improve the farmers' quality of life and boost herd health.
Those are a few of the advantages of using robotic equipment, according to Whitney Davis, a dairy equipment project specialist with Finger Lakes Dairy Services Inc., which helped the farm plan and install the equipment.
Davis has been a Lely robotic equipment dealer for 14 years.
"What we've found with our nearly 50 robot customers is that these automation tools provide a way to stay in business, considering the difficulty in getting labor and the expense of labor on a dairy farm," Davis said. "It makes you a lot more efficient and productive."
Many farmers still have a perception that the equipment cannot work for their farms because it's expensive. Davis maintains that the labor savings, the increase in milk production — as high as 15% — and the improved herd health mean that the equipment eventually pays for itself.
"Dairymen focus on the cost, but they need to look at the payback," Davis said.
Robotic systems also help farms manage herd health and cow comfort. The robots provide real-time feedback on 130 points of animal health.
The system also allows cows to behave more naturally than they would in a parlor because the cows decide when they need to be milked.
Though learning how to use the robotic systems can take a little time, Davis said that shouldn't be a reason to avoid the technology.
"We continually do things differently than we did in the past," he said. "Some folks just continue to do what they've been doing the way they've been doing it for years. If you do what Grandpa did, you'll probably get the results Grandpa got."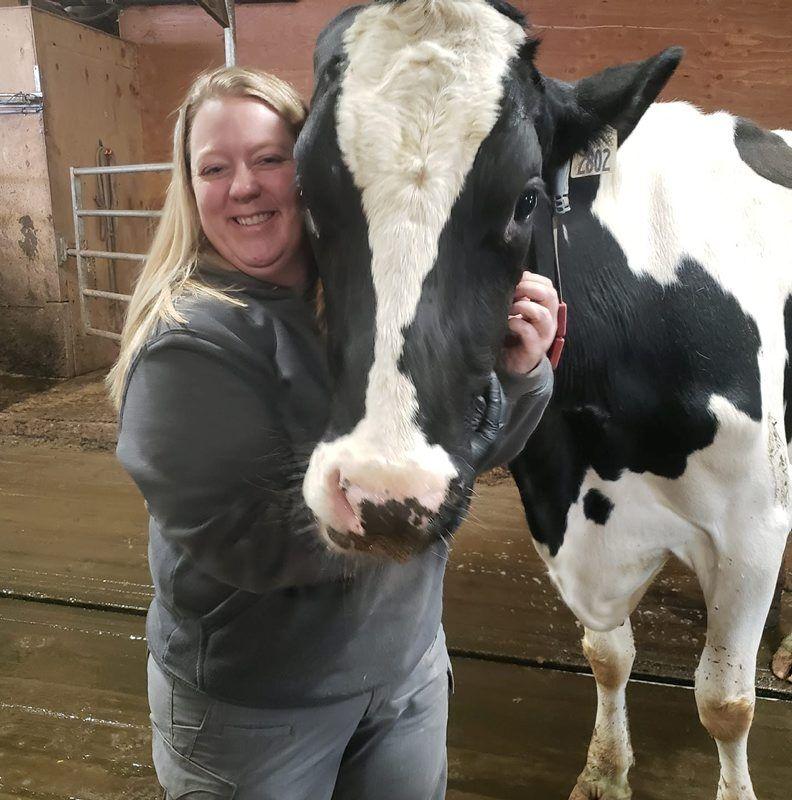 Without a doubt, the sisters at Twin Mill are updating the farm from their grandparents' management, yet the most important parts of dairying remain the same.
"Everyone who works here cares so much about animals," VanDuzer said. "Everyone is calm, quiet and walks. The only tool we use to move the cows around is a ballpoint pen."
The farm sells to Queensboro Farm Products in Canastota, which supplies Chobani.
Especially considering her and her sister's inexperience in dairying, VanDuzer is pleased with how well the farm is operating.
"If we try something and it doesn't work, we try something else," VanDuzer said. "Our vets have taught us so much. We do the majority of our own treatments now, even IVs. But we don't fit the mold of farmers."
VanDuzer is accustomed to breaking molds. She had previously worked in information technology, primarily a men's field. She still consults in IT occasionally.
VanDuzer also runs a trucking company, TrisTek Enterprises, delivering dirt and gravel in her dump truck.
"I'm an optimistic, outgoing personality, and I don't often notice I'm the only woman until people notice," VanDuzer said. "My only disadvantage is I'm short and a lot of equipment is built for taller people. We've made adjustments to equipment and tools that help us adjust for not having the strength too."
But the farm, its owners and employees are becoming a well-oiled machine.
"I've turned most of our employees into decent operators," VanDuzer said. "They are capable, empowered and do a great job."