KIMBERTON, Pa. — When she talks about Seven Stars Farm, there's something about Cindy Dunphy's voice that's equal parts awe, gratitude and confidence.
"Our girls are healthy and happy. And whatever we're doing works and has worked for a really long time."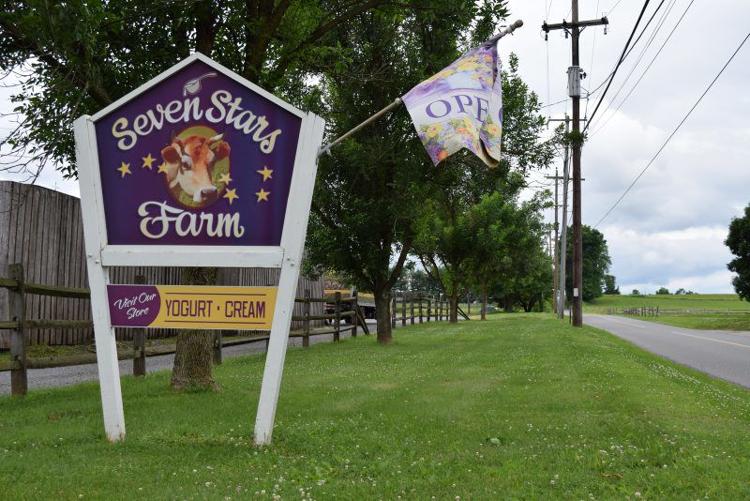 For 30 years, this little dairy farm on the edge of the suburban sprawl of Philadelphia has been steadily producing yogurt that is apparently in such high demand it markets itself.
Dunphy and her husband, Mark, along with two of their sons, Ryan and Zack, are the owners and operators of the dairy farm and yogurt processing facility across the street from Kimberton Waldorf School, which leases land to the farm.
This stretch of road is flanked by acres and acres of green, rolling pastures, untouched by the housing developments that have consumed much of the surrounding area.
"We're sort of the last farm," Ryan said, meaning that once you cross the covered bridge at the eastern edge of the farm, it's pretty much houses, stoplights and convenience stores.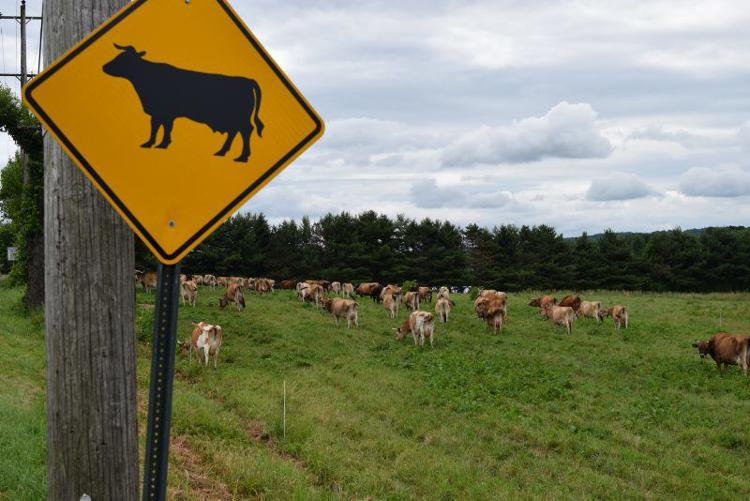 It's easy to forget all that on the farm, though, with its 450 acres of pastures and cropland. And then there are the cows.
Eighty-five Jerseys graze the pastures with 30 replacement heifers. The rolling herd average is around 11,000 pounds.
Roughly 30 paddocks range in size from 2 to 10 acres, and the herd is rotated accordingly.
"It depends on weather, obviously, how much rain we get, and quality of the pastures," Ryan said. "Usually it's about 10 to 14 days before the cows can go back in that same pasture again. We clip all our pastures after the cows go through to try and stimulate regrowth, and knock down cow patties so you don't get the horn flies and all the other flies."
The farm practices both organic and biodynamic agriculture. Biodynamic ag is based on the teachings of Rudolph Steiner, founder of Waldorf education.
According to The Biodynamic Association, biodynamics is a way "to integrate scientific understanding with a recognition of spirit in nature," and basically views the farm itself as a living organism, an interconnected web of plants, soil and animals.
"I would say the biggest challenge in farming biodynamically and organically is just trying to control weeds — weed pressure. You're at the mercy of Mother Nature all the time," Ryan said. "You know if you get too much rain in a year like this, you still have to put cows outside. It's real hard on the pastures."
To keep the pastures in good shape, the Dunphys reseed them every five to seven years.
"So what we'll do is we'll break ground, spread compost and we'll go to sudangrass," Ryan explained. "And then in the fall we go to triticale or oats, and we'll graze that, and then we go back to sudan the second year. And then in the fall of second year we go back to pasture."
The Dunphys aren't the original owners of the business, but they're committed to the founding principles — and the success of their yogurt operation and quality of their product is proof that it's working.
Seven Stars yogurt can be found throughout southeastern Pennsylvania and beyond, and has gained a loyal customer base. The product basically markets itself, according to Cindy.
"If we can get somebody to try it, they'll buy it," she said. "One of the ways we market it is small stores that are opening up. I'll give them a free fill for their shelves if they'll carry our product. I will give them a couple of free cases if they will sample it out to their customers, if they will let their employees try it. It just makes sense."
Next to the silver dairy barn is a long, wood-sided barn. Inside is a farm store and the yogurt processing plant.
The farm store consists of a few refrigerators and freezers where customers can buy yogurt — plain, maple, lemon and lowfat — along with heavy whipping cream, cheeses and freezer beef.
"Every single person who walks in here and says 'I've never tried your yogurt,' they get a quart for free," Cindy said. "And people are shocked, but they come back because they like it. So I think we market our product by getting people to taste it."
Half of the milk used in yogurt production comes from the farm, and the rest is bought locally, all from organic Jersey herds, and "only from farms that we have longstanding relationships with," Cindy said. "Because we have our own truck, we're on that farm three to four times a week, talking to that farmer. So it's not like we just buy milk. We have long-term relationships with these folks. It's kind of like this family relationship."
The process of making yogurt is fairly simple, Cindy explained.
"The milk is in our milk room in the bulk tanks. We sanitize our vats in the morning with a high heat sanitization. We pump the milk into the vats. We pasteurize the milk, we cool the milk down, we add the culture, we take the milk out of the vat, we put it in the quarts and we put the quarts in the incubator."
The pH level determines when the product is ready to be shipped. This can be anywhere from a day to a few days, depending on the weather.
"Today, it will be finished really quick because the culture is living and breathing, you know, every day is different," Cindy said. "So on a day like this when it's hot and humid, it's like the culture knows what's happening."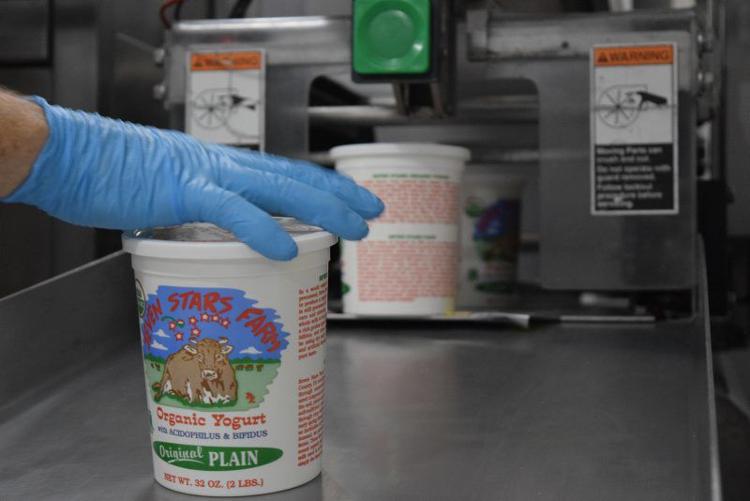 Early on, the farm decided it would only sell yogurt in quart containers.
"It was kind of an ethical decision because of the amount of plastic put out into the world," Cindy said. "We're in a position where we have to use plastic containers, but we just felt that if people wanted smaller sizes, like to take in their lunch box, they could use a reusable container and then we wouldn't be responsible for putting more plastic out into the world."
"We do have lots of requests for smaller containers and we revisit it all the time," she said, "but I also think that we do what we do really, really well. And we kinda leave it at that."