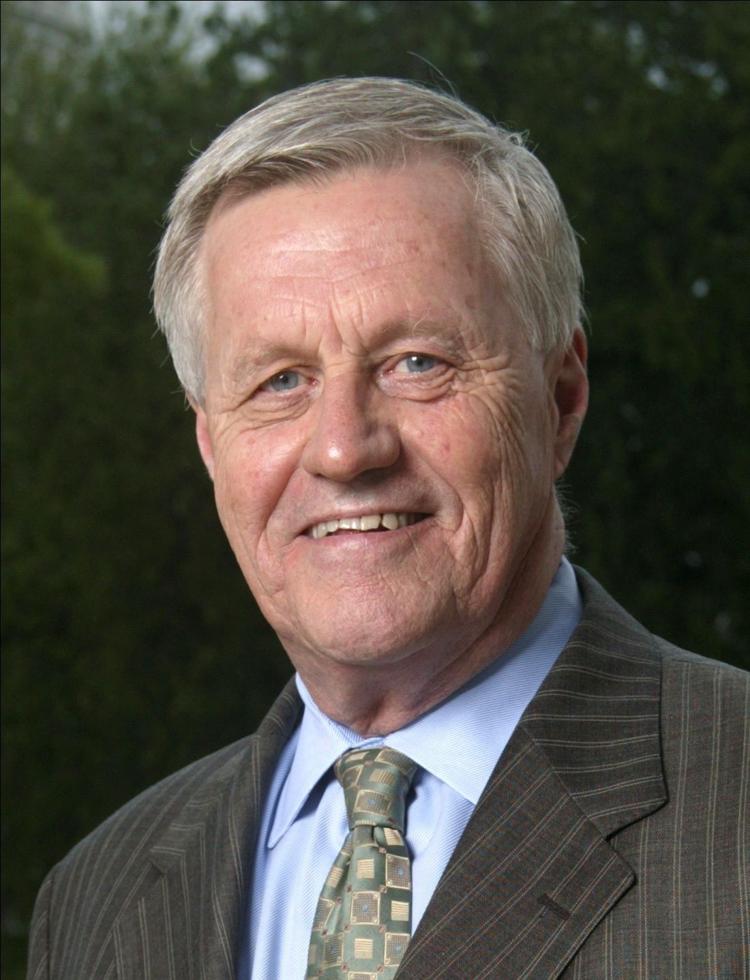 U.S. Rep. Collin Peterson is a top supporter of a new bill to reintroduce whole milk to the National School Lunch Program.
Peterson, the chairman of the House Agriculture Committee, also happens to be the only sponsor of the bill who voted for the law that took whole milk off cafeteria trays in the first place.
The Minnesota Democrat's reversal is just the latest symbol of farmers' vexed relationship with the seemingly obscure federal policy on school lunches — and the ag industry's decadelong recoil from a controversial law designed to curb childhood obesity.
Whole Milk Gets Expelled
In some ways, the story of the Healthy, Hunger-Free Kids Act of 2010 begins with someone who never even voted for it.
Michelle Obama, like many first ladies before her, chose a civic cause to champion during her husband's time in office.
Her cause was encouraging children to eat healthful foods and get more exercise.
From a public health perspective, the choice was hard to argue.
Childhood obesity had skyrocketed over the preceding 30 years. Nearly one in three children were overweight or obese, according to the archived website of the first lady's Let's Move campaign.
Conservatives didn't find Michelle Obama's lifestyle advice so innocuous, though, when she started supporting rules that would limit what foods could be served in cafeterias that participated in the School Lunch Program.
To some, this seemed like a government overreach.
Julie Gunlock, a senior fellow at the Independent Women's Forum, suggested that Obama had hit on a better strategy when she discussed changing her daughters' routine to help them lose weight.
"Parental involvement, not the federal government, is the only long-term cure for childhood obesity — as Mrs. Obama has shown by her example, if not by her policy proposals," Gunlock wrote in National Review in February 2010.
Still, some changes Obama supported — more whole grains, less salt and, crucially, less milk fat — were enshrined later that year in the Healthy, Hunger-Free Kids Act, a periodic reauthorization of child nutrition programs.
The bill passed the House with mainly Democratic votes, including Peterson's.
Three Republicans who voted against that bill are now sponsoring the whole milk bill with him.
They are the new bill's prime sponsor, Glenn Thompson of Pennsylvania; Mike Conaway of Texas, the Ag Committee's ranking Republican; and Steve King of Iowa.
The milk bill's 10 other co-sponsors were not in Congress in 2010.
Unintended Consequence
Conservatives weren't the only ones up in arms by the time the Healthy, Hunger-Free Kids Act began to be translated into regulations. Ag and food groups fought proposals that could take their products out of students' hands.
"As the government began turning the broad guidelines into specific rules — specific rules with specific consequences for specific players — life became more difficult," Nicholas Confessore wrote in a 2014 New York Times investigative piece on school lunch policy.
Dairy farmers were smarting from the exclusion of whole milk from large school districts like New York City and Los Angeles in the years before the federal lunch law was passed.
They were also suffering from consumers' fear of high-fat foods and a long-running decline in fluid milk consumption.
Schools are a major market for fluid milk, a class of dairy products that is generally more lucrative for farmers than, say, milk powder.
In the first two years after whole milk was pulled from schools, 1.1 million fewer students drank milk with their lunch, according to the National Milk Producers Federation.
What had begun as a crusade to help children had, it seemed, dealt a blow to dairy farmers.
Producers' woes became harder to ignore as the decade wore on. Milk prices, for a variety of reasons, are in a multiyear slump, and families have been getting out of the dairy business.
Peterson acknowledged those struggles two weeks ago in the announcement of the whole milk bill, saying dairy farmers are "continuing to face extremely difficult market conditions."
Minnesota is the nation's eighth largest dairy producer — right behind Pennsylvania, the home state of Thompson, the milk bill's prime sponsor.
Farmers, naturally, have been pushing to get whole milk back in schools for much of the past decade.
They argue, among other things, that students will prefer the taste of whole milk to the skim or 1 percent they're getting now.
The full-fat cause got a boost in 2014 when Nina Teicholz published "The Big Fat Surprise," which questioned decades of nutritional advice about fat.
In short, whole milk has become an easier sell than it was just a decade ago.
Waste Not
Despite the criticism from conservatives and farmers, Barack Obama's USDA declared the new school lunch regulations a success.
In a 2014 "fact sheet" that barely mentions dairy, the agency says students were eating more fruits and vegetables, 90 percent of schools were meeting the revised standards, and food waste had not increased.
But critics — including Sonny Perdue, the current ag secretary — say too many students are discarding or not taking the new, nutritious foods on the menu, leading to waste and undercutting the law's goals.
"A perfect example is in the South, where the schools want to serve grits," Perdue said in 2017. "But the whole grain variety has little black flakes in it, and the kids won't eat it. The school is compliant with the whole grain requirements, but no one is eating the grits."
Perdue has taken steps to relax the Obama-era rules on whole grains, sodium and milk fat in school lunches.
The data that bears on Perdue's statements is a bit contradictory, though.
Examining low-income, high-minority schools in New Jersey, researchers from Rutgers and Arizona State found little change in students' participation in school meals in the years immediately after the new standards were implemented.
But in 2018, the School Nutrition Association, an industry group, said overall participation in school lunches had dropped by nearly 2 million since 2010.
Public school enrollment increased by 1.2 million over that time, according to numbers from the National Center for Education Statistics.
Peterson's Perspective
The development of Peterson's thinking on school lunch policy isn't entirely clear either.
He apparently didn't release a press release in 2010 explaining his vote for the Healthy, Hunger-Free Kids Act.
That vote isn't particularly remarkable, though, considering House Democrats voted 247-4 in favor of the bill.
Peterson didn't provide an on-the-record comment for this story despite several requests, though a background source from his staff said the congressman has found that students don't have enough dairy options that they want in schools.
It is clear, at least, that Peterson — by all accounts an ag-friendly legislator — has been stepping back from certain provisions of the Healthy, Hunger-Free Kids Act almost since the law was passed.
In 2011, he was one of several Minnesota lawmakers who criticized a proposed change to the way the government classified tomato sauce on school pizza.
"I just disagree with telling people how to eat," Peterson told the Minneapolis Star-Tribune.
And in 2017, Peterson was an early supporter of a bill to offer low-fat regular and flavored milk in schools.
So whatever affected Peterson's thinking — the tastes of schoolchildren, changing dietary advice about fat, the plight of dairy farmers — he supports restoring whole milk to schools in 2019.
The question is whether he and Thompson can find enough other members of Congress willing to rewrite a small piece of the Obamas' legacy on behalf of dairy farmers.