NEWARK, Del. — Pass the crackers please.
The University of Delaware Creamery has begun producing cheese, beginning with three varieties of cheddar curds in July and its first aged cheese called Delaware Gold.
It's a modest start, but other varieties are expected to follow quickly with plans for butter and yogurt also in the works. Delaware Gold went on sale on Oct. 18 and is described as a Colby-style farmstead cheese.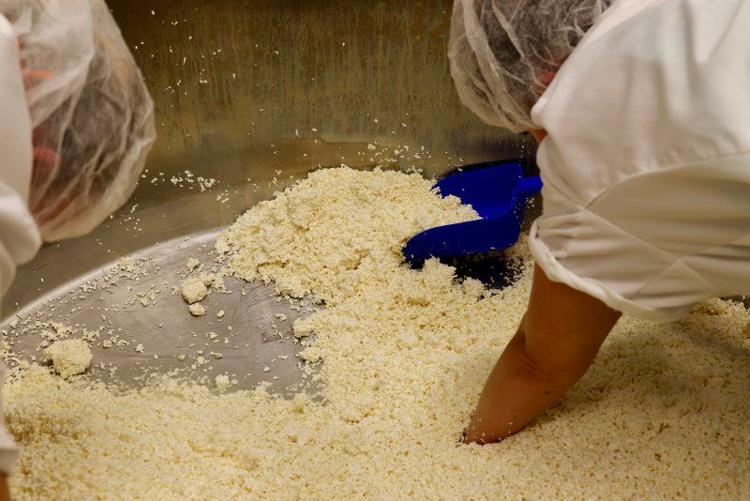 "Delaware Gold is aged two months so therefore it is a young cheese," according to the dairy website. "Its high moisture brings in a mild cheese flavor with buttery tangy notes. This cheese is great for snacking but is also great for cooking with because it melts really well. This cheese is versatile and can be easily used for sauces, nachos, skillet dishes, mac and cheese (and) quesadillas."
"This week has been pretty crazy. People are excited they have something they can put on a cheeseboard to share with their friends," said dairy director Melinda Shaw.
The foray into cheese making follows years of ice cream making by students and interns at the UDairy Creamery in Newark.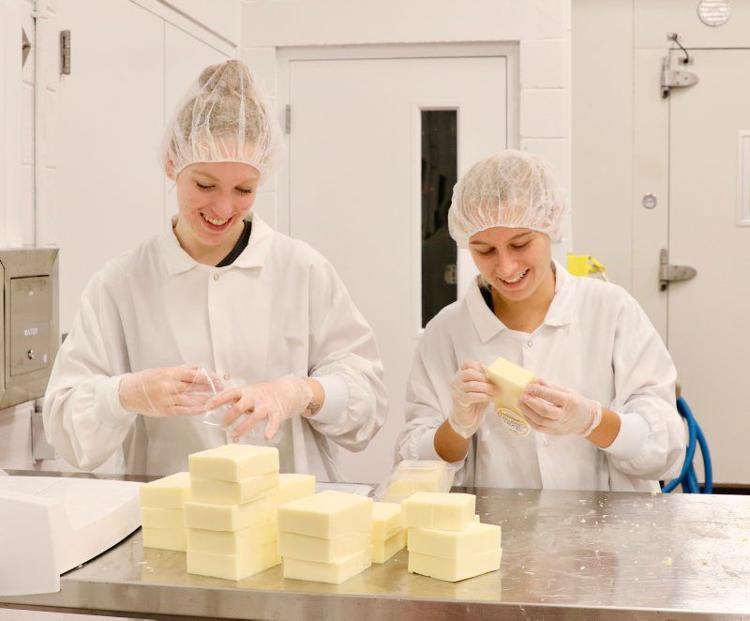 The ice cream has won raves for its "cow to the cone" flavors and people line up for a dip of Delaware River Mudpie on warm fall days as the leaves turn on campus. You can get the ice cream at three locations as well as the portable "Moo Mobile," painted to look like a Holstein cow. The Moo Mobile does campus events, ice cream festivals and even wedding receptions, although either the groom or the bride must be a University of Delaware alumni.
The creamery began in 2008 and the first storefront opened in 2011. There are typically 36 flavors which rotate in and out of circulation, many of them named by students like "Pumpkin is Better than Muffin" and "Apple Cider Donut." Delaware River Mudpie, a rich chocolate with fudge, is the biggest seller.
Now, the UDairy Creamery has begun making cheese at the 350-acre farm, a working classroom of sorts, at the College of Agriculture and Natural Resources in Newark. Part of that working farm is an approximately 90-cow herd of Holsteins, which produce the milk for the ice cream and now cheese.
The cheese is made totally on campus at the non-profit creamery, which includes a test kitchen and a head cheese maker named Amanda Heilman. Profits are poured back into the program and help develop new programs.
"If you buy cheese or ice cream, you are helping support our education," said Heilman.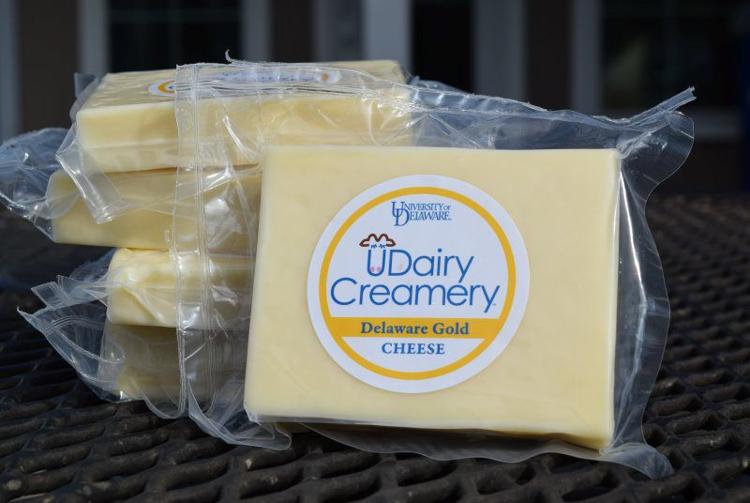 The programs are supported in part by private donations and funding from both Genuardi and the Unidel Foundation.
Curds are far better known in the Midwest, so consumers in Delaware have had to become familiar with the product. The curds have a fresh, mild milky flavor and are sold before they have a chance to age like more traditional cheeses. They are often served deep fried or in a Canadian dish over french fries with gravy, called poutine. They come in regular, ranch or Old Bay flavors.
"Think of them as the middle of the cheddar making process. These are the curds that would be put into molds to form a cheddar block and then aged for two to 12 months," according to the website.
Holiday cheese packages featuring the Delaware Gold as well as two variations, a Italian style cheese called bruschetta and an eight pepper cheese, went on sale on Nov. 1. The eight pepper cheese is more of a warm spice without a lot of heat.
"Cheese and other products will be processed in the University of Delaware's new, 3,600-square-foot Charles A. Genuardi and Patricia Genuardi Food Innovation Laboratory," according to the website. "This new research and innovation space includes equipment for UDairy Creamery dairy processing and cheese production, as well as a student test kitchen. This facility will allow students to learn entrepreneurial and food production skills that will carry them from the classroom to a multitude of career opportunities beyond the university. A viewing gallery will also open to the public during normal business hours, so visitors can watch cheese and ice cream processing in action."
Shaw explained that making cheese teaches a host of other skills for the students and the program helps teach cheese making, but also food safety, labeling, marketing, pasteurization and a host of other business and agricultural skills.
"It can offer a variety of teaching opportunities," she said. About 110 students and interns work in the dairy program, which includes both ice cream and cheese making.
There will also be seminars on cheese making done through the Cooperative Extension Service.
Next year, they expect to focus on making gouda as well as making butter with the whey which is drained away from the curds. In a couple of years, yogurt may also be on the menu.
"By this time next year, we expect to have a variety of reserve and aged cheeses," said Shaw.
Besides educating students and the public, Shaw said this has the potential to help dairy farmers by giving them the opportunity to learn how to make value-added products like cheese.
Items can be bought on the creamery website and shipped anywhere in the country or they can be bought at the three creamery locations.