A grassroots group that started by painting slogans on wrapped bales is developing into a larger campaign to promote whole milk.
Jackie Behr developed the website and social media presence for 97 Milk last year after hearing founder Nelson Troutman explain why he painted one of his bales with a message that milk is roughly 97% fat free.
Fifteen months later, the website has been visited over 11,000 times.
"It's a way to promote the product they are selling," said Behr, the marketing manager for Lancaster, Pennsylvania-based R&J Dairy Consulting. "Dairy needs a positive image in front of headlines."
Behr recently freshened the website and added a place to buy 97 Milk-branded T-shirts and banners. She also posted a Q&A about milk's nutritional value from a registered dietitian she met.
Through the website, Behr gets a lot of questions from consumers who are curious about calf care, the nutritional value of whole milk, and whole milk's effect on diabetes.
Since the coronavirus led to panic buying and sometimes bare grocery shelves this spring, Behr has seen an increase in consumers asking about buying whole milk directly from farms.
Farmers continue to paint whole milk-themed messages on plastic-covered bales, some as far away as Wisconsin, Tennessee, Ohio and New York.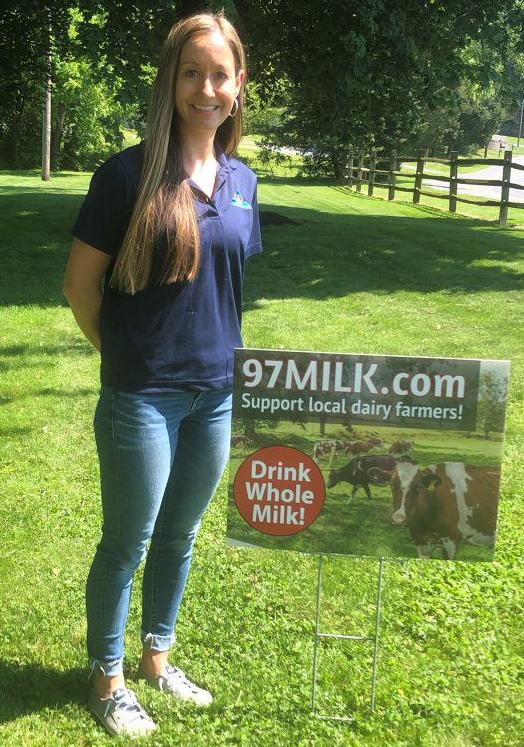 But the campaign has advanced from the so-called baleboards to an actual billboard.
A group of farmers from Lebanon County pooled money to lease a digital billboard for a month along Washington, D.C.'s much-traveled Capital Beltway.
Behr estimated the billboard cost $3,500, but 97 Milk's website and social media traffic picked up while the ad was running. More such advertising may be in the group's future, she said.
Troutman and other farmers believe whole milk is key to growing dairy consumption.
Troutman says whole milk's taste is far superior to lower-fat milks, and that people often overestimate the amount of fat in whole.
Some 13.8 million pounds of conventional whole milk were sold in the first 11 months of 2019, making whole more popular than 2%, 1% or skim. (USDA hasn't released December figures yet.)
Whole milk sales have increased every year since 2015, while sales of lower-fat milk — and fluid milk overall — have declined.
Writer Nina Teicholz lifted whole milk's image nationally with her 2014 book "The Big Fat Surprise," which challenged the prevailing wisdom supporting a low-fat diet.
97 Milk is focused on promoting whole milk, but Behr said she doesn't want to put down other dairy products.
The group is also working toward developing chapters in states beyond Pennsylvania.
Behr envisions these chapters being made up of dairy farmers who engage residents in their communities about whole milk.
"The vision of this was to take this beyond the baleboards," she said.
News editor Philip Gruber contributed reporting.