EAST EARL, Pa. — Under the bright lights of the barn, two rows of tawny, white-patched beauties with voluminous white tails stand patiently awaiting their turn with the stainless steel milker.
The cows may have been working, but they were also on display.
The World Guernsey Conference was happening right there in their milking parlor at Warwick Manor Farm in Lancaster County.
The conference ran June 9-12, based at the DoubleTree Resort in Willow Street.
Amy Cleggett of Mount Gambier, South Australia, has been involved with the World Guernsey Cattle Federation for four years.
She and other Guernsey breed fanatics were attending the conference to learn more about genetics, traits of a U.S. type cow and global Guernsey marketing trends.
"They produce the world's best milk, in my opinion," Cleggett said.
The tour attracted 80 people from the U.S., Canada, Britain, Australia and New Zealand, said Cara Trotter of the American Guernsey Association.
The world conference, held every three years, last visited the U.S. in 1995.
There are relatively few Guernseys in the world, but the U.S. has the most. Many Australian herds have American genetics, Cleggett said.
Cleggett was also noticing that U.S. dairy cows spend a lot more time under roof than their counterparts Down Under.
"We are a pasture-based system," she said.
With an average of 76 cows, Pennsylvania herds, though diminutive by U.S. standards, are still double the size of the average Aussie milking herd (30 cows).
Cleggett said she only knows of one farm in Australia that has 300 milking cows.
At Warwick Manor, the Stoltzfus family milks 55 Guernseys in its tie-stall barn.
With the farm name, Kevin Stoltzfus wanted to honor his grandparents, who had a Guernsey farm in Warwick Township, Chester County.
All of the cows are descendants of his grandparents' herd.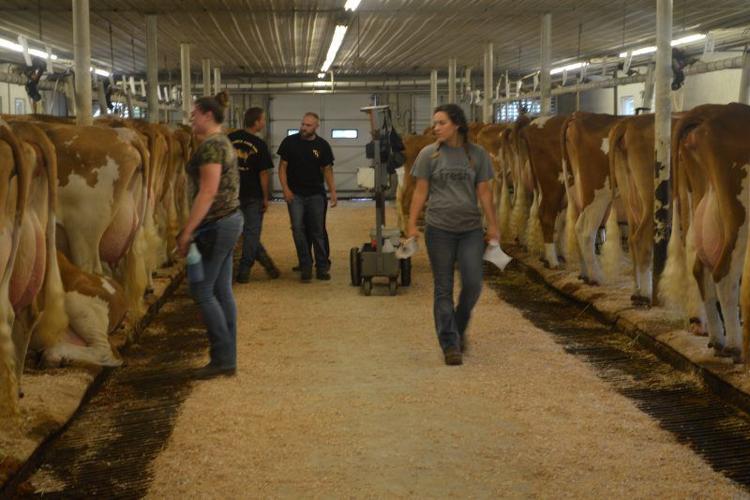 The cows eat a mix of timothy, orchardgrass and alfalfa hay. They also get wet-wrapped balage, corn silage and triticale, herdsman Levi Plocher said.
The cows lie on a bed-compost pack that gets rototilled twice a day. The bedded pack extends the life of the cows and gives them plenty of space, he said.
One of the newest improvements on the farm is a barn cleaner that sweeps the manure.
Stoltzfus uses artificial insemination for the majority of their breeding program, but he also uses two bulls for heifers and cleanup breeding.
Stoltzfus focuses his breeding on components, and good feet and legs.
He thinks Guernsey cows are calmer and easier to work with than other breeds. But one of the biggest draws is Guernsey milk's high butterfat content, which is important to making ice cream.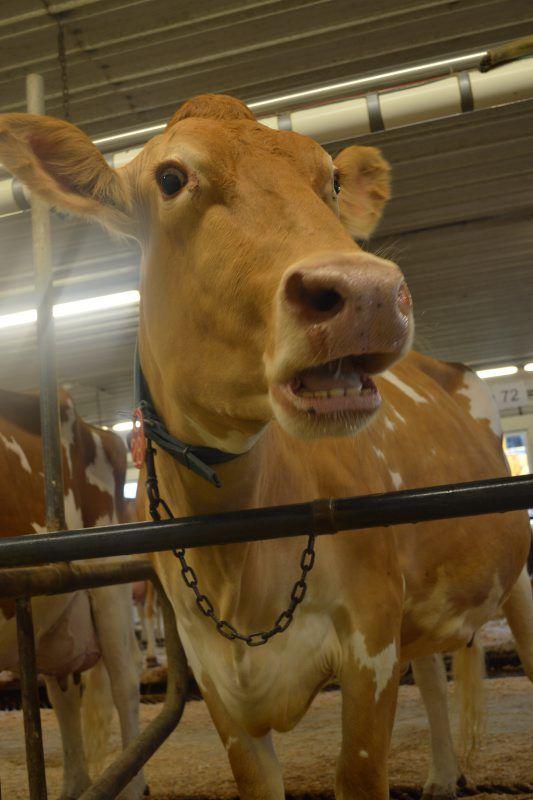 Warwick Manor ships its milk to Yoder's Country Market, the family's New Holland grocery store and restaurant.
The milk is bottled or processed into ice cream and butter.
Stoltzfus also sells Guernsey embryos, calves and heifers.
The family often competes in national and state shows like North American International Livestock Exposition and All-American Dairy Show
"We enjoy showing a lot together as a family," he said.