NEW PROVIDENCE, Pa. — The color difference in Matt Hess' drying tobacco is immediately obvious.
The leaves in one barn are a field-fresh green, while in another curing shed, the leaves have already largely turned the earthy brown of cigar wrappers.
The rapidly curing leaves are Connecticut broadleaf, a variety that farmers have only recently begun growing in Pennsylvania.
"Most people, I feel, are like us. They want a little diversity," said Hess, who farms in southern Lancaster County with his father, Dale.
Like the Pennsylvania type 41 traditionally grown in this state, Connecticut broadleaf is used for cigar wrappers and is cured by hanging in unheated barns.
But with thinner leaves, the Connecticut has some advantages over Pennsylvania tobacco.
At harvest, Connecticut tobacco plants weigh one-third to one-half as much as type 41 plants. That takes some strain off workers during the long, hot days of cutting and spearing.
Connecticut is also ready for harvest a week earlier than Pennsylvania tobacco, and the leaves cure quicker.
The crop is ready for delivery in late October or November, while Pennsylvania tobacco often takes till early the following year.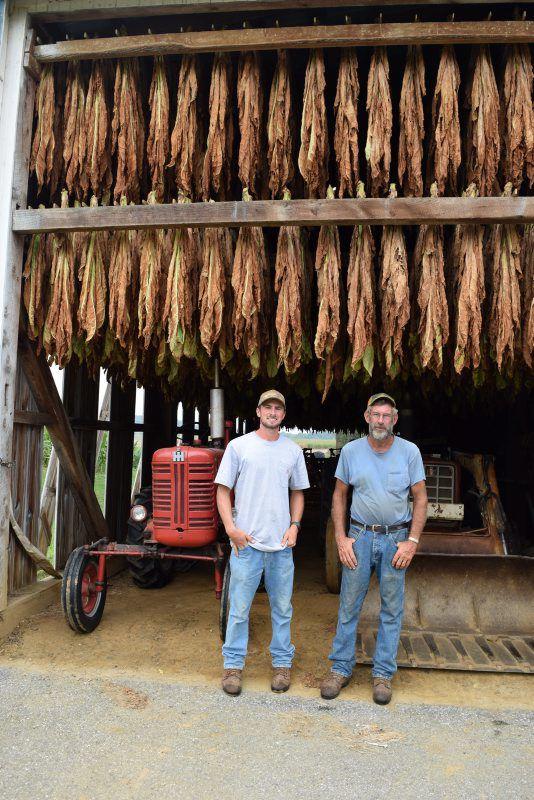 As a result, farmers can get paid sooner. And Lancaster Leaf, as it happens, is paying a little more per pound for Connecticut than Pennsylvania right now, Hess said.
Most importantly, Connecticut tobacco is a breeze to get ready for delivery.
For Pennsylvania tobacco, growers meticulously sort leaf by leaf to pick out the immaculate ones that are suitable for cigar wrappers.
For Connecticut tobacco, farmers just need to remove the poor-quality leaves and bale the keepers. Graders evaluate the crop when it's delivered.
"It saves a lot of time," Hess said.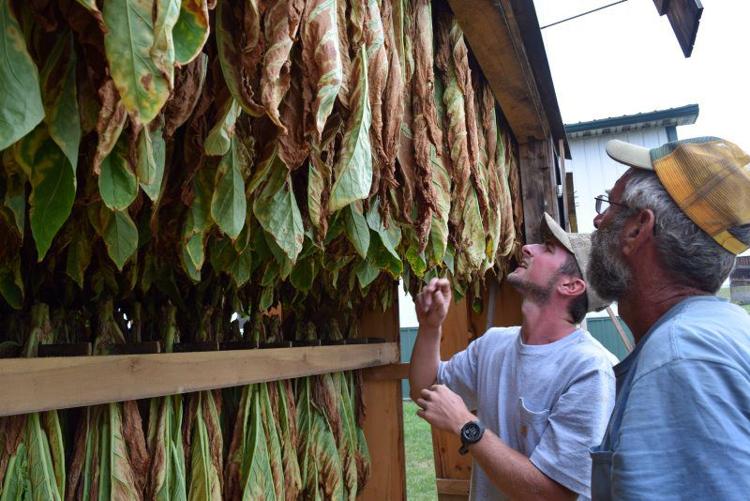 Lancaster Leaf Tobacco Co. started contracting widely for Connecticut broadleaf in Pennsylvania just last year.
The company had already been buying the crop from Connecticut, where the variety has been grown since the 1800s.
But Connecticut tobacco farmers are getting older, and not many people from the next generation there want to grow tobacco, said Don Welk Jr., a buyer for Lancaster Leaf.
To supplement its tightening supply from New England, the company could have sent production overseas, but that tobacco might have drawn lower prices and been of reduced quality.
So the company turned to Pennsylvania, and "it seems like the quality is very acceptable for what they want," Welk said.
Connecticut broadleaf is the third tobacco variety that Pennsylvania farmers have begun growing in sizable quantities in recent years.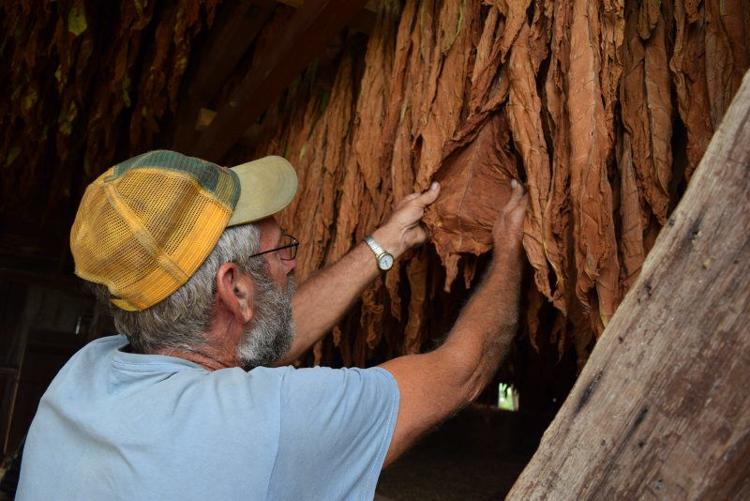 Burley and Green River became available after the federal government ended a quota system in 2005, joining the traditional Pennsylvania and Maryland varieties in farmers' portfolio.
This diversification has happened even as Pennsylvania's tobacco acreage has fallen to a quarter of the size it covered in the 1950s.
But the market for cigar wrappers is still strong, which puts leaves from the Northeastern U.S. in demand.
"They go all over the world, basically," Hess said.
Like many Pennsylvania growers, Hess is growing Connecticut on a small chunk of his tobacco acreage, keeping most in the Pennsylvania variety.
Out of his 13 tobacco acres, 2 are in Connecticut.
Hess actually bumped up his plantings of the new variety this year despite having a tough first go at the crop in 2018.
Record rainfall reduced crop quality, but Hess decided the year wasn't a good indication of how the variety would perform.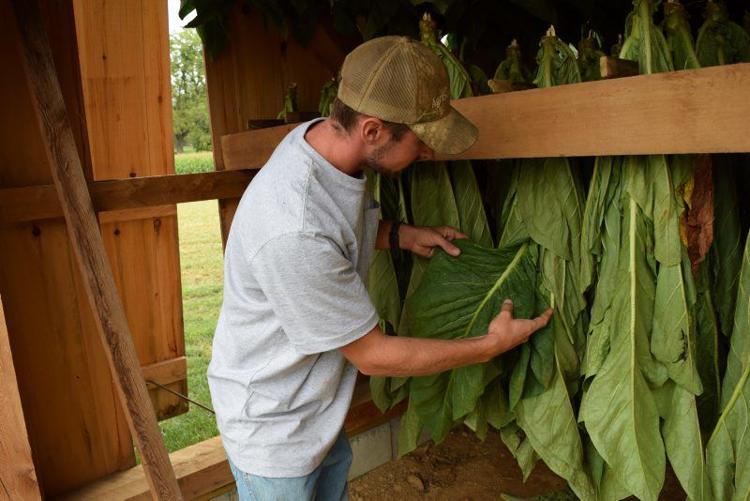 "You can do everything in your power right, but you're (reliant) upon what the weather is," he said.
Hess' second try at Connecticut production has gone better than his first.
Though the crop had some hail damage — which eats into the percentage of the crop that can be used as cigar wrappers — conditions for harvesting and drying have been more favorable.
"It's curing exceptionally this year," Hess said.
Pennsylvania's tobacco harvest is ahead of schedule, with 60% of the crop cut by Monday, per USDA estimates.
Connecticut broadleaf should not be confused with that state's other iconic tobacco variety.
Shade tobacco is grown under protective tents and produces light, thin leaves that are used exclusively for cigar wrappers.
Broadleaf, grown in the open air, produces leaves that are heavier and darker, said James LaMondia, the chief scientist at the Valley Laboratory of the Connecticut Agricultural Experiment Station.
Though it's far from the major Southern tobacco states, Connecticut has one of the nation's oldest tobacco industries.
It dates to the 1640s, roughly 40 years before Pennsylvania received its colonial charter.
"There's been a lot of selection for what grows well here," LaMondia said.
As it happens, growing conditions in Connecticut were similar to those in Pennsylvania this year.
Cool, wet weather got the crop off to a slow start, but hot, dry weather later in the season has helped considerably. Connecticut growers will be harvesting for a few weeks yet, LaMondia said.
So far, Pennsylvania farmers seem to be taking to the new variety.
Welk, the tobacco buyer, has grown broadleaf the past two years after participating in Lancaster Leaf's pilot program to see how well the crop would do in the state.
Though Welk still mainly grows Pennsylvania tobacco, Connecticut has replaced his plantings of Green River, a variety that is harvested late, in mid-September, and can be a little more difficult to handle.
Hess is finding that many of his fellow tobacco farmers are itching to raise more broadleaf.
As word spreads about the crop, Hess expects more competition for acreage contracts.
And while Lancaster County has so far been the center of Pennsylvania's Connecticut production, it's not the only place where farmers will have the opportunity.
Lancaster Leaf also has growers in the Northumberland area and in Maryland, Welk said.
Broadleaf acreage is on the rise in Pennsylvania, and if farmers keep turning out quality leaves, they'll likely be able to keep growing it into the future, he said.