To Evaluate Adjustments for Late Corn Planting
While we're moving beyond the ideal planting dates for many portions of the state, there are still many factors to consider when making planting decisions. Extension agronomist Zach Larson points out that planting into good conditions may trump planting at the ideal time.
The past 30 days brought significant precipitation to most of the state, resulting in delayed planting in many areas. While late planting often brings concerns of reduced yields and switching hybrids, there are many pieces to the puzzle that ultimately affect the number of bushels in the bin come fall.
The first thing to consider is the planting date. Planting date does influence corn yield, with optimum planting dates ranging from April 15 to May 1 in the southeastern corner of the state, to May 15-25 in the northern tier and Laurel Highlands. However, those differences are relative, assuming all other growing conditions are equal. When looking at the entire growing season, we have many factors to consider, and planting date likely means little when it comes to understanding the total amount of yield variability from year to year.
A 30-day (approximately) window exists where corn can achieve 95% or more of maximum yield potential. Once the planting date is about two weeks beyond the ideal date, the amount of potential yield loss per day begins to increase.
At this point, there is still adequate time for full-season hybrids to reach physiological maturity by typical first frost dates. And while the differences in yield between full-season and short-season hybrids have been blurred in some cases, full-season hybrids may still out-yield their short-season counterparts. What makes this possible is the ability for full-season hybrids to adapt to the shorter season by requiring fewer growing degree days to mature than what they're rated for. Research from Ohio and Indiana shows that a hybrid planted 30 days late can reduce the necessary growing degree days to reach black layer by 6.8 degrees per day of late planting. This suggests that a hybrid that takes 2600 growing degree days (GDDs) to mature can do so with 200 fewer GDDs when planted 30 days late.
However, a tradeoff still exists, with full-season hybrids potentially taking longer to dry down than their shorter season counterparts. This could be entirely dependent on fall conditions though, with a warm and dry fall favoring smaller differences in drydown between full and short season crops.
While one can stress over potential yield impacts from late planting, the impact from poor corn emergence is more concrete. The yield penalty from inconsistent emergence is widely documented in many studies, a summary of which can be found at bit.ly/plantingmatters
The risks of sidewall compaction, poor seed placement and improper seed trench closing should be considered before putting the planter in the ground. Therefore, it is still best to wait for good planting conditions and stay the course with good practices. Particular attention should be paid to down-pressure settings, soil buildup on gauge wheels and closing wheel adjustment. Shortcuts such as planting at a shallower depth should be avoided, as this can result in more variable emergence.
While we're a bit behind where we would like to be, by no means is it time to panic, as there are many things that will determine the success of our 2020 corn crop. At this time, one can take solace knowing that we're not that far from historical trends, and a decent period of good weather may quickly change our outlook.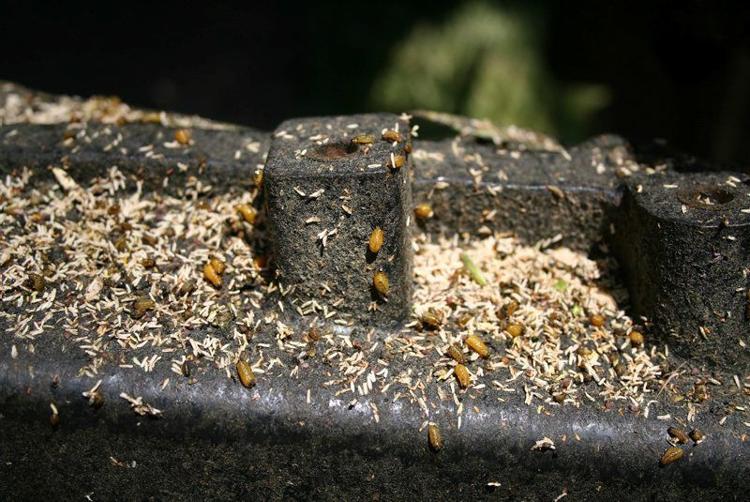 To Scout for Cereal Leaf Beetle in Small Grain Fields
As wheat enters heading in southern Pennsylvania counties, it would be wise to scout fields for cereal leaf beetle. Extension entomologist John Tooker reports that in our region this pest most often infests wheat and oat fields, though other small grain species can also be infested.
Unfortunately, fields with large populations are often diagnosed from the cab of a vehicle as fields turn frosted from heavy leaf feeding, frosted fields are too late to save. Substantial populations have also been detected when growers inspect their sprayers after applying fungicides, finding larvae all over the sprayer. Scouting fields more regularly can catch these infestations.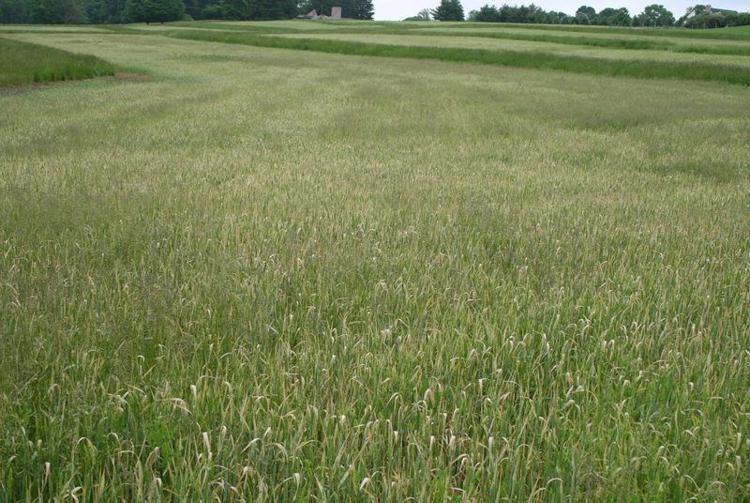 Because fungicide applications to protect wheat from head scab are common this time of year, growers often wonder if they should include an insecticide in their spray tanks to protect against cereal leaf beetle or other insect pests. Rather than automatically including the insecticide, my recommendation is to scout fields for cereal leaf beetle and see if fields harbor economically damaging populations, because natural enemies often control cereal leaf beetle and infestations can be very spotty.
If scouting reveals populations that exceed one or more larvae per stem, treatment is warranted, especially if larvae are feeding on the flag leaf prior to head emergence. Damage later in head filling does not appear to be significant, and if adults are seen late in spring, it is likely too late to manage this pest species. For details on this pest's life cycle and management options, see our fact sheet at bit.ly/CLbeetle
Quote of the Week
"It is good manners to prefer them to whom we speak before ourselves, especially if they be above us with whom in no sort we ought to begin."
— Rule number 34 from George Washington's "Rules of Civility And Decent Behavior in Company and Conversation"