CONESTOGA, Pa. — The sun came up on this good looking Lancaster County pumpkin patch on a recent Sunday morning.
Zach Champaign, field manager for Cherry Hill Orchards, reports that their pumpkins have gotten off to a great start, and he expects they'll be abundant at the farm's store in the fall.
Champaign said plenty of rain along with high temperatures kicked all the crops into high gear. Cherry Hill's pick-your-own cherries, apples, peaches and blackberries are having a good year as well. So's the sweet corn.
This year is a marked contrast to 2018, when too much rain early in the season drastically hurt yields.
During Lancaster Farming's visit to the 5 ½-acre pumpkin patch, there was a hum in the air as a squadron of bumblebees went from flower to flower. Champaign said he limits spraying to encourage bees and other native pollinators. He said he also welcomes European honeybees, but he doesn't rent hives, which is a common practice in the orchard world.
A lone striped cucumber beetle — about the size of a grain of rice — was spotted on one of the pumpkin flowers. Beetles can wreak havoc in a pumpkin crop.
"We'll see some of those," Champaign said, "but unless the numbers go too high we won't spray."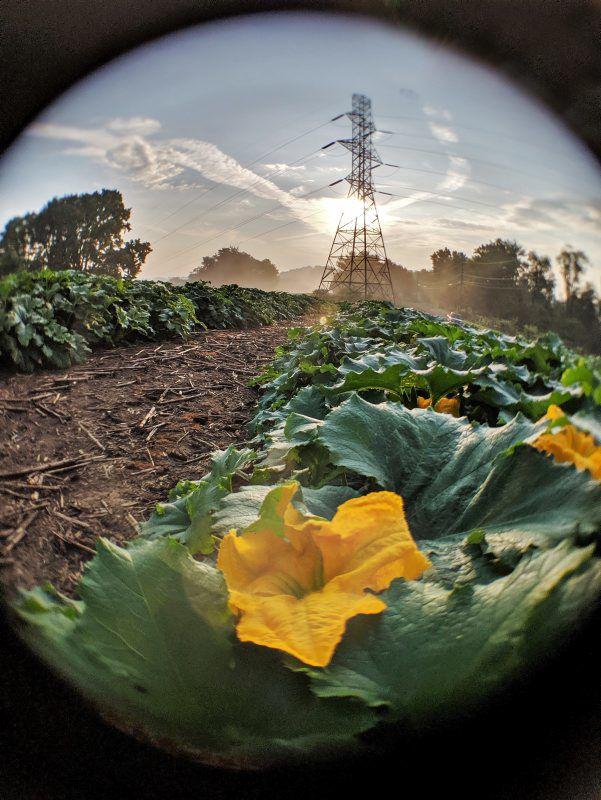 Special thank you to Lancaster Farming subscriber Cynthia Krupp, who called to suggest we send a photographer out for some pumpkin patch shots.