Last season, I wrote about anthracnose on strawberries, a disease that has been showing up with greater frequency in our fields.
I had been in several fields that had anthracnose that was damaging green fruit, which was unusual, as it normally is more of a problem on ripening fruit. The disease can also attack the crown of the plant and kill it. Under warm and wet conditions, this disease can spread quickly in a field and cause a significant reduction in yield and fruit quality.
Hopefully, you saved that information for this year so you know what to watch for, as well as the recommended fungicides to use to control the disease. If not, contact me and we can review that information.
Phytophthora Crown and Root Rot
But anthracnose is not the "something old" I wanted to talk about this week. Instead, I wanted to discuss phytophthora crown rot and phytophthora root rot (red stele), problems caused by different species of fungi that can persist in fields and which seem to be a more common issue with some varieties.
I seem to be getting a lot of positive results for what we suspect is mainly phytophthora crown rot in Flavorfest, which is becoming more important as a mid-season variety in our cropping sequence. Growers have contacted me about plasticulture plants collapsing in both the fall and spring after what seemed like a strong start to plant growth.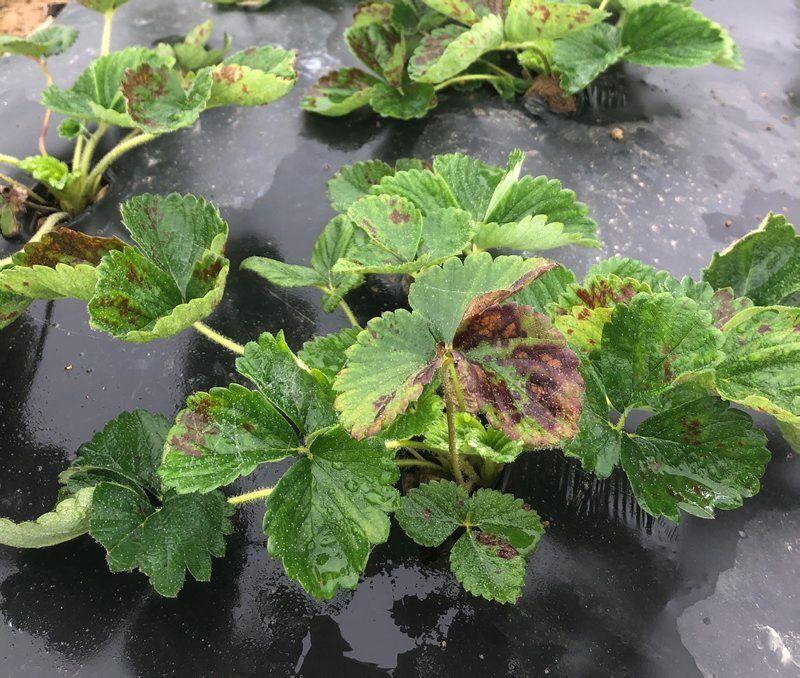 Once a positive diagnosis was made, the recommended treatment usually included one application of mefenoxam (Ridomil Gold SL) or metalaxyl (Ultra Flourish), followed by one or two applications of fosetyl-Al (Aliette) or a phosphite product (Prophyte, Phostrol). These treatments could be repeated in the spring if needed, or in fields where the disease has been problematic. Overuse is a concern, and resistance to Ridomil Gold or Ultra Flourish is becoming more common. These fungicides need to be used carefully, and timings on the label also limit use to two applications per year for crown rot for this reason.
Aliette and phosphite products are less effective but can be used more often if needed. Please refer to the labels for specific instructions on rates, timings and application frequency.
New Neopestalotiopsis Strain Diagnosed
And now for "something new," and it's not good news.
Recently, diagnosis of a more aggressive strain of neopestalotiopsis, a fungal disease that affects strawberry in a number of ways, was made. In the past, neopestalotiopsis had mainly been thought of as an opportunistic pathogen, and when it was occasionally isolated from various crops, including strawberries, it didn't cause serious damage. Also, unlike in the past when the disease only affected ripe fruit, the new strain affects all parts of the plant — leaves, crown, roots and fruit.
It is believed that neopestalotiopsis comes into fields with transplants and is first noticed on the leaves, and then affects crowns and roots. It can spread to the fruit, and whole fields in warmer strawberry-growing regions have been abandoned because of this disease.
What does this have to do with Pennsylvania, you ask?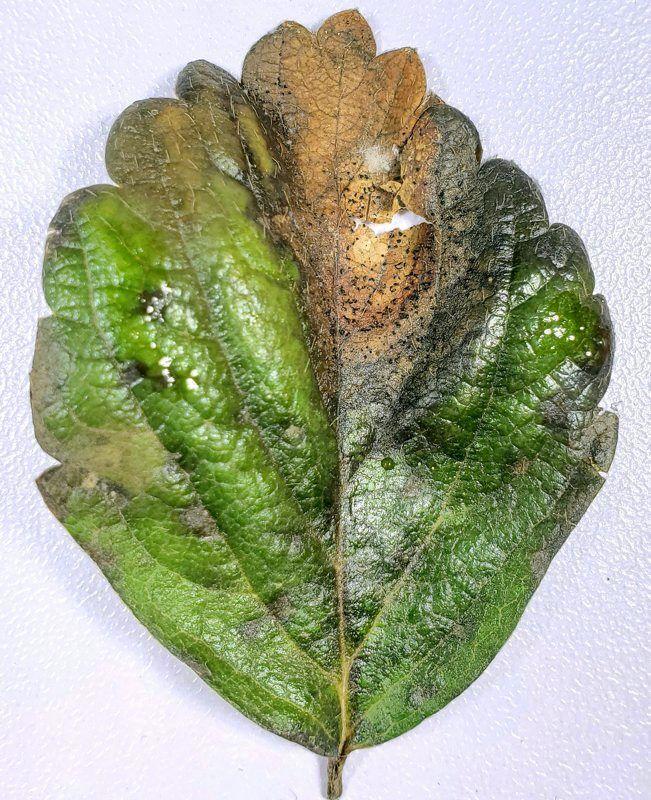 Unfortunately, some strawberry plug plants sold in the Mid-Atlantic area had this disease last summer. There were documented cases in New Jersey, Maryland and Pennsylvania, though limited to only a few fields in total.
The symptoms to be watching for in your field include tannish-brown spots on leaves that expand quickly and will cover the leaves in a few days. Black specks will then appear in these brown areas. These specks are the fruiting structure of the fungus and serve to spread the disease. During warm, wet conditions this disease spreads rapidly through infected fields.
While the fruit symptoms appear similar to anthracnose, the same black specks that appear on leaves will appear on the fruit, rather than the salmon-colored areas that show with anthracnose. According to research in Florida, the disease is partially controlled with Switch and thiram, which are the best products we have at this time.
As always, resistance is a concern. Some of the other products used for control of other diseases such as anthracnose crown and fruit rot had some numerical reduction in fruit rot incidence as well.
I should point out that there are other more common diseases that this new disease can be confused with, such as gnomonia leaf blotch (which lacks black sporulation) and phomopsis leaf blight (which forms V-shaped lesions). The main other difference between these diseases is that neopestalotiopis is more likely to "explode" in a field within a matter of days following warm, wet conditions.
If you suspect that you have neopestalotiopsis on your strawberries and are in the Lancaster County area, contact me so that we can get a sample to the Plant Disease Clinic at Penn State.
Growers in other parts of the state should contact their local Extension office to locate the nearest educator responsible for berry crops.
Watch for updates as we learn more about this disease and its control, including cultural management strategies.
I would like to thank Kathy Demchak, the small fruit specialist at Penn State, for her assistance with this article.