When Abbie Evans filled out the short Dairy of Distinction application, she doubted if her Rome, Pennsylvania, dairy would be considered or win the coveted title.
Eight months ago, Evans and her husband, Andrew, moved their 100 head of Brown Swiss to a farm they rent that is 20 minutes from her parents' home dairy. They were genuinely surprised when they received the notification from the Dairy of Distinction committee. "It's a cool honor," Andrew said
Abby Evans says she first heard about the Dairy of Distinction from her mother,Connie Kuhlman, and Andrew's family, Sunny Acres, won the Dairy Distinction. However, it was her mother who encouraged her and Andrew to apply for the award.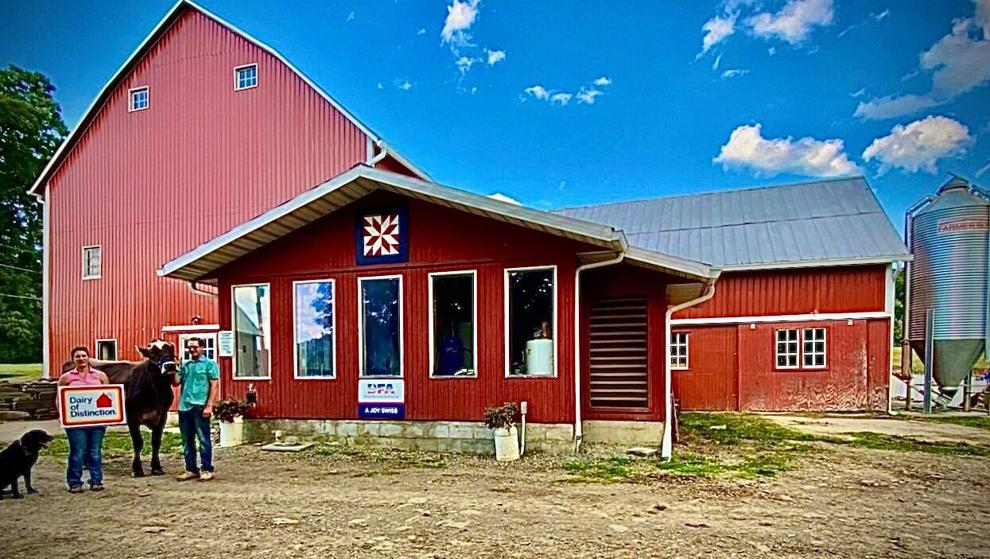 A few tenants had graced the stone-wall bank barn before the Evanses. The barn received an addition in the 1990s along with indoor manure shoot, which allows the Evanses to back a tractor and spreader into the barn. Most of the barn exterior has been updated like a new roof, new coat of cherry red paint and a paved driveway.
The Evanses have incorporated some landscaping and try to keep their trash under control with a dumpster.
Her hesitation at applying was based on the fact that she and Andrew rent the property instead of owning it. They also didn't do the majority of the renovations on the property; they inherited them. But the changes were a deciding factor to rent the property. It made them both think it would be a great dairy for the award, she said.
The prestigious honor means a great deal to the young couple, but it also can give consumers in the area confidence in their local dairy farmers. "If they can see a nice place, then they will think nice thoughts when consuming dairy," Evans said.
Read more about the Evanses and their dairy, a Joy Swiss, at https://bit.ly/3ahnYRj