Nathan and Heather Kreider saw their accounts with the spa and resort industry crash.
Lloyd Huyett experienced a delay with his permit, and his entire season was set back.
Taylor Fritz had no large-scale field days to market his seed products to potential buyers.
And then there was Daniel Summa, who found himself battling hand sanitizer makers over ethanol, and later couldn't even find plastic buckets to store his product.
Needless to say, the COVID-19 pandemic has had a wide array of effects on Pennsylvania's hemp industry. Things have returned to normal, for now, but those in the industry remain nervous over what might happen next.
When the pandemic surfaced in March, followed by a government-ordered shutdown of nonessential businesses, the Kreiders watched their wholesale accounts with luxury resorts and spas dry up for three straight months.
Their business, Hempfield Botanicals in Lancaster, manufactures hemp-based CBD products.
The Kreiders were uncertain how the shutdown would impact their business over the long term, so they decided to act.
"It was scary for our bottom line and our team," Heather said. "We applied for every type of funding we could as soon as it was available."
The Kreiders also focused on the other half of their business — retail. The pandemic left people dealing with anxiety, lack of sleep and other stress-related ailments, Heather said. As a result, online sales began to boom.
"Some of our products specialize in those areas, and hemp is a fantastic solution," Heather said, adding that the increase in sales came mainly from women over the age of 35, elderly people and patients who were referred by neurologists.
"The pandemic opened more minds to hemp." Heather said. "Our retail sales increased, and having multiple streams of revenue profited our business and saved us for sure."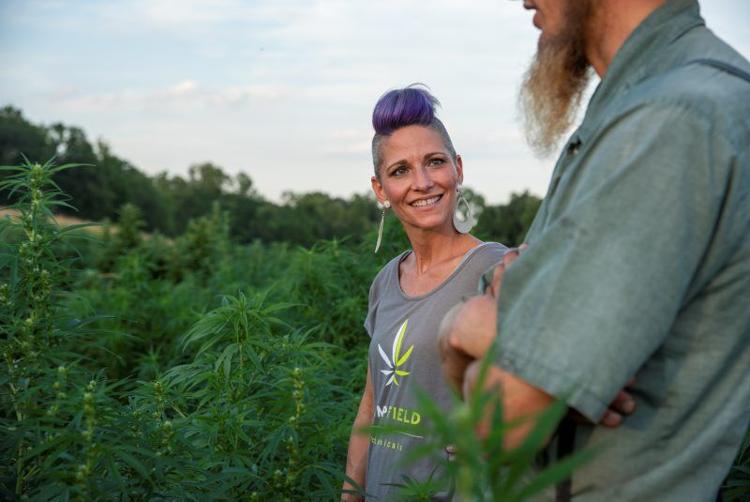 Shannon Powers, press secretary for the Pennsylvania Department of Agriculture, said some retail sellers experienced a lull in sales in mid-summer, but that seems to have recovered. Those businesses with an established e-commerce outlet set up before the pandemic, like Hempfield Botanicals, were best situated to survive and grow, she added.
But the cancellation of most festivals, fairs and other live-promotions events, not to mention a decline in in-store sales, affected many in the industry.
"On-farm educational opportunities, which have been especially crucial in a new industry, have been somewhat hindered," Powers said. "But for those able to connect online, virtual opportunities have increased."
Fritz, who is the assistant marketing manager at King's AgriSeeds, relies on educational events such as field days to exhibit seed products and meet customers. With those events canceled during the pandemic, Fritz focused more on online marketing.
But it wasn't the same.
"You can't replace the face-to-face interaction," he said. "We'll continue attempting to work through digital means, and we did have four small field days, which allowed us to have discussion and show our hemp plots. We'll likely do more small events with fewer people in the future. We'll have to hold more of them and keep them small."
Huyett, who owns Helping Hands Hemp in Morgantown, just wrapped up his third year as a grower and said the season was a challenge because of the pandemic.
The shutdown delayed issuance of Huyett's grower's permit by a month. The delay had a ripple effect, as Huyett was late purchasing his seed, planting the crop and harvesting, which didn't occur until Oct. 30.
"We typically harvest in early October," he said. "We started plants in the greenhouse, then it got dry in the summer and half of them died. The rest stayed kind of small but the flavors turned out nice.
"If we see more restrictions again, I don't know what we can do differently."
Powers said the Ag Department was faced with several challenges early in the pandemic, including federal regulations that were changed late in the game. The new federal rules were issued after Pennsylvania's program opened for 2020, she said, and the department had to hurriedly review and interpret volumes of information to prevent permit delays for growers.
But that wasn't the only hurdle.
"When the pandemic hit, many FBI fingerprinting sites were temporarily closed, so applicants could not initially meet USDA's background-check requirements. Lease agreements for fields required travel and face-to-face meetings to obtain signatures for many," Powers said.
She also pointed to an alleged temporary slowdown in postal delivery as an impediment to department staff processing applications from home.
The agency did issue conditional permits for those who faced delays with FBI background checks, and considered late applications for growers who had difficulty obtaining documentation such as property maps and leases.
In the end, 46 applicants didn't complete the application process, and some who withdrew cited pandemic-related issues, Powers said.
Still, the pandemic challenges weren't limited to growers.
Summa, who is a partner in AgriHemp Industries in Mayfield, Lackawanna County, said the biggest disruption he faced was a shortage of ethanol needed for processing.
The business, which also grows hemp, uses the coal-ethanol process for the processing end. Summa said he obtains an allotment of eight drums per month from a large ethanol supplier, but in March he didn't get anything.
"Our allotment of ethanol was reallocated to produce hand sanitizer," he said. "We had to petition to get it back, and we got two drums, then up to four in the summer. We petitioned again in October and got it back up to eight."
When the ethanol allotment dropped, Summa's business remained open, but the rate at which it could extract dropped significantly.
"I never thought we'd have to compete with hand sanitizer," he said. "Now we're prepared if the pandemic becomes an issue again. Our ethanol allocations are locked in, and we sourced ethanol from a second source to stockpile."
The effect wasn't limited to ethanol, Summa added.
The food-grade plastic buckets that are used to store CBD crude oil also became hard to find, he said. The business did locate a supply of buckets online, but had to pay a much higher price than normal.
Another problem Summa witnessed in 2020 is a glut of hemp material left over from 2019 that contributed to a price collapse across the board. Plantings are also down in 2020, he added, and some growers didn't even bother to harvest their crop.
While the pandemic was a factor with the price drop, the uncertainty and delay with federal rules didn't help business either, according to Summa.
"COVID-19 brought uncertainty and a lot of stores were closing. People needed to raise cash, and they just put things out on the market. It created a glut and lowered prices," he said. "Now we're open for business and processing, and things seem relatively stable going into winter."
One sign of normalcy for the industry is the approaching 2020 Pennsylvania Hemp Summit on Dec. 8-9. While the event will be held virtually this year, the event is organized by the Ag Department and Team Pennsylvania, and it serves as a major networking event for everyone in the industry.
Powers said the summit allows producers to stay on top of trends and research emerging in the new industry, but it remains to be seen how the disruptions from the pandemic will be felt in the future.
"We would anticipate the long-term impacts on the hemp industry being similar to those on every agriculture sector," she said. "How businesses fare will depend largely on how they adjust to market ups and downs, and how agile they are in reacting to trends."