SENECA FALLS, N.Y. — Since legalizing industrial hemp nationwide with the 2018 Farm Bill, interest in the versatile commodity has taken off in New York. For the first time, Empire Farm Days, the largest outdoor ag show in the Northeast, featured a brand-new Hemp Center. The area featured vendors of hemp-related equipment and supplies, harvesting demonstrations and special speakers, both from the research and production sides of the new industry.
Sessions covering the hemp industry were well-attended, a testament to the interest in hemp, including a presentation by Larry Smart, professor in horticulture and plant breeding and genetics sections at Cornell AgriTech in Geneva.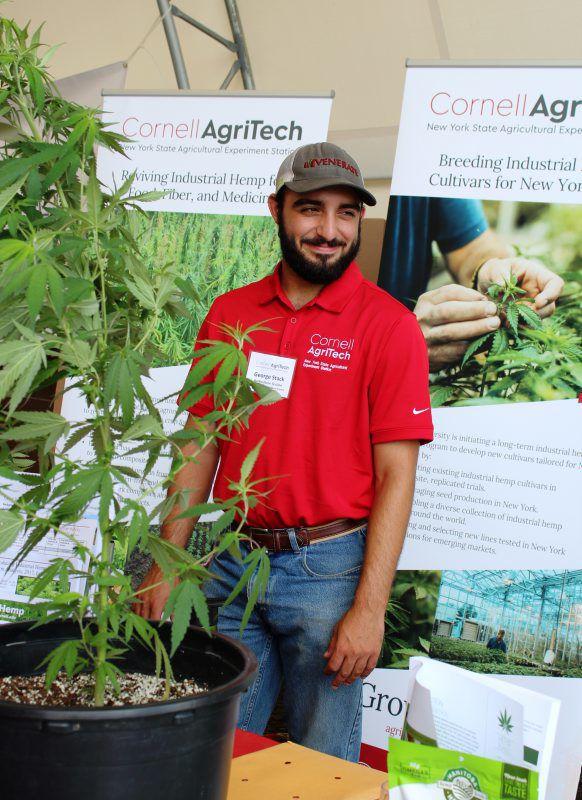 "For me, it's simple numbers," Smart said. "I hear from (the New York State Department of) Ag and Markets that we have about 500 growers in New York growing hemp."
He added that the number is comparable to the number of many kinds of vegetable growers in the Empire State, including dry bulb onions, cabbage and beets. Smart called it one of New York's top 10 specialty crops.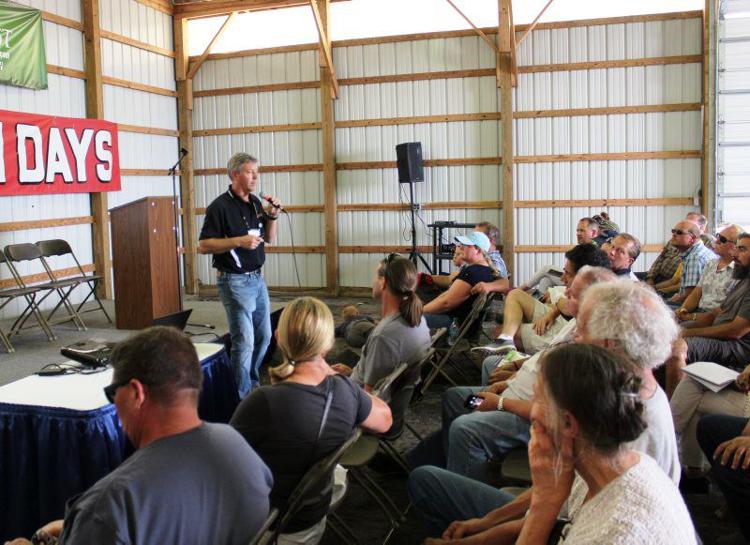 While it may seem a plus to have a new crop to help farms develop a new revenue stream, Smart said that the nation is producing an estimated eight times the amount the market will support for production of biomass for CBD, the extract that is the most profitable product made from hemp plants. Smart said that more than 90% of hemp grown is for CBD.
"I don't think we have the infrastructure to process it," Smart said. "We have more than 100 licensed processors and they're installing equipment, but that is lagging behind the expansion and cultivation."
Once dried, hemp stores under proper conditions for up to a year. Smart said that most growers raising hemp are small-scale producers, amounting to 8,000 to 10,000 acres. For producers who average 1,000 pounds per acre, that's about 8 million pounds.
Dale Weed, president of Pure Functional Foods in Savannah, hosted a table at Empire Farm Days' Hemp Center. He said that the industry has increased 10-fold in a year.
"It's definitely a hot product," Weed said. "As with everything in ag, it's supply and demand. There's sufficient demand to increase the price based on available supply; however, it's possible we'll see a price decrease in fall depending upon how many have available crops."
Growing hemp is also not without risks. The licensed growers receive periodic inspections for their level of THC, the naturally occurring compound in the cannabis plant that causes hallucinogenic effects. If it's greater than 0.3%, the crop must be destroyed.
Weed said that the industry hasn't developed sufficient varieties that consistently produce hemp below the THC threshold.
"Unfortunately, a lot of the varieties that exist in the seed market have THC levels that can spike above if the plant is stressed," Weed said.
Hemp is a nitrogen and potassium-demanding crop that can be tricky to grow. Weed's 16-acre plot near his manufacturing facility is somewhat of an experiment plot with some areas with and without irrigation, raised and not raised beds, black mulch and no mulch. Weed started planting at the end of June and anticipates harvest in mid to late September.
Harvest is expensive, as it's all done by hand. Farmers also need sufficient space to dry the flowers.
So far, Weed isn't allowed to put hemp in any food products, as that's not yet legal in New York. Once it's legal to do so, he plans to build an extraction facility on-site to sell retail and wholesale CBD products.
"I think it has the potential to rescue small farmers if they're willing to take the risk to grow it," Weed said.
Ray Namie, hemp consultant for Pure Functional Foods, agreed that hemp could spare many small farms from closing.
"We have a burden for small farmers," Namie said. "We went to Empire Farm Days with the idea that we're a licensed processor in the state and we buy biomass of farmers. We're looking to sign up farmers for next year."
Pure Functional would provide consulting and seed. The company needs growers who would plant more acres.
Namie also said that hemp is a "risky venture" because of its growing parameters and the testing requirements. But he holds unbridled enthusiasm for what hemp could bring to the small farmer.
"I'm 75 years old and I've never been this excited about a plant," Namie said. "This has gotten my attention like nothing else."
He foresees hemp's uses to include CBD, clothing, building materials, replacement for plastic, auto fuel and more.
As far as concerns about hemp stripping the soil of nutrients, Namie said that plowing it in or growing cover crops should maintain soil health.
Hemp's real challenges include weed control, pruning to avoid fungus and eliminating male plants. Male plants fertilize the female plants so they go to seed instead of producing a flowering bud, which is used for CBD.
The state's Department of Agriculture and Markets runs the Industrial Hemp Agricultural Research Pilot program, which is accepting applications for growers who want to participate in research programs in grain, fiber and cannabidiol (CBD) cultivation. Visit agriculture.ny.gov/PI/PIHome.html for more information and to find forms.