McALISTERVILLE, Pa. — Chris Hoffman has been passionate about pig farming for 25 years, and now he has a national spotlight to share his enthusiasm.
The National Pork Board on Tuesday named Hoffman America's Pig Farmer of the Year.
Hoffman, who is also vice president of the Pennsylvania Farm Bureau, owns and operates Lazy Hog Farm in McAlisterville, Juniata County.
Lazy Hog has 1,400 sow farrow to wean, a 4,800-head nursery barn and a 4,400-head finishing barn. The farm also produces 250,000 chickens each year for Bell & Evans as Lazy Chick Farm.
Hoffman's national honor recognizes the pig farmer who best exemplifies industry leadership, high standards of ethical principle, and a commitment to connecting consumers with the farmers who raise the pork they consume. Hoffman received the highest combined score in third-party judging and online voting in the entire U.S.
"Chris is both a strong advocate for our industry as well as the embodiment of a responsible, progressive producer," said National Pork Board President David Newman. "He will do a great job in leading pig farmers as we all work to demonstrate to our consumers that we aspire to ethically raise the safest, most wholesome protein supply in the world."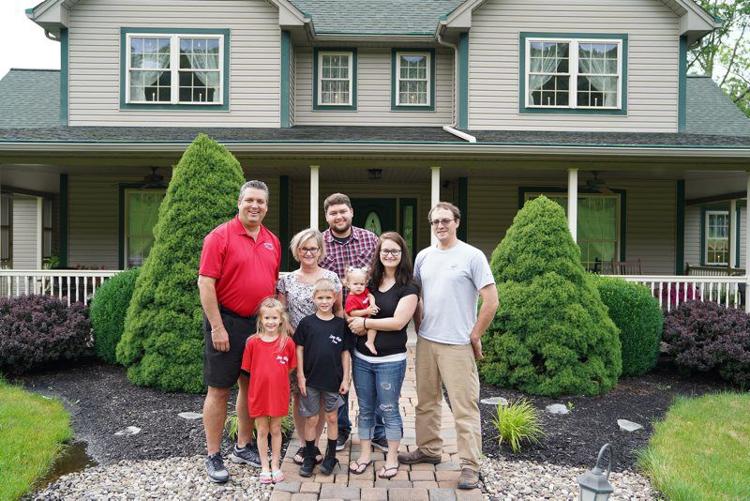 Pig farming for Hoffman began in 1994 with 600 sows. He's come a long way in a quarter-century — he became an independent operator earlier this year and employs six full-time workers at his farm — but pig farming wasn't always the plan.
"I always wanted to be in law enforcement," he said about his high school dream of becoming a state trooper. He attended state police boot camp during his junior year, but while waiting to reach the minimum age requirement for police academy admission, he started helping out at his father-in-law's hog farm, and then put in some time at a farm in Carlisle. Then a farm in Shippensburg was looking for an assistant manager, a job he found through an advertisement in Lancaster Farming. His fervor for pig farming had taken root.
Within six months Hoffman was putting protocol in place for breeding at the farm and organizing the barns, and his newfound passion had earned him enough money to buy a house and work toward running his own show, which he was able to do in 1994.
"I then bought the neighbor's farm and doubled to 1,400 sows," he said.
In 2009, he purchased farm property in Lewistown, where he keeps his finishing pigs.
In 2014, he became vice president of the state farm bureau, and a year later was named to the Penn State board of trustees.
Despite his successes, he thought Pig Farmer of the Year was a longshot.
But in April, he learned that he was one of eight pork farmers still in the running. By May, he was one of four. By early summer, it started to get real.
"It was just quite an honor and very humbling to make it to this point," he told Lancaster Farming in August.
Once in the top four, a third-party audit of his farm was required to ensure everything he presented to the board was accurate.
"They sent me a message Aug. 11 and told me voting would start that Wednesday at 9 a.m.," Hoffman said. Now that the votes are in, it's time to take industry promotion to the next level.
"Advocacy is so important to me," he said, adding that communicating with the public about the importance of quality farming is crucial to the future success of his industry.
This week, in a Pork Checkoff press release, Hoffman said he's excited to lead discussions with consumers and food retailers in order to help promote pig farming and demonstrate farmers' commitment to doing the right thing for their animals, the environment and the families who consume their product.
"My ultimate goal is to appear on regional and national television and radio programs to talk about how we raise pigs in this country," he said. "I want to meet with our nation's leaders, including the president, and show them that we are an integral part of our food supply and the nation's workforce.
"Farmers do a great job of raising pigs the right way, and now it's my turn to help them show the rest of the country how passionate we are about what we do and whom we do it for."