While traveling through Iowa on their honeymoon, Keegan and Taylor Adam visited a local pig farmer. Their conversation with the "old farmer" had a profound effect on the newlyweds.
"He told us, don't buy a farm in your 50s. Buy in your 30s," Keegan said.
So when they returned to Berks County, Pennsylvania, they got more actively involved in Taylor's family's feeder pig and roasting operation, Longswamp Traveling Hog.
"This was the ultimate goal — to work on the farm," Taylor said.
She and her husband took the business over from her grandparents and dad in 2017, balancing their full-time off-farm jobs with buying 120 feeder pigs every two weeks to meet their demand for butchering and pig roasts.
Today, Keegan and Taylor both work full time in the hog business, and they raise about 12,000 hogs a year from farrowing to finish on 152 acres.
Keeping it Clean
Cleanliness and biosecurity are the secrets to their success.
Keegan and Taylor dedicate a lot of time to washing and disinfecting equipment used in the houses.
Before they began raising their breeding stock, the Adams unknowingly purchased feeder pigs from a location that had an outbreak of porcine reproductive and respiratory syndrome. They had to get rid of all their pigs and leave their barns empty.
"For about two months, we didn't have a single pig on the property," Taylor said.
Now, Keegan and Taylor take a lot of precautions. They change their clothes and shoes every time they enter a house. They wash and disinfect each room in the barns before sending in a new batch of pigs.
They also operate a closed herd, meaning they only use their own gilts for breeding. The couple keep about 10 gilts at a time for replacements. Most of the current sows have been with the Adams since 2018.
"Many are on their seventh litter," Keegan said.
Gilts or sows are culled if they don't recover from a mastitis infection or produce litters smaller than the average of 13 or 14 piglets.
The breeding process starts with Keegan and Taylor sending a teaser boar down the rows of their sows to get them in heat.
Taylor artificially inseminates them with semen from Topigs Norsvin, a Dutch swine genetics company that specializes in Duroc and Landrace crosses.
"It's a lot easier than breeding with an actual boar," Taylor said.
By crossbreeding, the couple aims to achieve hybrid vigor for improved performance and appearance of their feeder pigs.
Landraces and Durocs are known for their feed efficiency, according to the Oklahoma State University.
"It's a more of a stockier and stoutly pig. There's more of a ham to it," Keegan said.
Piglets are born about every five weeks. Their skin's splashed with red, black and white patterns that don't always look like they belong on a pig.
"Every once in a while, one looks like a cow," Keegan said.
Roasting Season
No matter what their hides look like, the feeder pigs are destined for the farm's niche market — pig roasts.
The Adams own three roasters that they rent out each weekend of the summer for roasted or barbecue pork.
They butcher about 19 pigs a week. The finished hogs weigh 100 pounds and are about 3 months old.
Most of Longswamp's customers are particular about how to cut the carcass. The Pennsylvania Dutch have preferred methods for slicing their bacon, pork chops and hams.
But the Adams don't have to worry too much about that.
"We just do the dirty work of getting the pig ready," Keegan said. "We kill them, gut them and cut in half for people to come and pick them up."
Keeping with Taylor's family tradition, the couple's prices for feeder pigs haven't changed in 15 years.
They sell pigs under 200 pounds at $1.50 per pound. Hogs over 200 pounds are 70 cents a pound with a $30 cleaning fee.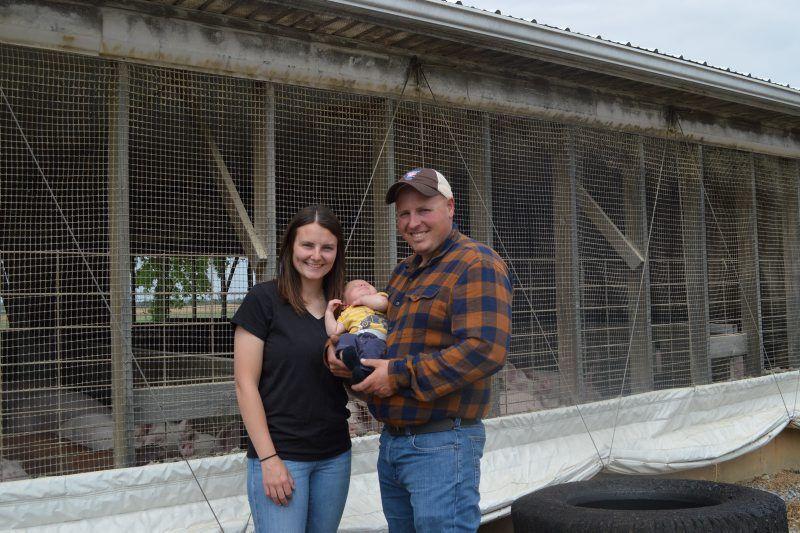 And as the summer heats up, the Adams charge roasting customers $2 a pound, which covers the cost of maintaining the roaster.
"We don't go with the market," said Taylor. "We make up for it when the price is low and lose some when the price is high. It keeps our customers happy."
The Adams serve a variety of customers throughout the year. In the winter, many of their feeders go into local freezers.
By summer, the pigs are taking road trips across the Northeast — hence the "traveling hog" in their business name.
A lot of the business' summer customers are from New York and New Jersey, who order a pig and a roaster for the weekend, Taylor said.
"It's just do-it-yourself. People come to pick up, the roaster and the pig," she said.