FAIRPLAY, Md. — "Get comfortable with where the switch on the clippers is because you are going to turn it off when things go awry," said Aaron Geimen, the shearing school instructor as he started his demonstration for the 16 sheep owners and soon-to-be shearers at the 60th Maryland Shearing School sponsored by the Maryland Sheep Breeders Association, held March 13 and 14.
Some of the participants barely outweighed the sheep they were shearing. They all hailed from Maryland, Delaware, Pennsylvania and Virginia.
"That is representation from fewer states than in prior years, but they all own sheep and want to learn to shear their sheep using the New Zealand method of shearing," Geimen said. "This is the oldest continuous school on the East Coast and includes two, seven-hour days of intense activity. Learning the five positions to hold the sheep takes time and everyone will shear between six and eight sheep We will teach them how to grab the sheep, move them, set them on their backside properly and shear them. We will also cover equipment maintenance and a little bit about wool handling and quality."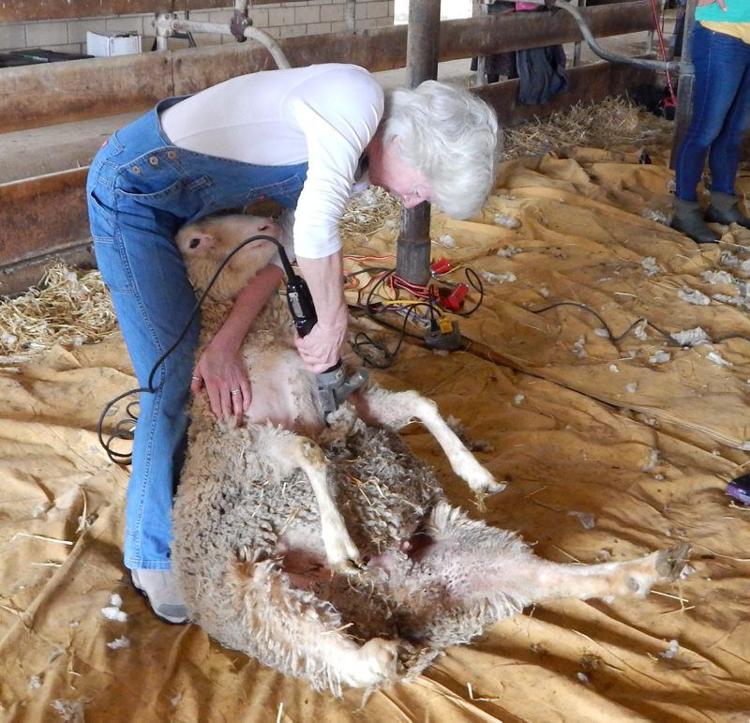 Geiman explained that commercial sheep are typically more docile than show sheep. The sheep used at the shearing school were Dorset based hybrids.
Sheep owners do get priority to get into this class.
"About 10% go on to become commercial shearers," Geimen said. "Sheep owners want to be self sufficient."
Emily Chamelin-Hickman, a full time shearer who has competed internationally, was the secondary instructor for the school.
"We want to give them fundamental skills in animal handling," Chamelin-Hickman said. "A lot of these people have just a few sheep or have very minimal sheep experience. We need to get them feeling comfortable in moving the animals and doing that basic introductory instruction in shearing the sheep. We want them to be safe while doing these basic things to build a sound foundation."
Geiman taught the New Zealand method to participants, which he said is faster and easier on the sheep.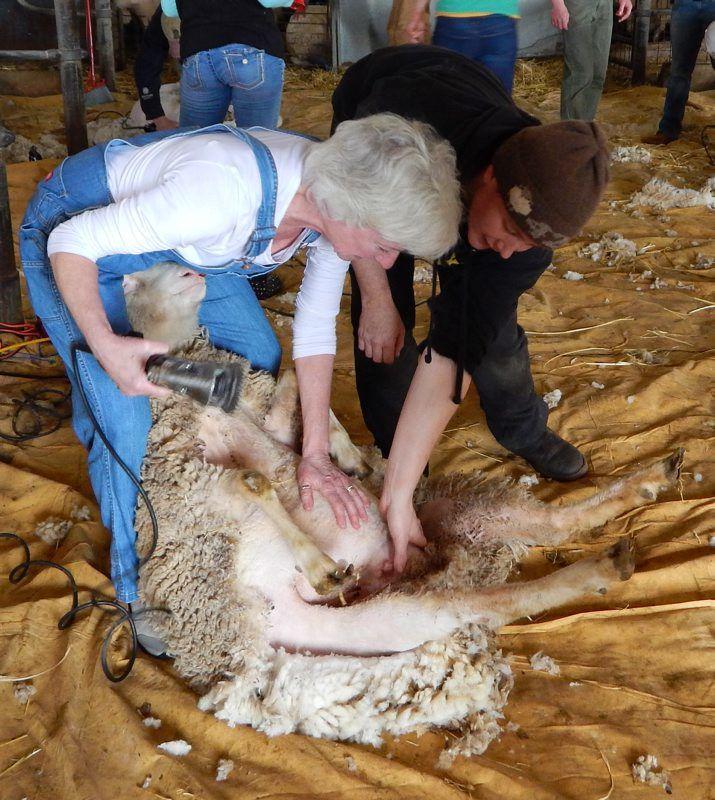 "An average shearing using this method should take five minutes, where a commercial shearer could do this in two minutes," Geiman said. "Other shearing methods have the sheep on a stand but that is more dangerous, it will take much longer and it is more dangerous for the shearer as well."
There is a lot for the students to remember when they are shearing.
"There are so many things you are thinking about," Chamelin-Hickman said. "There are certain number of tears you have to cry before you become a competent shearer and that is just part of paying your dues, but there is some levity to it and people shouldn't take themselves too seriously."
Monique Warren, of Whitestone, Virginia, sheared her first sheep at the school. She said having Geiman and Chamelin-Hickman helping her made the experience better.
"I had to get over the fear of hurting the animals and I had the benefit of watching the others first," she said. "I did feel that I needed to spend more time getting the feel of the animal and helping her be more balanced and comfortable. Then I won't feel like I am struggling against her. I'll be up for doing another one."
Applications for next year's shearing school will begin in November.
"This year we were full early and the waiting list started in January," Geimen said. "There is a requirement list, as our first responsibility is to people who own their own sheep, the next is those who want to become commercial shearers and third are sheep enthusiasts. For the registration fee we provide all the equipment and they get a complete sheep shearing package to keep for reference."