ARGYLE, N.Y. — The latest USDA Census of Agriculture, for the years 2012-17, shows a 54% increase in the number of organic farms in New York.
The state is third in the nation for organic production behind only California and Wisconsin, and there's still room for even more growth, the owners of a highly successful and well-established operation say.
Paul and Sandy Arnold own Pleasant Valley Farm in Argyle, Washington County, and are considered leaders in the organic industry for their extensive research, especially with high tunnels, and their willingness to share such information with others, particularly young people just starting out.
"I'm really not surprised at the numbers," Paul Arnold said. "When I go to the New England Vegetable Growers Conference in Manchester (New Hampshire) and 1,500 farmers are there, that shows which way the trend is heading."
"Number one, there's a market," he said. "As long as people see opportunities for selling things, that's where everyone's going to head."
The report says sales of organic produce increased from $97.1 million to $206.4 million, or 112%.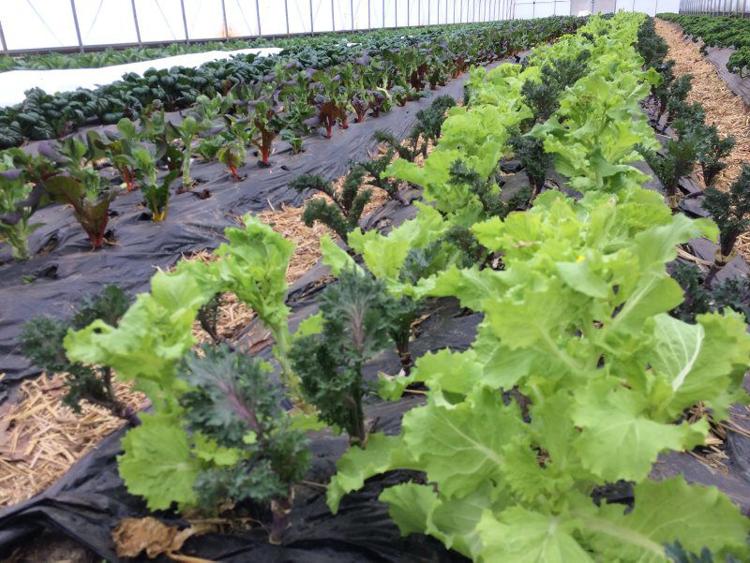 Demand is being fueled by the local food movement and a growing awareness about the importance of healthy eating habits.
Organic farms are popping up across upstate New York in proximity to cities such as Ithaca, Syracuse and Utica.
But the Hudson Valley, all the way along the Interstate 87 corridor, from just above New York City to north of Albany, is where the largest concentration of organic production is taking place. New York City's extensive Greenmarket system supports many farms, in addition to popular farmers markets throughout the region in places such as Newburgh, Troy and Saratoga Springs.
There are four key components to any successful organic operation, Paul Arnold said.
"It's all about knowing where your market is," he said. "You've also got to have access to services that support your business, and of course good soil and water."
The Arnolds' farm is close to farmers markets in nearby Saratoga Springs, a popular resort town that attracts hundreds of thousands of visitors in summer.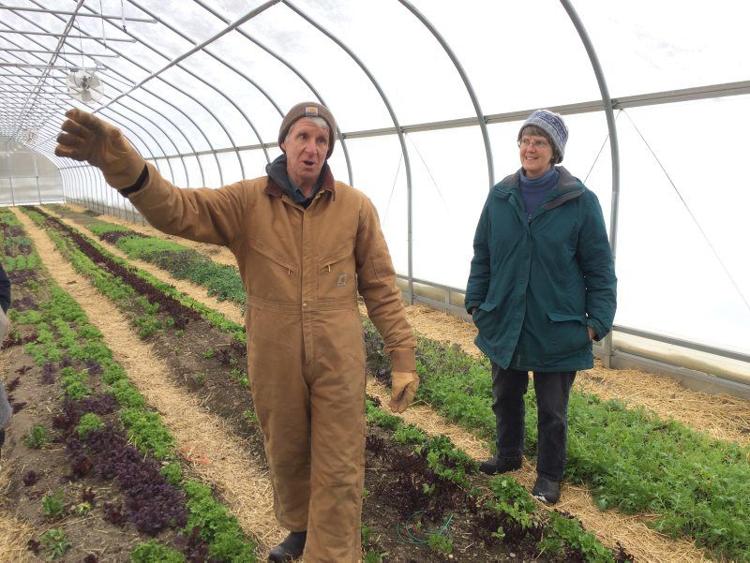 The immediate area has a year-round population of about 75,000 people. But even on good days, the markets only attract about 1,000 guests.
So Arnold believes there's plenty of untapped potential if growers can find a niche to meet consumer demand.
Highly rural Washington County, where the Arnolds live, has an extensive network of agricultural infrastructure. For example, there are many dealers to supply the equipment and repairs they need. This, too, is vital to their farm's success.
"Farmers from Vermont to the Mohawk Valley come to Washington County to get what they need," Paul Arnold said.
A farm might be located near a thriving market, but if owners have to drive two hours for supplies, this cuts into their profits.
Arnold also urges young people just starting out to read all they can, and attend as many conferences as possible, to network and learn from other farmers.
"All the mistakes have already been made," he said. "There's no sense making them again if you don't have to. As the old saying goes, 'there's nothing new under the sun.'"
The Arnolds do everything they can to encourage others. For example, at a recent Maine Organic Farmers and Growers Association conference, their keynote address was "Farming is the Best Job on Earth."
The census says organic farmers also have staying power, with an average 16.6 years in their present operation. They aren't just coming and going, and there are 1,099 women farmers and 1,783 males.
"Women owning organic farms is exciting and we know quite a few, but I hadn't thought there were so many," Sandy Arnold said. "I think the opportunities are out there across the U.S. for new and beginning farmers to learn through mentoring programs, conferences, internships and networking among farmers, as well as some online and web-based videos."
"There are also some amazing grants available and the availability of farmland made possible by farmland preservation organizations has also been a major factor for helping beginning farmers," she said.
Liana Hoodes, policy advisor of the Northeast Organic Farming Association-New York, said she's encouraged by the growth trends reflected in the census. But there's also an area of concern.
"The large growth and demand for organic dairy products was a real opportunity for New York dairy farmers," she said. "Unfortunately, that has changed dramatically in the past two years (2017-18), and the rate of growth has substantially slowed due to the importation of non-New York organic milk into the state."
"Because of lax enforcement at the federal organic level, cheaper factory farm-produced organic milk is being brought into the state and forcing New York organic dairy farmers out of business," Hoodes said. "We do believe that organic still has immense growth potential for New York agriculture and are working hard to level the playing field with regards to organic certification in other states."
The census also provided the following statistics for all types of agriculture, both conventional and organic:
• Ninety-eight percent of farms in New York are family owned.
• There are 6,866,171 acres in production, down from 7,183,576 in 2012.
• The average farm size is 205 acres, up from 202 acres in 2012.
• There are 21,860 female producers and 35,985 male producers.
• The average producer age is 55.8 years old.
• There are 6,718 producers under the age of 35.
• Hired farm labor is 55,363 employees.