Perhaps you rent out some of your farmland, but have you considered renting out chickens? Along the same lines of farm stays, renting out chickens appeals to the desire of non-farmers to get in touch with their rural roots. It also taps into the trend farm-to-table and knowing one's food source. For farmers, renting chickens can become a profitable revenue stream that also promotes agriculture.
In 2013, Phil Tompkins and wife, Jenn, co-founded Rent The Chicken at their home in Freeport, Pennsylvania, near Pittsburgh. They had seen renting out chickens listed as a "crazy business idea" online, Phil Tompkins said. Though that firm has since folded, at the time, Phil Tompkins realized that it could provide a means of income, since they already had six chickens.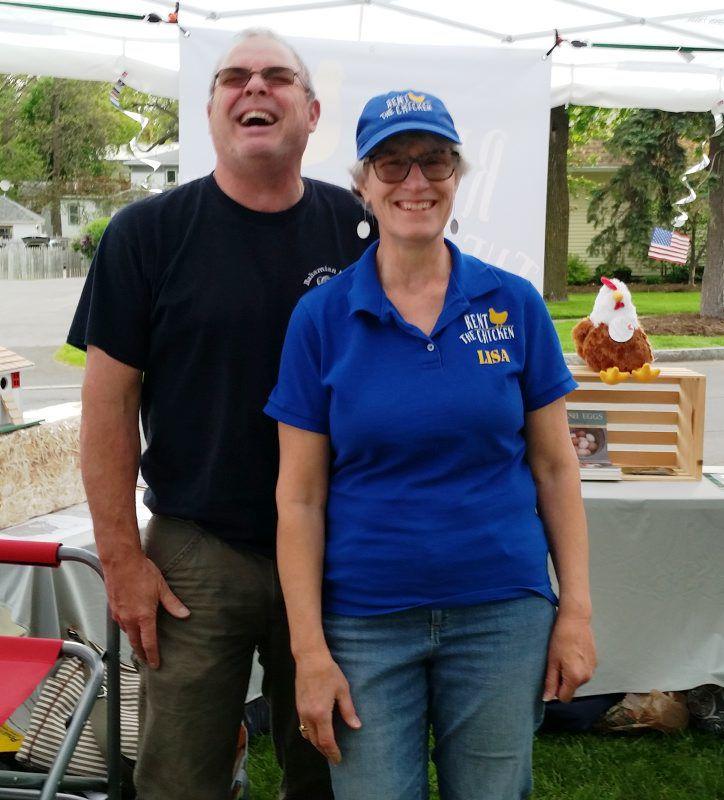 He proposed the idea to his wife. They'd build hutches and rent out their birds. It could provide another revenue stream for their household.
"She said, 'I know how to use power tools' and that's how Rent The Chicken was hatched," Phil Tompkins said. "We're still really 'egg-cited.'"
He unconsciously — and unapologetically — peppers his speech with "egg-cellent" chicken "yolks" and puns.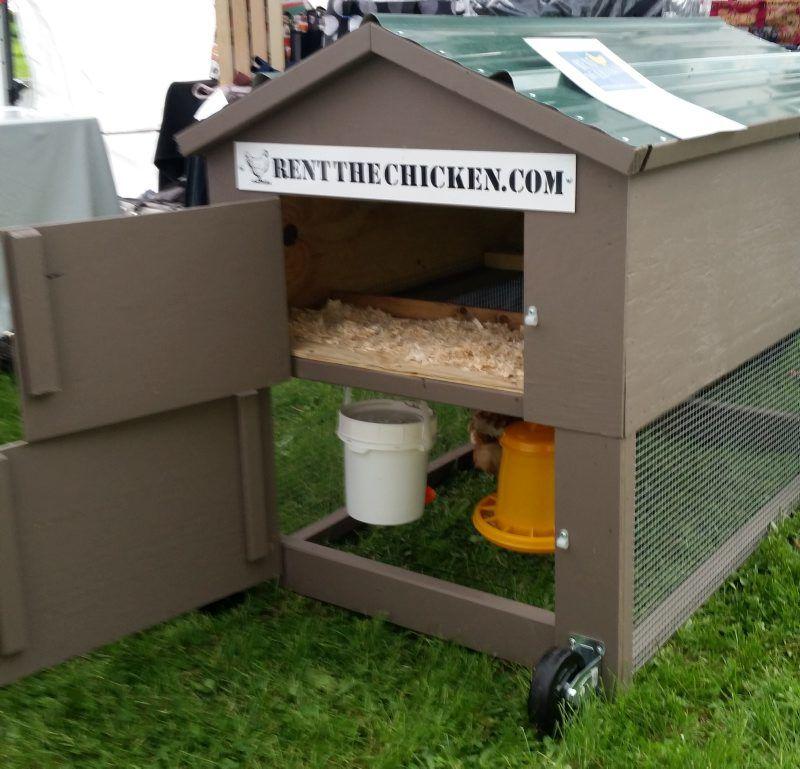 They began with their small flock and a few sample coops. The first rental went well. They learned more about coop design and what customers would need to effectively raise backyard chickens. In 2014, they began their first full season, hoping to rent out 15 coops. It was so successful that they built 54 coops and delivered 48. The couple struggled a bit to get enough chickens to rent.
That prompted them to begin a hatching program, where people can rent a chick hatchery and the Tompkins use the chicks renters have hatched in their chicken rental program. They also source chicks from a National Poultry Improvement Plan-certified provider to ensure healthy chickens that have been vaccinated.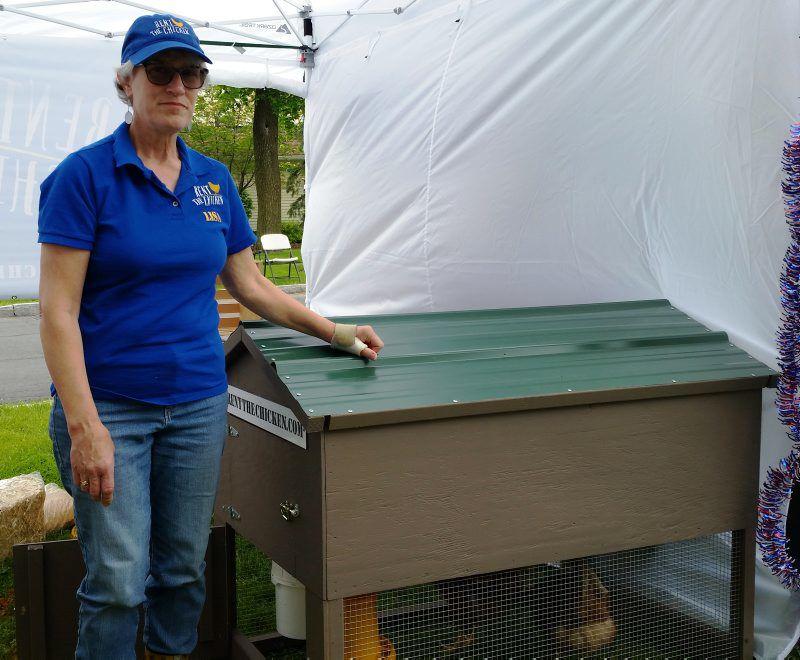 The Tompkins expanded with affiliates, who raise their own chickens or source chickens through NPIP organizations within their own states to comply with any local laws about chickens crossing state lines. About 35 affiliates currently work for Rent The Chicken, each with assigned territories. Ontario, Canada and New Jersey are sold out.
At the end of the season, the couple doesn't process their birds. The customers who end up adopting their rental birds don't want meat birds and once they stop laying, they become pets.
"We recommend a coop to hold eight and that they start with two to four chickens," Phil Tompkins said. "That way, the older birds can hang out in retirement."
They also make sure that each group of chickens rented is comprised of birds that look distinctively different to ensure that renters can tell them apart. Phil Tompkins believes that encourages owners to name them and keep them as pets.
While the rental period lasts six months and includes the coop, birds, feed and equipment — a complete, turnkey system for $400 to $600 — the renters can also choose to keep everything for an additional fee. Phil Tompkins and his affiliates deliver everything.
The target market is mainly young families with children, however, Phil Tompkins said that many couples without children also want to rent chickens.
"They become part of the family," he said. "If something happens to a chicken, they're pretty devastated. It's like losing a dog."
They rarely encounter complications like chicken illness or death, as careful bird sourcing helps ensure healthy animals. They also invite renters to call their new "chicken friends," the local affiliates, to answer any questions. Even years after adopting, they're welcome to call for chicken help. Renters also receive a copy of the book Fresh Eggs Daily by Lisa Stelle to answer their chicken questions.
"We refer them to pages in the book, which talks about every illness that's common with chicken," Phil Tompkins said. "In rare cases, we will seek out antibiotic treatment. We only treat the specific birds with illness. People are raising these birds to not have chemicals involved with their food."
The coops are portable, chicken tractor styles with a fenced-in area and an enclosed sleeping and nesting area. Moving it 3 to 5 feet daily gives the birds the advantages of free ranging with safety from predators. Phil Tompkins encourages renters to stay by their birds if they temporarily let them loose so that their human presence can deter predators. Any chickens that die from a predator are replaced free of charge.
Any renters who realize that raising backyard chickens isn't for them may "chicken out" at any time and return the hens and equipment, no questions asked. Phil Tompkins said that this reduces the risk of animal neglect.
Hatch The Chicken is available in regions in Arizona, Georgia, Indiana, Maryland, Michigan, Indiana, Missouri, Nebraska, New Hampshire, New Jersey, New York, North Carolina, Ohio, Pennsylvania, Tennessee, Texas, Virginia, Washington DC, Wisconsin, as well as some regions in Canada.
Renters located within 50 miles or 80 kilometers of the locations receive free delivery and help with set-up.
Those outside the delivery areas pay more and receive a flat-folded coop to assemble upon delivery for their birds.
Affiliate Lisa Stevenson lives in Hastings, New York, and covers the central part of the state, which includes Syracuse. She became interested in the chicken rental business a few years ago. She owned a small flock at the time and was working full time. Shortly after she retired in 2016, she found the Tompkins and Rent The Chicken. She proposed the idea to her husband Steve. He said he didn't care if she did it but he wouldn't build coops.
"Guess who's building coops?" Lisa said with a laugh.
She delivered their first coop in May 2019 and as of the end of June, she has delivered 18 more.
"I love the reactions of the people when they get them," she said. "Their eyes light up."
She mentioned a teenager who received a chicken rental for a birthday gift and squealed in excitement when her birds and coop arrived.
Stevenson said that her customers have included young families, an older women and grandparents who want to tend hens with their grandchildren. The renters take responsibility for checking on zoning for backyard chicken raising. Since the rentals don't include roosters, the flock is quieter and more likely to receive approval in small towns.
Stevenson said that the biggest surprise in the business has been the complexity of logistics when arranging deliveries. The animal tending aspects are pretty easy for her since she has raised ducks and geese and a goat. She also received a two-year degree from SUNY Delaware County as a vet technician.
Nonetheless, webinars from Rent The Chicken and the annual affiliate conference has helped increase her chicken knowledge. The organization also hosts monthly or bi-monthly meetings to share chicken raising tips and business advice.
Since affiliates must pay to join Rent The Chicken and purchase the supplies and materials to build coops, Stevenson thinks they've just turned a little profit in their first two months of operation. The couple views it as a fun project to do together that brings a lot of happiness to others, as well as additional income during retirement.
Part of the reason Phil Tompkins wanted to rent out chickens is that he had never encountered them as a youngster. He wanted to share with others the source of one of their foods — eggs — and help more people better understand farming.
"I was born in the city so I was never exposed to gardening or having chickens or backyard goats or eggs," Phil Tompkins said. "That's how I think most people are. If I go to downtown Pittsburgh, their parents or grandparents didn't have chickens. We're providing this education to our renters."
Deborah Jeanne Sergeant is a freelance writer in central New York. Email her at deb@skilledquill.net.