TAMAQUA, Pa. — The Koch family had been raising turkeys for more than 50 years when they decided to take a risk.
For decades, the family raised turkeys just like most producers. They fattened the birds with a feed that contained animal byproducts and used antibiotics to stave off illness. But when an outbreak of mad cow disease surfaced in Europe in the early 1990s, Duane Koch decided it was time to change how things were done on his farm in Schuylkill County.
Since mad cow disease is spread by feeding livestock rations that include animal byproducts, Koch decided to switch his birds to a vegetarian diet. He also stopped using antibiotics and relied on supportive supplements to boost natural immunity, and became more diligent with ventilation, space and bedding in his turkey barns.
"My father took the company in that direction before it was a popular thing," said Brandon Koch, who is the fourth generation of the family to run the business. "He basically had to build a new customer base at that point, but it's grown."
Even though Duane Koch passed away in 2017, his decision to switch to a vegetarian feed and refrain from antibiotics remains a cornerstone of the family business.
Today, that approach has been expanded, as 30% of the 900,000 turkeys raised each year are fed a certified organic feed. In addition, Koch's Turkey Farm was one of the first operations to earn the Certified Humane designation from Humane Farm Animal Care nearly 10 years ago. The farm is also certified by the Global Animal Partnership, an animal welfare food labeling program.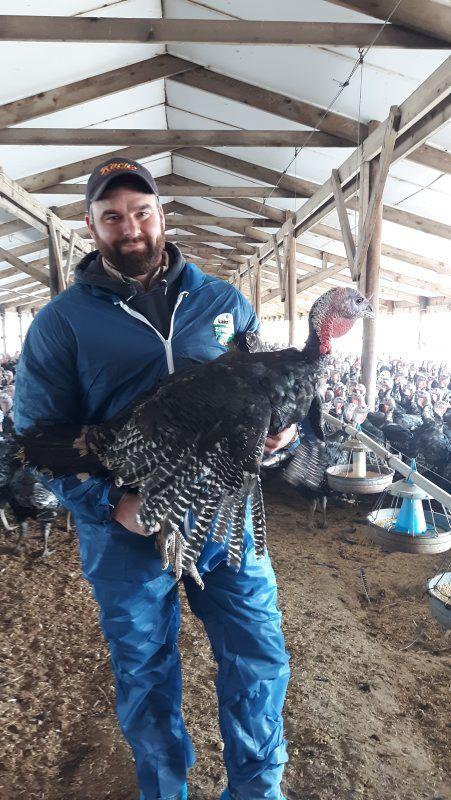 The designations don't come easily. Koch's undergoes numerous third-party audits each year, and they can only grow 7½ pounds of turkeys per square foot, while larger commercial producers typically raise 14 pounds per square foot in their barns.
"We're growing less turkeys in a barn which means less potential revenue, and it's a lot more paperwork and attention to details," Brandon said. "But better animal husbandry practices mean less stress on the bird and a product that's wholesome and healthy."
And it's all produced entirely in house from the time the turkeys arrive as day-old chicks.
Not only are the birds finished on the Kochs' farms, they are also processed on site in a facility that produces everything from whole turkeys to boneless breasts, turkey burger and deli meat.
Even the feed production is a full-circle process within the family's business.
While independent feed mills service the 17 Koch's contract growers throughout Pennsylvania, feed for the two company farms in the Tamaqua area is purchased from surrounding row crop farmers, creating an ag-based economy.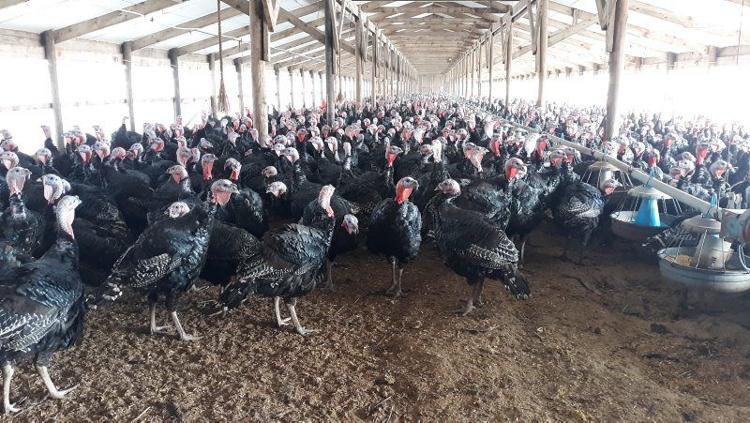 But none of it would be possible without the birds, and the Koch family has settled on two varieties — broad-breasted white and Orlopp Bronze, which is an heirloom breed.
"The whites are an industry standard and they grow well. The Orlopps don't convert feed to meat as efficiently, which takes longer to grow but they still get a large breast."
Although the business produces and processes turkeys all year, the Thanksgiving holiday, as expected, represents the busiest season. Koch's has 100 full-time employees and they add seasonal help in October and November. Last year, they processed 240,000 turkeys for Thanksgiving, and Brandon said they're on pace to exceed that by 5% this year.
"We have a retail tent at our farm where people can buy a fresh turkey from Nov. 21-27, and that way they don't have to freeze them before Thanksgiving. That's really popular," he said. "Most people want a bird that's 16-plus pounds for Thanksgiving. Maybe 15% of what we process is boneless breast, and the rest are whole turkeys which are still the leading item for the holiday."
Still, for a business the size of Koch's, sales can't be limited to Thanksgiving alone. They need to sell turkeys year-round, and that means offering other products even when customers aren't looking for whole birds for the holidays.
"Ground turkey is a huge thing right now. We just added on to our processing facility to do ground turkey in-house," Brandon said. "There's also a year-round demand for breast meat, leg meat and deli cuts. We even have a market for the blood and feathers from processing, which goes to a rendering facility and the trimmings go to pet food companies. Nothing from these turkeys goes to the landfill."
Since Duane Koch made the decision to change the feed and go antibiotic-free in the 1990s and put the company on a new path, Brandon is still considering different directions to explore. He'd like to expand the organic side of the business and grow the value-added (non GMO, organic) product line with turkey burger, sausage and meatballs.
Whatever direction the business takes, perhaps the biggest benefit for Brandon is one that he shares with his customers.
"I like to eat turkey as much as anyone. I eat it a couple times a week and I love the smoked breast," Brandon said. "I see plenty of turkeys every day, but I never get tired of it."