Orchard growers can reduce their spray costs while maintaining efficacy by tweaking their application rates based on the size and shape of their trees.
Terence Bradshaw, an assistant professor of specialty crops production at the University of Vermont, argues that pesticide labels have not kept pace with the shift to high-density orchards with small trees.
"These labels were made up for legacy materials and when trees were big and there was a lot of volume to fill," Bradshaw said in a March 23 webinar as part of the New England Winter Fruit Meetings.
Instead of applying pesticides on a per-acre basis, it often makes more sense nowadays to use a rate per volume of tree canopy.
"If we can reduce water and material rates in proportion to canopy volume decreases, we have a cost savings from reduced material application," Bradshaw said.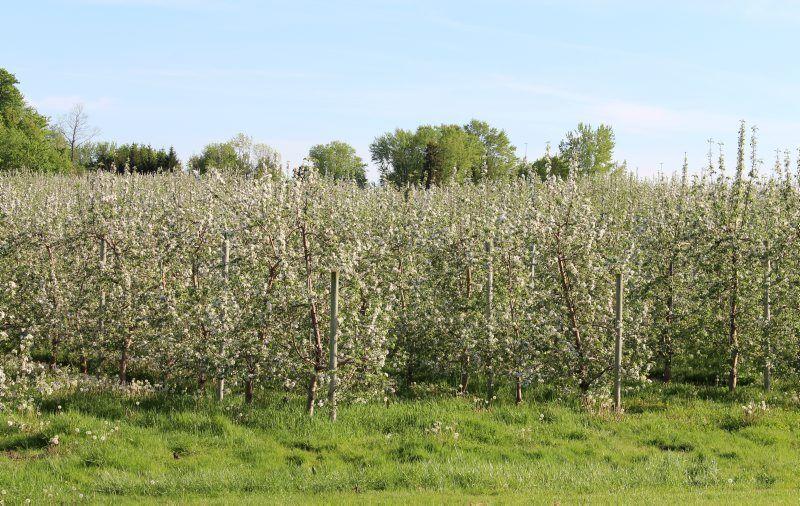 This logic might be particularly important for plant growth regulators. Although high amounts may be within the labeled rates, those rates could be wasteful and lead to overthinning, he said.
Calculating the Right Rate
When calculating tree row volume, producers need to use the height of the tree row, canopy width and row spacing.
"There's no voodoo behind this," Bradshaw said. "It's the height as if this were a rectangle of canopy going down the rows."
That figure can be scaled back based on pruning and the shape of the individual trees.
A column, dome or cup has three-quarters the volume of a cube. A rounded cone is 60% of a cube, and a sphere is but half, said Jason Deveau, application technology specialist with the Ontario Ministry of Agriculture, Food and Rural Affairs.
"The tree row volume assumes a complete row or wall of trees," Bradshaw said. "If you have skips or gaps in the canopy, it doesn't account for that loss of space. You shouldn't change your calculations based on lost trees. You just don't spray that area."
The application rate can also be adjusted as the tree changes throughout the season. Between tight cluster and full leaf, foliar surface area increases 20%.
If the spray rate stays the same over that time, the chemical will be spread over a larger and larger area, Deveau said.
Growers may also want to adjust their rates based on the density of foliage on different varieties, and consider how variability in equipment and environmental conditions will affect coverage.
"Very little of this is captured by labels," Deveau said.