Two of Honeycrisp's signature problems can be reduced by holding apples at the proper cold storage temperature.
Renae Moran, a University of Maine pomologist, spoke on bitter pit and soft scald March 17 during the New England Winter Fruit Meetings.
In an attempt to predict bitter pit, Moran harvested apples three weeks before their predicted maturity, held them at 70 degrees for three weeks and counted the number with bitter pit.
"This helped me identify some high-risk orchards," she said.
She experimented with conditioning apples and not conditioning before storing them at 34 and 37 degrees for three months.
Conditioning is holding the apples at 50 to 70 degrees for five to seven days before putting them in cold storage.
Moran found that conditioning reduced soft scald in some orchards, but the results were not as conclusive as she would have liked.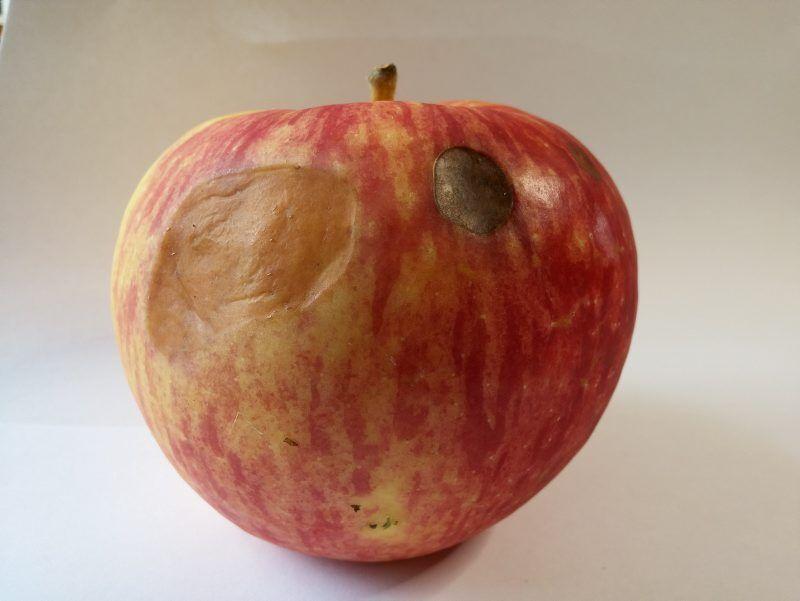 "It wasn't very accurate in telling us which orchards had low and moderate amounts but helped us pick out the worst-case scenarios," Moran said.
Storage at 37 degrees increased incidence of bitter pit, but conditioning greatly reduced bitter pit in some orchards.
"I'm not recommending storage at 34 degrees because it puts apples at risk for soft scald," Moran said. "With conditioning, 34 degrees is still too cold for Honeycrisp, and it is not cold enough to prevent soft scald."
Other Variables
In a test to rapidly induce soft scald, Moran developed the "freezer test," in which she put the apples in a programmable freezer and set it at 30 degrees. Within three weeks, the fruit started to develop soft scald. Moran said she's sticking with her recommendation of 37 degrees for storage.
In addition to storage problems, calcium deficiency can contribute to bitter pit.
Moran said in-season calcium sprays may reduce the diseases but are not enough.
"I've heard people reducing potassium fertilizer, but I don't recommend this as it's essential for fruit color and flavor," Moran said.
Some rootstocks impart some resistance to the diseases, but in-season management seems to offer the most promise for control, she said.
Farmers should get a peel analysis three weeks before harvest to measure calcium, nitrogen and potassium.
"Hopefully, you have results by the time you have apples ready for storage," she said.
The average shoot should be longer than 15 inches when doing this test.
In another presentation, Glen Koehler, an integrated pest management specialist from the University of Maine, described the school's new AgRadar weather data tool.
The tool covers sites in Maine, Connecticut, Massachusetts, New Brunswick, New York, Rhode Island and Vermont, with more sites planned as the program grows.
"As the Northeast becomes warmer and wetter, location-specific weather data will become increasingly important to farmers," Koehler said.
He said that AgRadar has operated for more than a year, but only this year has gone live for commercial services.
"We want to make sure we get it right," he said.
The site draws weather information from the National Oceanic and Atmospheric Administration, and uses that to help farmers decide when to apply chemicals or scout for diseases and pests.
A yearlong subscription is $140 for growers outside of Maine, with extra fees for the app's tools. Farmers may also choose the $120 option for just the growing season.