SELINSGROVE, Pa. — Bright Farms, a hydroponic baby-greens grower, has opened its largest greenhouse to date in Selinsgrove, Snyder County, this year.
The 280,000-square-foot facility is one of five Bright Farms locations on the East Coast. This is the second of its kind in Pennsylvania, with another greenhouse facility in Yardley, north of Philadelphia, in Bucks County. The other three sites are in Wilmington, Ohio; Rochelle, Illinois, and Elkwood, Virginia.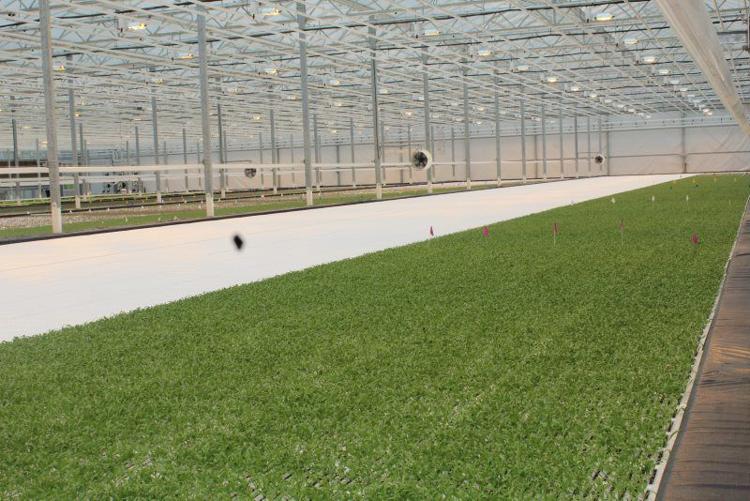 Bright Farms grows baby greens in water instead of soil. Chris Hennessy is the lead grower for the Selinsgrove location. He said there are 4 acres of greens "under glass" at the facility. Another acre is used for support, harvesting, packing and seeding.
"This is the flagship, so to speak," Hennessy said.
The Selinsgrove property was chosen based on its proximity to distribution centers outside of urban areas.
Hennessy said that Bright Farms markets itself as free of pesticides. He explained how the greens products do not touch human hands until the packaging phase. Then, the plants are placed in bags and sealed, and are only transported by gloved hands.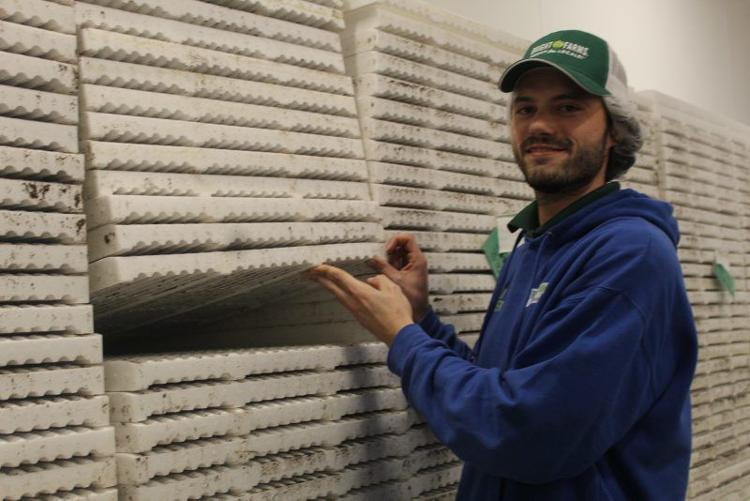 "Once the plants are seeded, they enter a germination chamber where they sit in the perfect climate until they sprout. From there, they are transplanted onto our 'pond' with a flag that represents the day they were put on the pond, creating a visual guide," said Hennessy, explaining the growing process. "Day by day, these plants are pushed across the pond until they reach maturity at the other side, and are ready to be harvested. It takes between 11 and 19 days to grow our produce, which means we can very quickly meet demand."
Styrofoam boards are used to hold the seeds, and the workers go through 2,000 to 3,000 boards a day. The boards are washed and reused. Hennessy said these boards are intended to be reused over the next several years.
Every step is temperature regulated. The greenhouse has fans in place and glass that allows the right amount of sunlight as well as other lighting.
However, during the evening, a shading system has been installed to keep the bright lights from imposing on neighborhood residents' sleep, he said.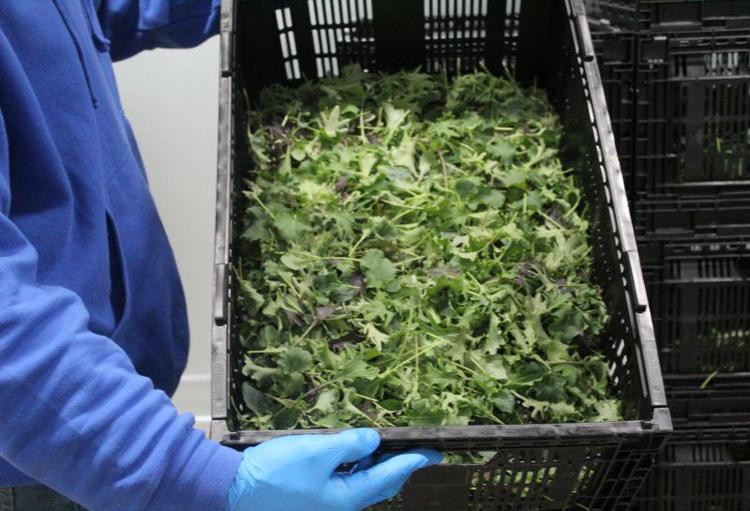 A wide variety of baby greens are grown at the greenhouse including leafy lettuce, spring lettuce mix, romaine lettuce, arugula, kale, mustard, beet greens, basil and spinach.
"Nobody grows spinach this way," Hennessy said, "which puts us ahead of the rest."
Hennessy said that spinach is usually not grown through hydroponics.
"It's susceptible to root rot," he said, with too much moisture. Bright Farms has a water system they feel beats the odds.
The spinach has been growing so well, he said, it is a quarter of the production.
"We're our own little niche here," Hennessy said.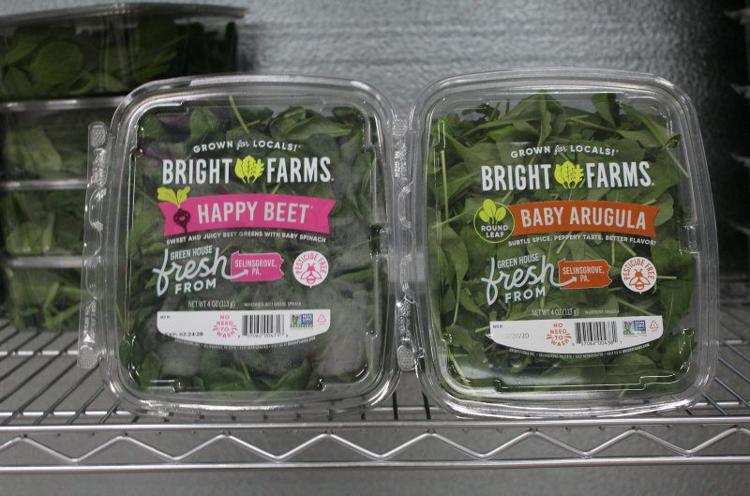 The business gives local farmers Bright Farms' natural waste products, such as nutrient-rich water and other plant byproducts, which can be utilized for fertilizers, manure and composts by the ton.
"We can provide these farmers with nutrient results to help them decide if it meets their needs," Hennessy said.
Bright Farms offers tours to the community and the first question asked is: "Where is the dirt?" he said. There is no soil, sand or peat moss anywhere in the 280,000 square feet of growing space.
"We are used to seeing plants in soil, not floating in water," Hennessy said about the public's questions.
He explained that the growing pond contains nutrients, oxygen, sterilization and chilling for the plants' roots to survive.
"We are not organic," he said.
Cleanliness is imperative at the greenhouse. From the facility to the store, sterility is emphasized.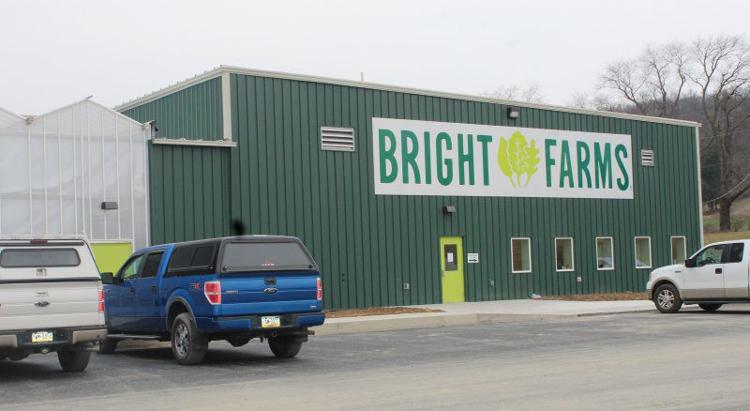 "It's ready to eat right out of the bag," according to Hennessy, who said he often eats the leaves straight from the bag. He thinks the hydroponic system creates a more "crunchy" bite to the lettuce.
The salad lettuce does not need to be washed before being eaten, according to Bright Farms.
Hennessy is a big advocate for hydroponics and compared the system with conventional growing. He said that lettuce plants grown in a field are typically sprayed to avoid insect damage. Outdoor plants are also susceptible to weather damage, such as too much sun or not enough sun, or too little rain or not enough rain. In the controlled hydroponic greenhouse, he said these aren't factors because the temperature remains warm and cools in the evening.
"We grow local produce year-round, which is not typically possible due to the climate in Pennsylvania during the winter months," said Amanda Mantiply, of Abel Communications, the media representative for Bright Farms. "We do not compete with local farmers and the crops they typically grow in our state. By growing local produce year-round, we compete with long-distance produce that is shipped in from California and Arizona throughout the year. We grow produce in a safer and more sustainable way than long-distance growers, using less land, less water and less shipping fuel," he said.
The hydroponic greens are cleaned by 1 p.m. most days and harvested by machine. They sit in a holding cooler for two hours and then in a pack room where they are packed. Within four to six hours, a truck driver loads a truck and the baby greens are shipped directly to the food distribution center.
Bright Farms has started selling its baby greens to grocery stores such as Giant Foods, Martin's and Weis Markets in central Pennsylvania.
It also began selling greens to Karns Quality Foods, which has supermarkets around central Pennsylvania.
Andrea Karns, vice president of sales and marketing for Karns, said it is too early to know how much of the product is being sold since the store only began offering Bright Farms baby greens in January. She said they sell all eight varieties of lettuces offered by the company in their nine stores.
It is anticipated that Bright Farms will grow 2 million pounds of leafy baby greens in a year.
The hydroponics greenhouse has about 37 local employees in the Selinsgrove area.
"We're proud to provide local agriculture jobs year-round that pay a living wage and competitive benefits," Hennessy said.