In recent years, Pennsylvania farmers markets have become not only places to shop for farm fresh foods, but also event-filled locations with entertainment and perks like seasonal festivals to attract more shoppers. When the COVID-19 pandemic struck in the spring of 2020, farmers markets faced uncertain times in a new era where gatherings were discouraged. With 6-foot social distancing required to prevent the spread of COVID-19, markets were faced with a whole new challenge of how to attract buyers and continue to function.
For farmers markets trying to decide how to proceed in a pandemic, a major factor became Pennsylvania's Department of Community and Economic Development, which designated markets as "essential businesses" purveying foodstuffs during COVID-19. It meant the markets could remain operational if they could find ways to keep their vendors and customers safe.
With many decisions needed, a group of market managers from around Pennsylvania began weekly online forums to discuss, brainstorm, share best practices and serve as a support group for each other. What emerged were ideas that answered questions they had never even asked before. Suddenly, logistics and technology that had once seemed unnecessary for routine market transactions, became lifelines to staying afloat in a pandemic.
The results surprised farmers market managers, vendors, and shoppers alike.
During the recent 2021 annual conference of Pasa Sustainable Agriculture, held virtually this year, farmers market managers from Pittsburgh, Easton and Centre County participated in a webinar about the future of farmers markets. They discussed this topic in light of the lessons learned from their respective experiences operating a public market during a pandemic.
Bloomfield Market Redesigns Site Plan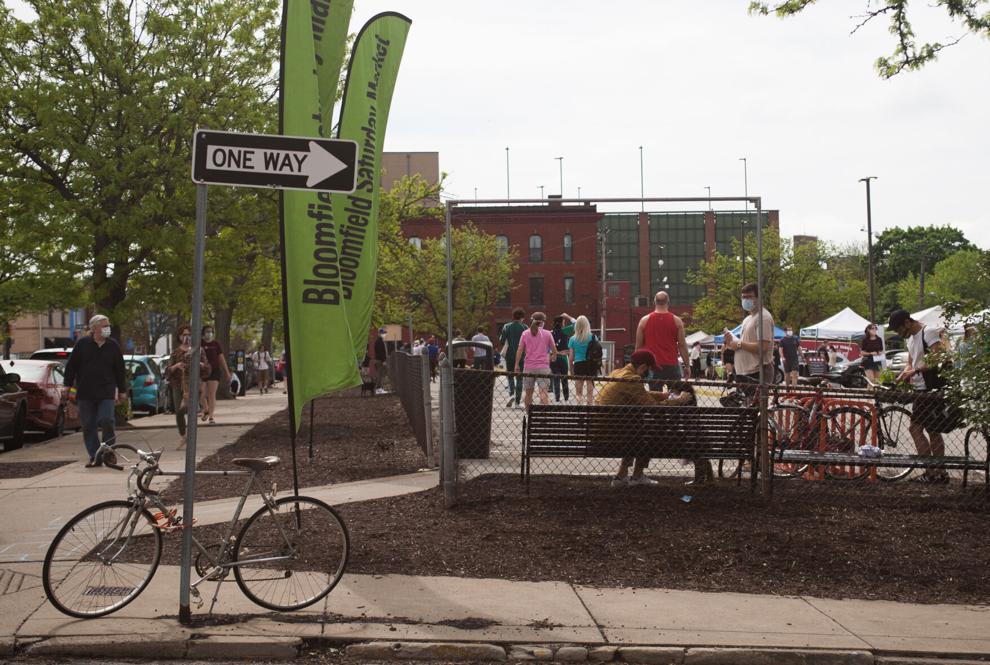 Abigail Gildea manages the open-air Bloomfield Saturday Market in Pittsburgh; it offers both summer and winter farmers markets. All participating growers and producers must come from within a 100-mile radius of the Steel City. Its website advertises Bloomfield as "two parts farmers market and one part weekly festival (from) May to November."
The winter market runs on the first and third Saturdays from December through March, so it was just wrapping up as COVID-19 hit in early 2020. That gave the Bloomfield team until its reopening on May 9 to decide if and how to continue operations during the pandemic.
Gildea and her employer, Bloomfield Development Corp., connected with Arup, an international company specializing in technology typically related to moving people through airports and railroad stations. After analyzing the Bloomfield market's layout, Arup designed a site plan with only one entrance into the market — to control foot traffic into the large parking lot housing the market.
Gildea reported that purchasing farm-fresh foods in an open-air environment during a pandemic gave their farm market a whole new appeal, even without their usual entertainment and special events. Their summer markets, with 35 vendors, averaged 1,300 customers per Saturday; some locals said it was the only place they went during COVID-19, since many other businesses had to shut down temporarily. And, there were 25 vendors at Bloomfield's winter market, which averaged 900 customers per week, double the previous year's numbers.
With spacing between patrons limited and mask-wearing strictly enforced, peak hours found lines of customers waiting to enter the market. Gildea said admission wasn't limited to a specific number of shoppers; rather, management tried to gauge if there was crowding in any market areas before allowing more shoppers to enter.
Gildea said that COVID-19 caused them to place more emphasis on community input. Since elderly people had difficulty standing in line, two additional access points were created for elderly and disabled people. The market also began opening a half hour earlier for seniors-only shopping.
Based on her observations, Gildea said that farmers markets aren't just for special events anymore; they've come into their own as primary food sources.
Historic Easton Market Undergoes Big Changes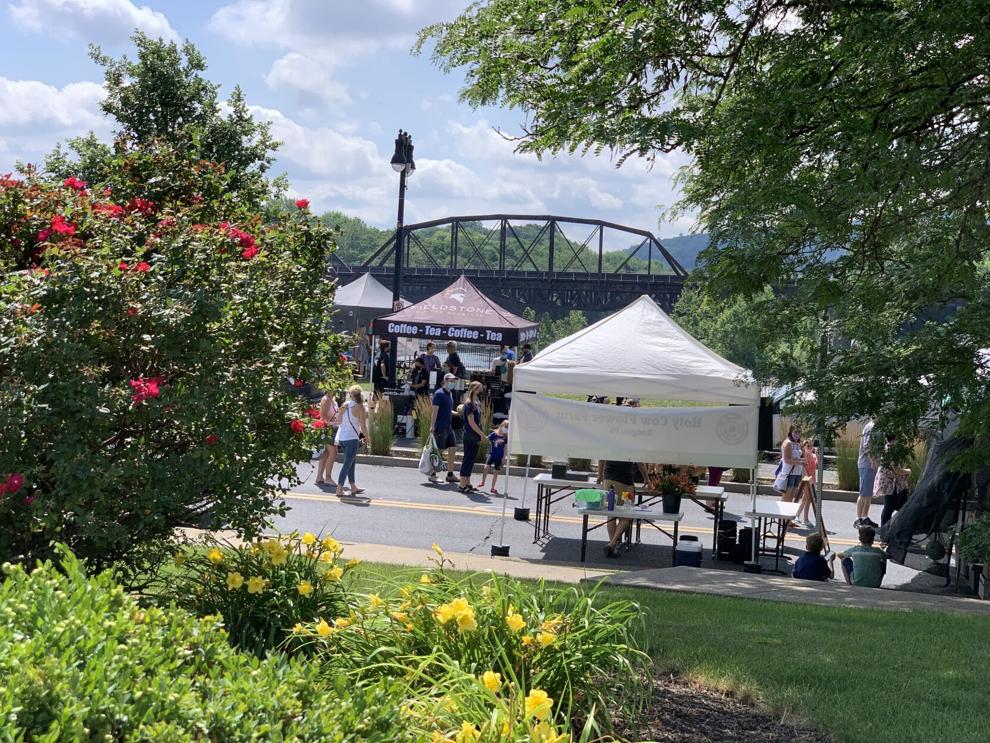 In Northampton County, the Easton Farmers' Market faced a special challenge. Manager Megan McBride explained that some form of the Easton Public Market has existed in Easton's downtown square since 1758, making it America's oldest open-air market. The market's closely placed stands, clustered around a monument in the square's hub, made social distancing problematic this year.
Vendors were separated, and mask-wearing and a "no touching" policy for products were implemented, but public backlash on social media accused the market of contributing to COVID-19 contagion. It soon became clear that finding a different location was necessary.
Abandoning the market's historical venue was controversial. However, the market relocated to the city's underutilized scenic riverfront along a roadway adjacent to a park, which blunted opposition. Now called Easton Farmers' Market, the new location provides dedicated free parking on two nearby lots with easy market access. It also features one-way customer traffic, bringing customers past vendors they haven't seen before.
"Now, no one's at the end of the line," said McBride.
To ease the transition, McBride met with each of their 32 vendors for input. Vendors were required to sign an agreement that outlined strict COVID-19 rules. During 2020, the Wednesday through Sunday market averaged 1,500 customers daily. Although this was only half the usual number, sales were 25% higher, because customers were able to carry more product to the convenient parking.
Public reaction to the brutal police killing of George Floyd, a black man, in late May, called attention to many racial issues in the U.S., as well as locally to the lack of racial diversity within Easton market's customer base. By partnering with the local chapter of NAACP, or National Association for the Advancement of Colored People, the market saw a dramatic increase in customers of color and also attracted more vendors and entertainers of color.
The Easton Farmers' Market will continue at the riverfront in 2021. Its location has drawn in many new customers, but Easton is still struggling to reconnect the new site with its downtown businesses that miss the foot traffic from the old market.
Centre County Farmers Market Shifts to Take Out and Delivery
This year, CSA Day has been expanded into CSA week to drive building interest in community supported agriculture.
Sabina Carey is the manager of Centre Markets, a collaboration begun in 2018 between several producer-only farmers markets in Centre County, Pennsylvania. After some customers expressed safety concerns even in spite of COVID-19 protocols, Carey began exploring online options. What evolved is similar to a CSA, or community supported agriculture, but their system used online ordering for specific items from the vendors, along with a combination of customer pickups or deliveries to customers.
With help from Local Line, a Canadian provider of sales and distribution software for farmers markets, Carey organized a weekly ordering cycle system. Vendors list their inventories and customers make selections online between Wednesday and Friday evening. Vendors are notified of customer choices at 5 p.m. Friday, then deliver their products Saturday between 10 a.m. and noon. At that hub site, orders then are packaged between 10 a.m. and 2 p.m., for customer pickup between 2 and 4 p.m.
Centre Markets Online also delivers 20 to 25 orders per week for a $6 fee, using a van purchased through a GoFundMe online campaign.
Starting out with three participating vendors, the program has grown to 35 vendors fulfilling about 100 weekly orders, averaging $75 per order.
Customers like the concept's COVID-19 safety, convenience and access to fresh, local, custom foods. Vendors appreciate having a reliable outlet for their products, for which they're charged a 15% commission plus a $4 handling fee per order.
Carey said that Centre Markets Online grossed $100,000 in its first four months of operation and has plans to expand. One way of doing this is potentially being able to service SNAP (food stamps) recipients in the future.
The market manager also reported success in their collaboration with a local food pantry, which assists with their deliveries.
For more information, go to https://bloomfieldnow.org (click on the Saturday Market link) and www.centremarkets.com.