An ideal apple crop needs a balance of sun and rain, plus cold nights to enhance the color.
It's still a little early to rate the brilliance of this year's reds, but balanced doesn't begin to describe the weather.
"Very, very rainy," said Amanda Hollabaugh of Hollabaugh Bros. Inc. in Biglerville, Pennsylvania.
Some 44 inches of precipitation have fallen at Millersville University since the beginning of the year, topping the annual average with more than three months to spare.
Too much rain can lead to fruit cracking, diseases or worse.
"Our Asian pears just exploded on the tree," Hollabaugh said.
With the rain rarely letting up, her farm has resorted to picking in the rain to fulfill its standing orders.
Meanwhile, the Rodale Institute canceled its Organic Apple Festival — planned for today, Sept. 15 — because of a poor crop.
The Kutztown research farm got nailed by summer rots, and the institute didn't want customers leaving frustrated that they hadn't found much fruit on the trees, said Drew Smith, Rodale's chief scientist.
One problem in Rodale's case was the lack of diversity in the orchard.
McIntosh varieties predominate, having been planted for a research project at least 30 years ago.
A typical commercial orchard would have its risk spread across many varieties with varying levels of disease resistance.
"You'd have a little more resiliency probably," Smith said.
Rodale's crew did do a good job controlling codling moth, plum curculio and scab, three of the farm's biggest pest concerns for apples.
An organic orchard can have a near-total loss of fresh-market crop because of codling moth or plum curculio damage.
These apples can still be used in cider or applesauce, but they don't look good enough to sell whole, Smith said.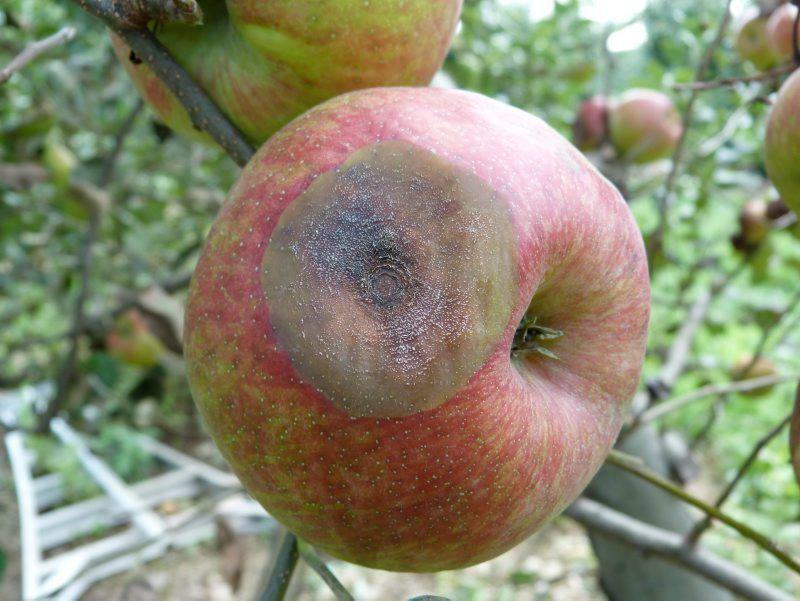 Bitter rot has loomed large in orchards this season, but it's been a banner year for diseases generally.
Fire blight was bad in some places early in the season.
Apple scab, rust, root rots and anything else that prefers warmth and prolonged wetness have thrived.
"It's been overwhelming, to be honest," said Kari Peter, a Penn State plant pathologist.
Fruit rots can be challenging to outmaneuver, especially because spores can be available as early as bloom.
"May was a really wet month. That seemed to be the first domino," Peter said.
Peter saw her first fruit rot symptoms in late June, a month or more before normal.
Honeycrisp has been most severely affected by bitter rot, though Nittany and other varieties have been hit hard, too.
Gala has fared better than most.
With all of the fungal material present, growers will need to do a good job clearing their orchards of leaves, fallen fruit, and still-hanging mummified fruit.
"Sanitation's going to be really important this year," Peter said.
Last year, Rodale ran pigs in part of its orchard to see if they could control the rotten apples.
The team is starting to evaluate the effectiveness of that approach, Smith said.
For the second straight year, spotted lanternflies have been observed in Berks County orchards, though the pests are doing little damage to the apple trees, said Don Seifrit, a Penn State Extension educator in the county.
The lanternflies seem to just be passing through during migration. They don't stand much of a chance against growers' insecticide programs anyway, Seifrit said.
Though growing apples hasn't been easy this year, Seifrit doesn't want Pennsylvanians to be deterred from buying local fruit.
A quality crop can't always be picture-perfect, but "a bunch of folks have a bunch of really good apples out there," he said.