CATAWISSA, Pa. — Soil retention success on the hilly farms of eastern Pennsylvania is an envious feat, says North Carolina farmer Zeb Winslow.
Winslow, whose family specializes in producing cotton, corn, soybeans and wheat in a 100% no-till/cover crop system, was the keynote speaker at the PA No-Till Alliance Summer Field Day held July 23 at the Mark Rohrbach Farm in Columbia County.
While no-till and cover crop techniques have worked well on flat farmland in North Carolina, Winslow said he is impressed with what Pennsylvania farmers have accomplished on a different landscape.
"Looking at these hills and valleys around here, if people are able to hold the ground together here, it can be done anywhere," Winslow said. "I see more erosion problems at home than in the hills here."
A big part of the no-till success in Pennsylvania, Winslow said, is the education and outreach made through the No-Till Alliance. Before no-till practices can be successfully implemented on the ground, he said, farmers need a source for education.
"I'm jealous of the alliance up here. We don't have this at home," Winslow said. "You guys are able to trade ideas and lean on each other, and that's a great thing."
During his presentation, Winslow traded some of his own ideas with no-till and cover crop techniques. It's a relationship between plant roots, soil and carbon, he said, and the goal is to get the most from every acre all year long.
"It makes no sense for land to sit fallow in the winter," he added. "Without cover crops, that field is shut down for 58% of the year, producing nothing."
While cover crops keep active root systems in the ground through the winter, the benefits don't end there. Winslow says his operation realizes cost savings in erosion control, moisture retention, weed suppression and fuel thanks to cover crops and no-till.
Cover crops prevent evaporation, and that allows rainwater to percolate the ground and remain in the soil profile. For Winslow, banking rainwater in the soil via cover crops boosts the benefit.
And after he transitioned 100% to no-till corn coupled with cover crops for weed suppression, Winslow said his farm's fuel consumption dropped by 35%. And when he switched to planting 50% of his cotton with no-till management, fuel consumption dropped 33%.
"A lot of times we focus on yield, but everything else we use to get there drives profitability," he said. "A dollar is a dollar, and I'd like people to think about it that way, as far as not being a fixed production system."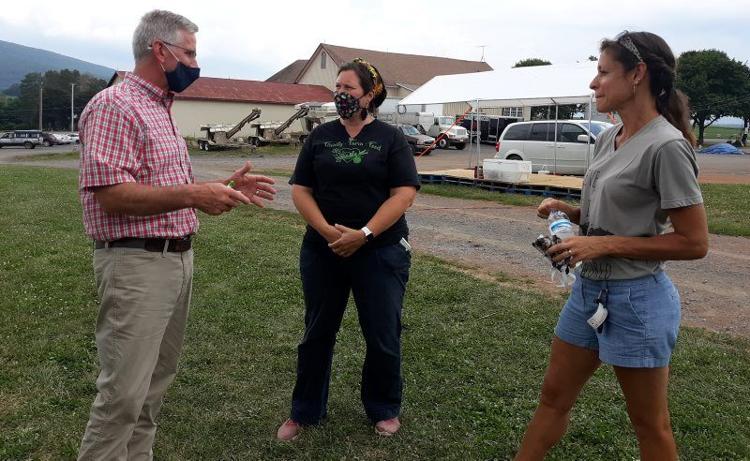 Jay Howes, administrative coordinator for PA No-Till Alliance, said COVID-19 affected attendance at this year's field day, but he was happy with the turnout of 125 farmers.
The alliance considered canceling the event, Howes said, but when Columbia County went green they decided to move ahead and utilize a larger tent for the outdoor venue. The alliance also hosted a field day in Butler County on July 24.
"I'm glad we did. There's been a lack of educational opportunities for farmers this summer," he said.
State Agriculture Secretary Russell Redding attended the Columbia County event.
"In terms of the COVID-19 restrictions and social distancing, they modified the event and figured out a way to manage this," Redding said. "I'm glad they did, because it's important to get the firsthand experience and walk the field.
"The philosophy of the No-Till Alliance is being able to demonstrate what you do and share it, and that's a great model."