Franklin County is a dairyman's paradise, says Steve Ruby. The allure of low-cost farmland and nearby suppliers, a tractor mechanic shop and feed mill appealed to the former Maryland man.
Ruby, who worked on a dairy farm as a youth, said he learned how to make money milking cows. In the 1980s, he and his wife, Wanda, settled in Spring Run, Pennsylvania. Today, he farms 715 acres from three farms and rented ground, which make up his farm, Pathvue Holsteins.
Pathvue Holsteins has undergone some changes over the years. In 2005, the Rubys did some conservation work with their local Natural Resource and Conservation Service and conservation district to construct a manure pit and build better fencing to improve their pastures. The farm has also constructed a new barn for their fresh and dry cows. "Our farm used to look pretty rough, we gradually updated things," Ruby said.
Ruby has two full-time employees who assist him around the farm. His oldest daughter, Angie, milks part-time while volunteering at the local food pantry. He grows corn, alfalfa, soybeans and rye for his 400 cows and calves. He also strives to give his herd the best of comforts. During steamy summer days, the cows seek the fans in the freestalls, but by nightfall, the cows are out sleeping under the stars, Ruby said.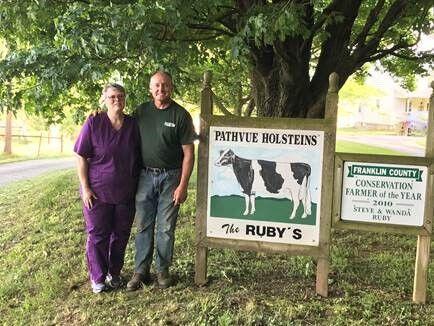 Prior to the dairy crisis, Ruby used to raise some of his heifers for the export market, sending them to Turkey. About the last time there was a huge demand for short-bred Holstein heifers was 2014. "That market has really dwindled," he said. "A short-bred heifer used to get $1,800 apiece."
There was no hesitation when he applied for the Dairy of Distinction award. Ruby met the curbside appeal of the judging process by keeping any trash and scrap metal organized and has been regularly maintaining his buildings and fences. He also produces and ships low-somatic cell, high fat and protein-quality milk to Dairy Farmers of America.
Earning the bright cherry red barn sign is his approach to making interactions with farm visitors smoother. Within his area, several farms including Ruby's were inspected by the state Department of Environment Protection last year, focusing on the area's impact on the Chesapeake Bay. Ruby says when the state inspector saw his conservation award it made his visit much easier and he was able develop a rapport as the guy walked around the farm.
"It can get you off on a real good first step with someone with a badge," Ruby said.