Hayden Weaver's grand champion steer brought $8,500 on Jan. 9 at a scaled-back version of the Pennsylvania Farm Show junior market steer sale.
The high bid, by Saubel's Markets, was far short of the $20,000 paid for last year's grand champion, and the 21 steers were half the pre-pandemic participation.
Still, volunteer Amy Garges was happy that the Department of Agriculture and the junior steer committee were able to organize the sale.
"They had a place for (the steers), an endpoint," she said.
The event was held at New Holland Sales Stables in Lancaster County rather than the Farm Show Complex in Harrisburg, and junior market lambs, goats, hogs and meat rabbits were not included this year.
FFA and 4-H members dropped off their steers at the sale barn on Friday, Jan. 8. Several youths clipped and groomed their animals in the parking lot, Garges said.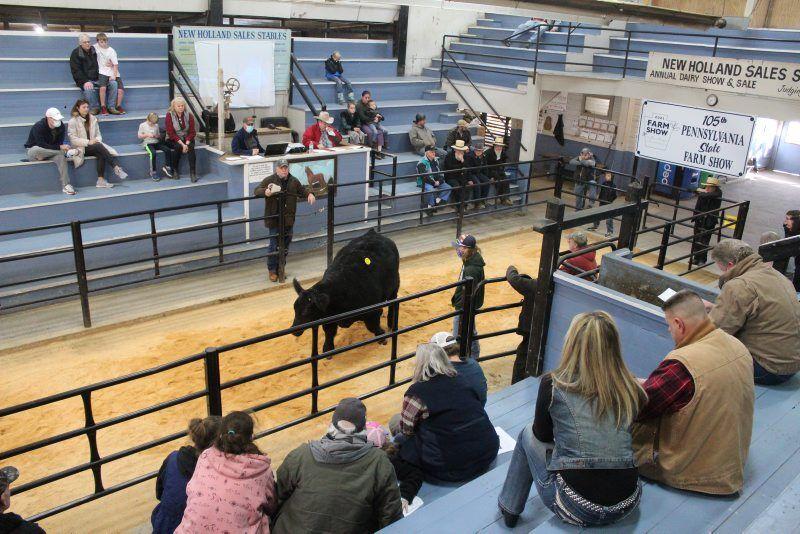 The animals received overnight care from eight volunteers and New Holland staff. The volunteers tried to keep the steers clean for the next day's show, Garges said.
Before the sale, judge Adam Zurin of Mount Joy evaluated the steers with no youths on the halter.
He selected Weaver's 1,505-pound crossbred as the grand champion and Bayleigh Miller's crossbred as reserve champion.
The animals were also ultrasounded for carcass quality by Ben Williamson, the Farm Show's junior market chairman. The top scorers were Dylan Fessler of Berks County and Cayla Viguers of York County.
Harry Bachman took his customary place as auctioneer of the sale, but with just a small crowd of registered bidders — to limit possible virus exposure, casual spectators were not allowed — the sale had a more "reserved" atmosphere, Garges said. "It felt different."
New Holland Sales Stables paid $3,600 for the reserve champion.
After the champions, the remaining steers averaged $2,200 per head, Garges said.
The youths were not charged commission or deductions on this year's sales. Donors covered the youths' payments to the beef checkoff.
"Not one cent was taken out of the checks of the youth thanks to the supportive agricultural industry," Garges said.
To respect families' finances at a difficult time, the Ag Department had planned not hold any competitions that required the purchase of an animals during the 2021 Farm Show.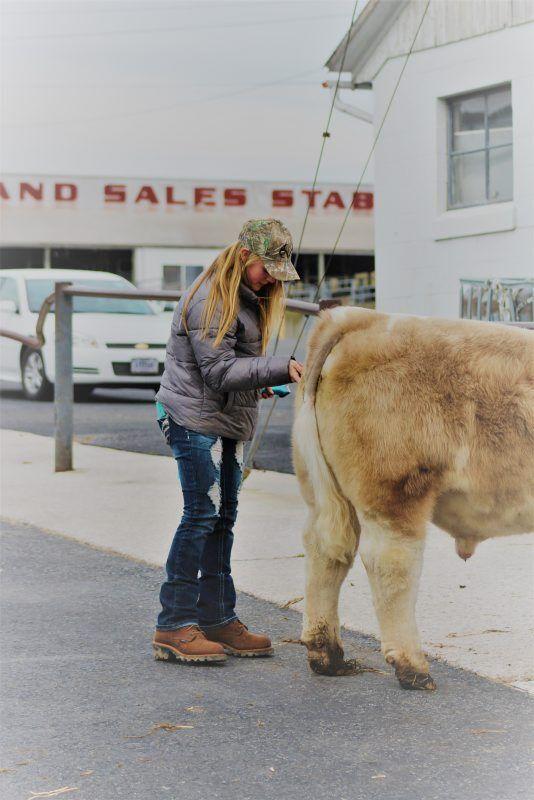 Junior steers got an exception — and an in-person event during the otherwise virtual show — because the entry deadline had already passed, and participants had already bought their cattle, by the time the show was changed to a virtual format.
Other winners from the steer show are as follows:
Angus
1st: Karli Bacha of York, York County
2nd: Cayla Viguers of Etters, York County
3rd: Waylon Swope of Shirleysburg, Huntingdon County
Champion: Karli Bacha of York, York County
Reserve champion: Cayla Viguers of Etters, York County
Other Purebreds
1st: Ivana Viguers of Etters, York County
2nd: Kenneth Casey of Hershey, Dauphin County
3rd: Gregory Gulli of Hershey, Dauphin County
Champion: Ivana Viguers of Etters, York County
Reserve champion: Kenneth Casey of Hershey, Dauphin County
Crossbred
Division 1
1st: Makenzie Hansley of Hamburg, Berks County
2nd: Amanda Rapp of Paxinos, Northumberland County
3rd: Dakota Hansley of Hamburg, Berks County
Division 2
1st: Taylor Hansley of Hamburg, Berks County
2nd: Annabelle Rapp of Paxinos, Northumberland County
3rd: Brooke Coble of Hershey, Dauphin County
Division 3
1st: Bayleigh Miller of Volant, Lawrence County
2nd: Dylan Fessler of Robesonia, Berks County
3rd: Maddison Ross of Williamsburg, Blair County
4th: Katherine Rapp of Paxinos, Northumberland County
5th: Joanna Esenwein of Danville, Montour County
Division 4
1st: Hayden Weaver of Ephrata, Lancaster County
2nd: Macey Fessler of Robesonia, Berks County
3rd: Jaren Bomgardner of Annville, Lebanon County
4th: Jay Coble of Hershey, Dauphin County