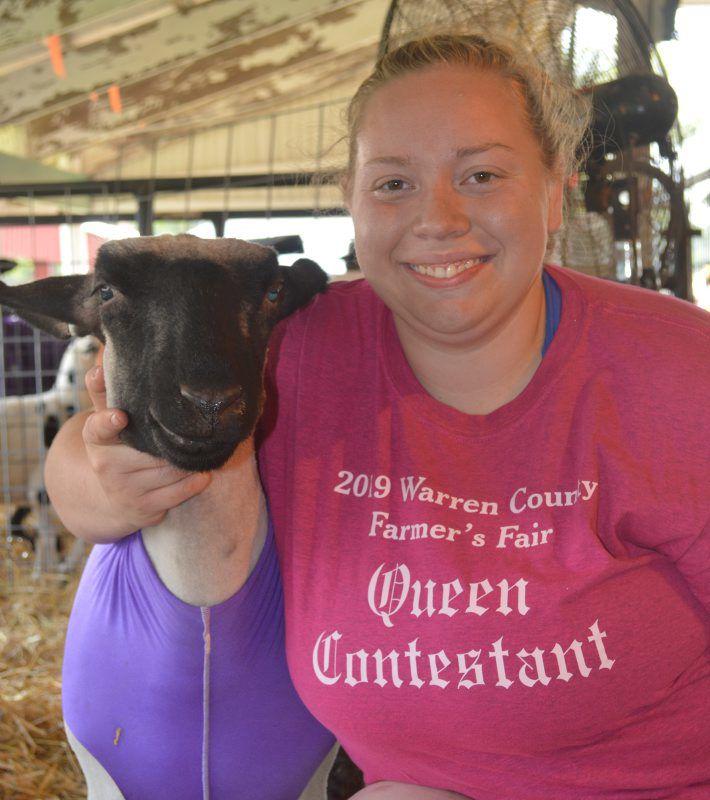 HARMONY TOWNSHIP, N.J. — Whether you look at the name placards for the Ayrshires, Herefords, goats, sheep or rabbits, one name keeps showing up at the Warren County Farmers' Fair.
Brittany Smith.
The 19-year-old Rutgers student shows almost every kind of livestock at the fair, and as a result, she's a member of quite a few 4-H clubs.
Smith's parents brought her to the fair for the first time when she was 3 months old, and she showed her first sheep there at age 5.
"It's where my roots are," she said.
It was only natural then that Smith — who recently finished her year as state FFA secretary and is the reigning Warren County dairy princess — competed in the fair queen pageant this year.
Smith said she's the happiest in the barn and in the show ring, and her favorite animals are the bleaters.
"I just love sheep," she said.
Smith bought her market lambs, Ben and Bonkers, from MacCauley Suffolks in Atglen, Pennsylvania, in April.
She has spent almost every day since washing the pair and exercising them on the steep driveway of her family's eighth-generation dairy farm in Oxford.
She also has been clipping the lambs every two weeks.
After the Warren County show, Smith plans to take her sheep to the Keystone International Livestock Exposition in Harrisburg, Pennsylvania, and North American International Livestock Exposition in Louisville, Kentucky.
When the show season is over, she will donate lamb meat to the United Presbyterian Church in Belvidere.
Beyond the food vendors offering boba tea, eggless cookie dough and chicken kebabs — a reminder of North Jersey's suburbanness — a white tent offered another surprise.
Under the careful supervision of the Hot Shots 4-H club, children as young as fourth grade could shoot air rifles at targets.
The fair also hosts a 4-H air rifle match and archery shoot.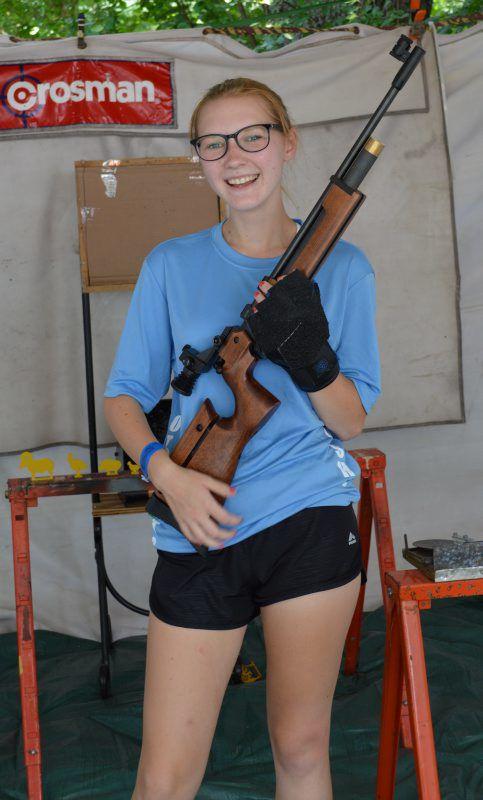 4-H'er Nicole Van Blarcom, 17, learned how to shoot from her grandfather, and has competed at state and national competitions.
Last year she was featured in a New Yorker photo essay about youths in shooting sports.
Van Blarcom said shooting is relaxing, and a different kind of challenge than traditional team sports.
"You're not trying to beat someone else, just your personal record," she said.
In competition, her preferred firearms are her air rifle and .22 rifle.
After high school, Van Blarcom plans to either join the Coast Guard or study political science in college.
She is looking at universities with shooting programs so she can continue her passion at the next level.
Elsewhere at the fair, three local FFA chapters had transformed a pole building into a landscaping display.
Along a walkway of patio stones, there were mulched beds with donated flowers and shrubs, benches and water features.
It took 25 FFA members six hours to put the display together and two hours to set it up on the opening day of the fair, said Elise Nitzsche, a participant from the Phillipsburg chapter.
Throughout the fair week, the FFA members sold the plants in the display to fund scholarships for youths who participate in the project for at least two years.
The goal is to make the awards at least $150, said Andrew Rudd, an adviser for Belvidere FFA.
The members sometimes count the hours they spend at the landscaping display toward their supervised agriculture experiences.
The best part of working on the display is seeing all the interesting plants and working with everyone, Nitzsche said.
She plans to study horticulture at Rutgers.
Around sunset, hot air balloons launched from the fairgrounds, adding yet another dash of excitement to the fair experience.