LEESPORT, Pa. — The Geissler family has been named this year's Berks County Outstanding Farm Family.
The Christmas tree-growers will be honored by the Pomona Grange on Aug. 9 at the Reading Fair banquet.
The Geisslers, who are members of Ontelaunee Grange, are the first winners in recent history who aren't dairy farmers.
Rick Geissler's grandparents started out reselling Christmas trees at their home and, after World War II, at corner grocery stores in Reading.
In 1955, his parents bought a farm in Schuylkill County and began growing their own trees.
Rick and his four siblings helped plant and care for the trees, but Rick was the only one who decided to continue with the farm.
He studied landscape and nursery management at Penn State University, and since then, Geissler Tree Farms Inc. has grown to 200 acres.
While Christmas trees are a big part of the business — Geissler hosted the state association's summer field day last year — he also grows deciduous trees and shrubs for his landscaping business, which serves residential, business and warehouse properties.
He retails landscaping trees and mulch locally, and wholesales them throughout the Northeast.
A business on that scale requires a lot of people, including family.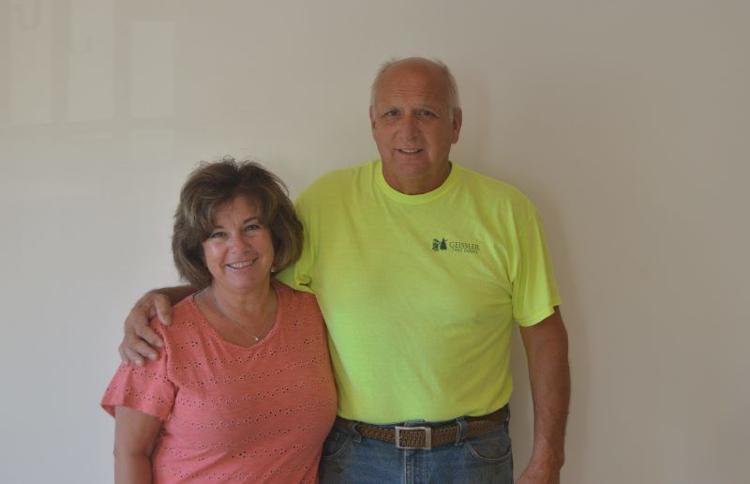 Geissler's wife, Anna, is the office manager. The couple's three daughters work in other careers now but maintain connections to agriculture.
Kelly is a horticulture teacher at Berks Career and Technology Center, and Kate is a 4-H volunteer in Schuylkill County.
Courtnie runs a financial advisory firm, but her husband, Justinn Nein, is the farm's commercial and residential landscape manager.
Rick and Anna have seven grandchildren.
Another fixture in the office —along with Anna and scheduler Bonnie Pflum — is the brown bear Geissler bagged during a hunting trip. With its festive red bow and snowball necklace, it's in the Christmas spirit all year long.
Growing Christmas trees is a year-round process, of course, with soil preparation, planting, irrigation, pruning and spraying to do in the warmer months.
Geissler plants white clover and fescue as a cover crop between his tree rows.
His favorite part of the process? "Just seeing a tree grow," he said.
The tree business has changed a lot over the years. Specialized equipment has proliferated, and labor is harder to come by.
Geissler employs 25 people, including foreign guestworkers, and part-time and seasonal help. Some workers have been with the farm for a quarter-century.
"I know I could not maintain this business without my great employees," Geissler said.
The farm opens for Christmas tree sales on Black Friday. Families can take a horse-drawn or tractor-driven wagon to choose their own tree, or they can select a precut tree.
The Geisslers contribute 200 to 300 Christmas trees each year to Trees for Troops, which serves military families.
Most of the trees are funded by community donations, but the Geisslers themselves donate about 75 trees each year.
Geissler said he plans to donate the $1,200 award from the Berks County Pomona Grange to the Ontelaunee Junior Grange and Berks County 4-H.