NEW WILMINGTON, Pa. — "Farmers can always find something to grumble about," said Steve Johnston, one of the owners of Apple Castle. "But all in all, the apple crop looks good."
Johnston is the sixth generation to produce apples on the farm just north of New Castle. The orchards are continually in flux as the old trees are gradually replaced by new practices and varieties.
Since 2012, Johnston has been planting new trees on trellises, a system that allows more trees to be planted per acre. Trellises are currently on about 3 acres, and the oldest producing trees at Apple Castle were planted in 1978.
"We are gradually removing old trees," he said. "But we don't like taking them out."
Apple Castle devotes about 20 acres to 60 varieties of apples, including some heirlooms. Production begins in July with four varieties and continues until early November.
This has been a challenging year for fruit growers.
"Last fall was wet, causing ruts in the orchards and fields. We had hoped to fix them this spring, but we continued to have wet weather in May and June."
The wet weather also created disease control problems.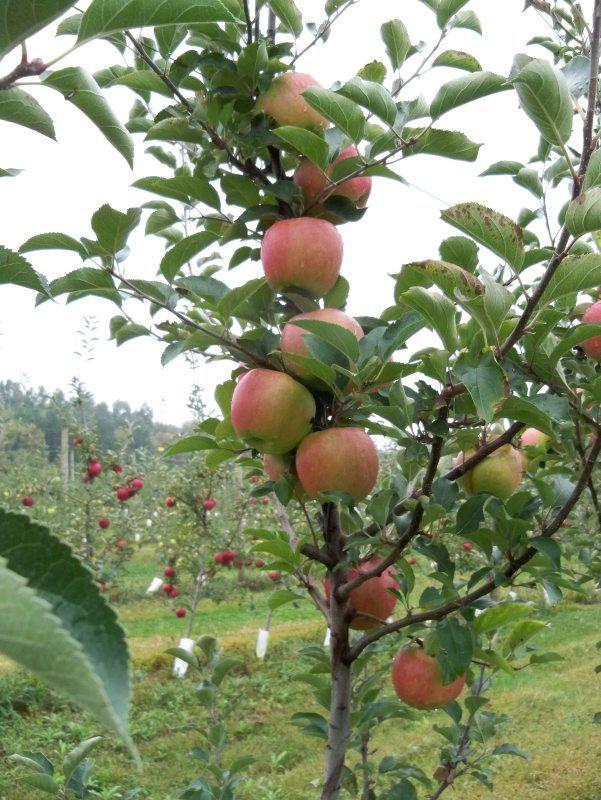 "We were continually watching the wetting hours, which is determined by a combination of rain, humidity and temperature. This calculation determines when we apply fungicides," Johnston said. "We watch the weather forecasts for the next four days to determine when we can apply.
"We also feel very lucky," he added. "We had two small bouts of hail. Places north of us and south of us had heavy hail." And orchards in nearby eastern Ohio are reporting a lighter than usual crop this year.
Wet weather also made it difficult to get sweet corn and pumpkins to germinate, he said about the farm's other crops. "We are picking out best corn right now and it is the last day of September. Sales of sweet corn have fallen off as we move into fall."
Even with the wet spring, there was a week of great weather for pollinating the apples. Johnston tends 28 hives that he places throughout the orchards.
The story of Apple Castle goes back more than 150 years, when Josiah Smith Johnston settled the land in 1861. The original farm was much larger, but included the land where the family still lives and operates today. In the early days, the farm focused on its orchards and dairy cattle. Four generations later, Ralph Johnston and is wife, Ruth, turned the focus to fruit. The dairy cows were sold and Apple Castle, the first formal retail market, was opened in 1950.
The name was inspired by the farm's proximity to New Castle, and because the apple is the "king of fruit," according to Johnston.
In 1978, Ralph and Ruth's son, Lyle, and his wife Sandy, became the fifth generation to live and work on the farm.
The current farm market, constructed in 1982, enabled Apple Castle to increase its product line and add its popular doughnuts.
In 2011, Lyle and Sandy's youngest son, Steven, returned to New Wilmington as the sixth generation to live and work on the farm. Steven, his wife, Ashley, and their three daughters, Abby, Sadie and Riley, complete the family tree currently involved in the operation.
The next big move will be the expansion of the market, with groundbreaking set for Nov. 4.
"Dad says he has been wanting to expand for the last 20 years," Johnston said. "We are finally doing it."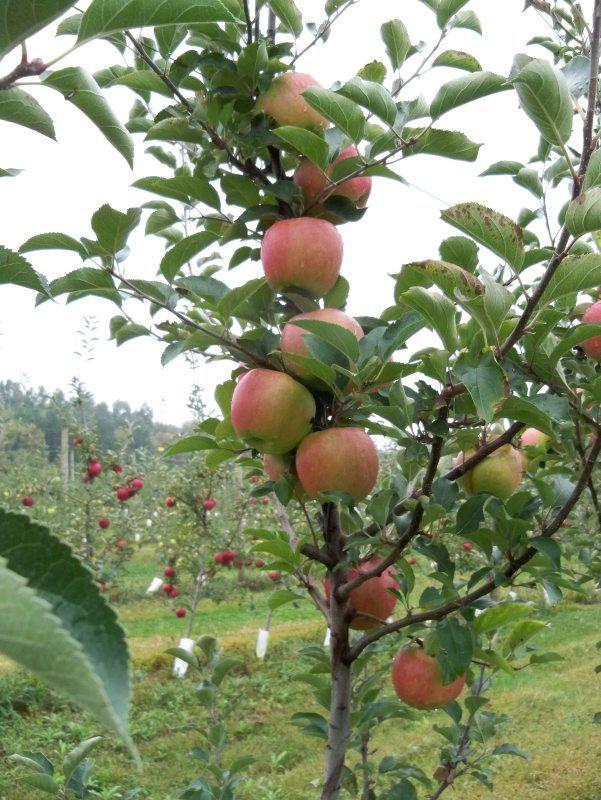 During the busy months — July through October — it is difficult to move down the aisles as customers peruse the shelves. The new construction should eliminate the bottleneck around the entrance and checkout counters. And Johnston is considering the addition of some new products.
Besides apples, the Johnstons grow peaches, nectarines, blueberries, raspberries, sweet corn, plums, cherries, asparagus, rhubarb, pumpkins and winter squash.
"Most of the additional produce we offer comes from within 10 to 35 miles from the market," he said.
There is a produce auction in New Wilmington several days a week that provides an outlet for local farmers and a source of local produce for farm markets like Apple Castle. And local schools provide a market for the medium-sized apples that would otherwise be used for cider. Cider draws folks to the market in the fall.
"We deliver apples to several local schools," Johnston said. "They are small schools that don't have much storage space so we deliver on a regular basis.
"We also work with the Mercer County Community Food Warehouse and the Greater Community Food Bank that covers 11 counties."
The farm hosts pick-your-own apples and pumpkin events, and the annual Fall Harvest Festival and Craft Fair is set for Oct. 12.
"Our goal is to provide quality, local produce for the local customers that keep returning to our market," Johnston said. "About 80% of our customers are from the local area."