A long line of grain trucks is nothing out of the ordinary at Hostetter Grain Inc. in Oxford, especially during the busy harvest season. But on Sunday, Oct. 18, they lined up for a different reason. The Barry Hostetter Prayer Parade was organized by close friends looking for ways to bless Barry during his battle with late stage pancreatic cancer. That morning, more than 250 grain trucks, tractors and farm equipment from four different states and several surrounding counties came out to show respect and honor to the Hostetter family.
Barry's parents, Wilmer and Joyce, had a well-established dairy farm, Joy-Wil Registered Holsteins, that was known for breeding high quality dairy cows nationally and internationally.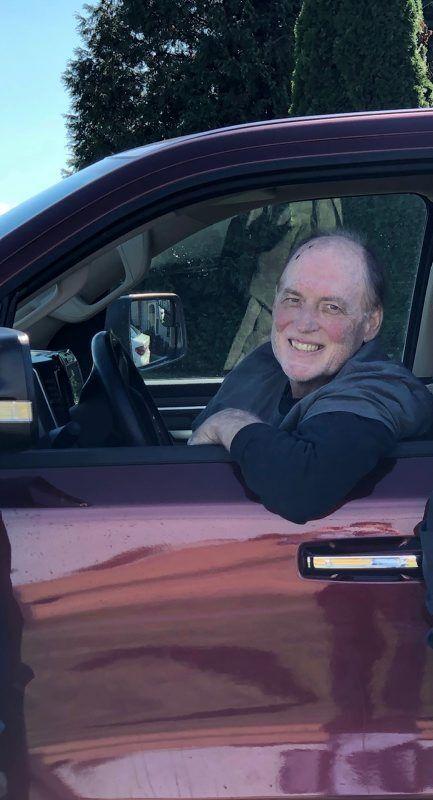 The dairy herd dispersed several years ago, but the grain business that was established in 1977 broadened. Today, Hostetter Grain Inc. is a well-known and respected grain business in several states. Wilmer and Joyce's four sons — Bill, Barry, Bernie and John — are involved in the family farm business, either in the grain operation, dairy replacements, or the beef cattle business.
The Prayer Parade idea was born when Buzz Tyson, executive director of the Lighthouse Youth Center in Oxford, planned to meet for prayer in Barry's driveway with the Lighthouse board of directors. Barry has been a board member for the Lighthouse youth ministry for the past 30 years and the board has been meeting periodically during Barry's cancer journey, looking for ways to bless him and his wife, Monica.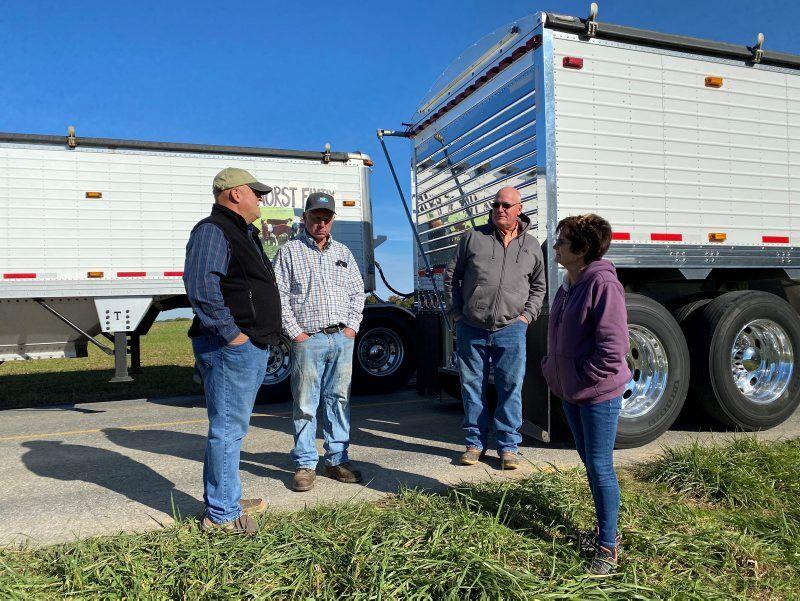 Buzz thought a grain truck driving past at that time would be a nice addition to the prayer time. But one truck wasn't enough to measure the impact of this family. Numerous farmers wanted to be a part of giving back to a farm family that has spent decades giving to others through community, businesses and church.
Nearby farmers — Darryl King, Phil Martin and Cameron Stoltzfus — started making calls and social media posts. In less than 24 hours they had more than 50 grain trucks committed. The event grew to include the local township, fire company, county sheriff department, State Police and PennDOT. The road leading to the Hostetters' house would need to be closed to manage the growing number of trucks, and by the time the prayer parade came to fruition, more than 50 volunteers helped to make it all happen for the Hostetters.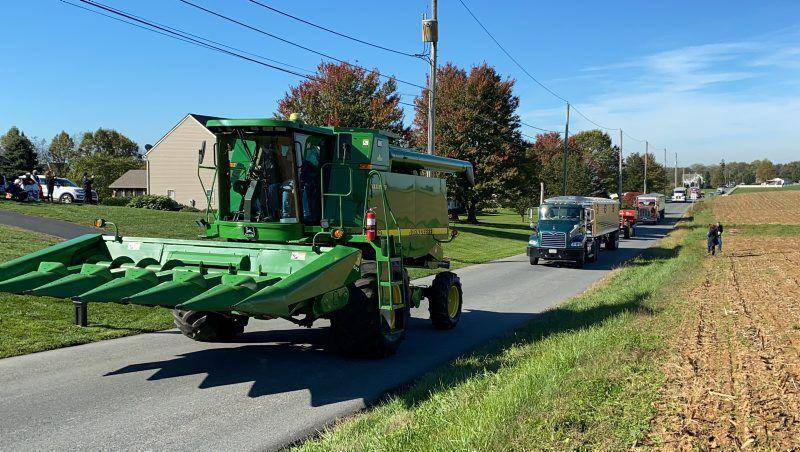 The morning of the event, supporting farmers drove from Maryland, Delaware, New Jersey and the nearby farming community. Trucks were washed and cleaned, and many of them had signs of love, support and prayers for Barry and his family.
Long before the designated start time, grain trucks rolled in, finding their place in line as they waited for the parade to begin. To save space, organizers lined the trucks side by side on the narrow road. Waiting for the parade to start, many farmers gathered by their trucks, making new friends and sharing stories of the Hostetter family.
Harvest is critical, but this year it could wait a day or two in honor of someone who has always been there for them. Testament from the farmers tell the story.
David and Nancy Rose of White Hall, Maryland, brought four grain trucks. They were not going to miss this day.
"The Hostetters are kind, honest and trustworthy people who live out their large faith," David said.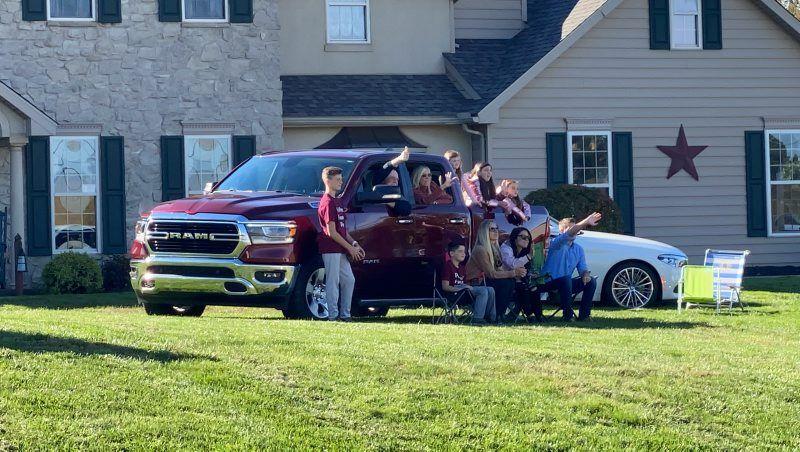 The Roses have been working with Hostetter Grain since the early 1980s. Even in the middle of harvest, they had no hesitation in taking time to drive the distance for this special family.
Dutch Langenfelder of Kennedyville, Maryland, had the same thought. He said his interactions with Barry are always congenial. Barry knows how to talk farm, whether it's hogs, cattle or grain.
The family is "never too busy to talk or help us work out issues," said Andrew and Dawn Yingling of Lippy Brothers Farms in Ampstead, Maryland.
Merlin Stoltzfus, of Cochranville Ag, met Barry many years ago at a Chester County Holstein Club meeting. Barry served on the CCHC committee for many years. What stands out to Merlin from those early years is "Barry's smile, positive attitude, hearty laugh, and he made me feel like a million bucks."
Merlin has since established an agronomy business and knows the family on the crop side of farming, but that first impression impacted him as young person early in his career.
Commitment to a better community is a theme in Barry's life and he showed that by serving in many capacities — Chester-Delaware County Farm Bureau, Chester County Holstein Club, Oxford Zoning Hearing Board, and many community and church programs.
However, the Lighthouse Youth Center is the heart of Barry's ministry. The youth program caught his attention long ago, and helping at the Lighthouse has been a staple in his life.
Buzz has worked side by side with Barry for the past 25 years. In that time, there have been many improvements at the ministry, including a major building project.
"Having Barry serve as building chair over that major project was helpful," he said. "He had connections, he asked the right questions and helped that project run smoothly."
Barry served as chairman for 15 of his 30 years of involvement, and is currently serving as vice-chairman.
"Barry feels a real calling to this ministry and to help the youth in our community," Buzz said.
Barry's prayer parade was led by his nephew, Phillip Hostetter, Chester County Sheriff, the Oxford Fire Company and Ron Kepler, a neighbor and friend.
"Hostetters are the best of neighbors," Kepler said. His combine was the first farm vehicle in the parade.
This was a day to "put things down that don't matter and work on things that matter most," said participant Darryl King. "There were many unforeseen benefits in the prayer parade." The depth of the family's impact on others is what made the Barry Prayer Parade so far-reaching, King said.
Bringing up the rear of the parade were several cars from the Hostetters' church, Mt. Vernon Community Church. It seemed fitting that they finished the long line of supporters.
Barry and Monica's daughter, Allison, reflected on the day:
"This day put the last two weeks in perspective, how my dad impacts the farming community, church and friends.
"It was an amazing and breathtaking experience to see the lives he touches come and honor his friendship."
She describes her dad as someone who "lives out his testimony with his smile, giving attitude and care for family and friends."
"My dad is not used to receiving, he is used to being the giver," she said.
As the day came to a close, there were tears of joy and gratitude.
"Dad told me he felt God's presence all day," Allison said.
Through this experience, Barry shared with the family a set of verses that he memorized as a child and has tried to live by, even in this difficult time.
"Do not let your hearts be troubled. You believe in God; believe also in Me. My Father's house has many rooms; if that were not so, I would have told you. And if I go and prepare a place for you, I will come back and take you to be with me that you also may be where I am. You know the way to the place where I am going." — John 14:1-4.
Barry's Prayer Parade seemed to bring heaven closer that day. Peace, respect and love will continue to linger long after the trucks return home.