In a picturesque scene that features bison grazing on grassy pastures with low-slung mountains in the distance, it would be easy to assume that you are looking at a tableau from out West. Instead, it's happening in West Virginia.
Riffle Farms is a small bison farm tucked away in the hills of Preston County, West Virginia, where the summer grasses are cool and the winter snow is heavy, just like the bison prefer it.
The farm has the distinction of being the first commercial bison operation in the state. It is also the first farm to field-harvest its livestock through state inspection for commercial sale.
Additionally, farm owner and operator Liz Riffle is a veteran of the U.S Navy Nurse Corps. Her husband, Jimmie Riffle, is also working as a U.S. Navy Nurse Corps nurse practitioner. They are both active in Homegrown By Heroes, a farmer veteran branding program administered by the Farmer Veteran Coalition.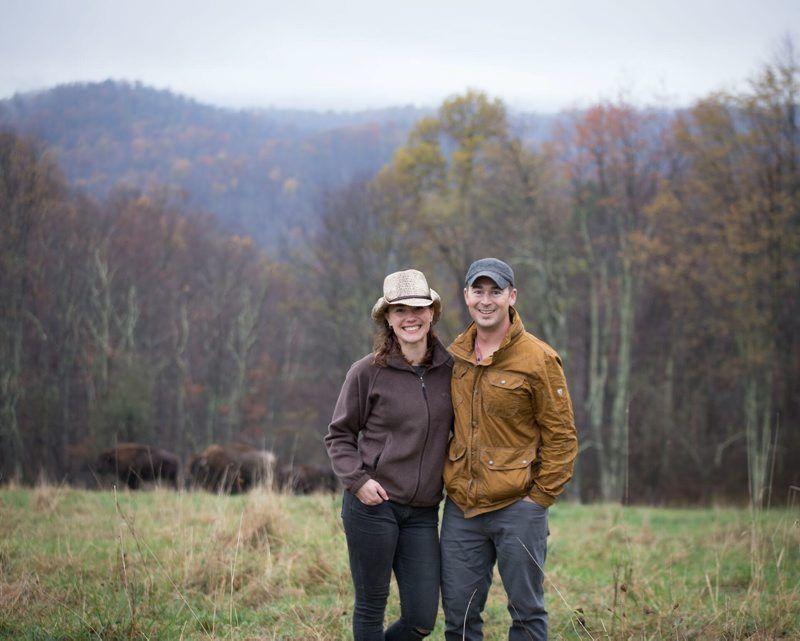 "My husband Jimmie and I are both U.S. Navy Nurse Corps veterans, and he is still on active duty. We met while working with Wounded Warriors at the National Naval Medical Center, and never looked back," said Liz. "Jimmie has two more years until he retires, and then we will all be living and working at the farm full-time."
The farm is a family venture for the Riffles, and other family members help out.
"Jimmie's roots are here, and the Riffles want generations of Riffle boots to walk and work this ground, right alongside generations of thundering hooves," Liz said. "Jimmie's brother is our 24/7 'buffalero,' as they say in the business. And, my mother helps me out with special events."
Liz said her mother also helps out with her 18-month-old baby boy, who "loves to run around at the farm with all the dogs and ride tractors. It's pretty wild," she said.
When asked how and why they decided that going into the bison business was the right fit for their farm, Liz said that with their background being in health care, bison meat "fit the healthy profile." According to Liz, bison has less fat than chicken, more protein than salmon, and more omega-3 fatty acids than grassfed beef.
"And, everyone else does beef," she said. "We knew we had the market cornered from the get-go, but that was a good and a bad thing (we came) to find out. The good thing is that there is very little competition. The bad thing is that most people have never tasted bison and are concerned about paying a premium price for something they are not familiar with."
Liz grew up with horses and always dreamed of having a farm to raise her kids on.
"I wasn't quite picturing a bison farm, but here we are! The horses will come soon. I am an animal lover first and foremost. I did some research into the meat business over seven years ago and I was appalled at the factory-farming system and mistreatment of the animals. I contemplated becoming a vegetarian, but thought that didn't really help the problem — and I like meat too much — so I decided we should get into the business."
Care and Keeping of Bison
They work the herd twice a year in order to tag calves, and give vaccines and dewormer.
"It's a hell of a process because the animals are only semi-domesticated," Liz said. "They do not like small spaces. We believe in the humane treatment and handling of these animals, so low-stress is our guiding principle. It takes some extra time, but the animals respond better because of these techniques. We still need to have 7-foot-high walls on our small pens and squeeze-chute area, however. They can jump over a 6-foot-high wall from a standstill."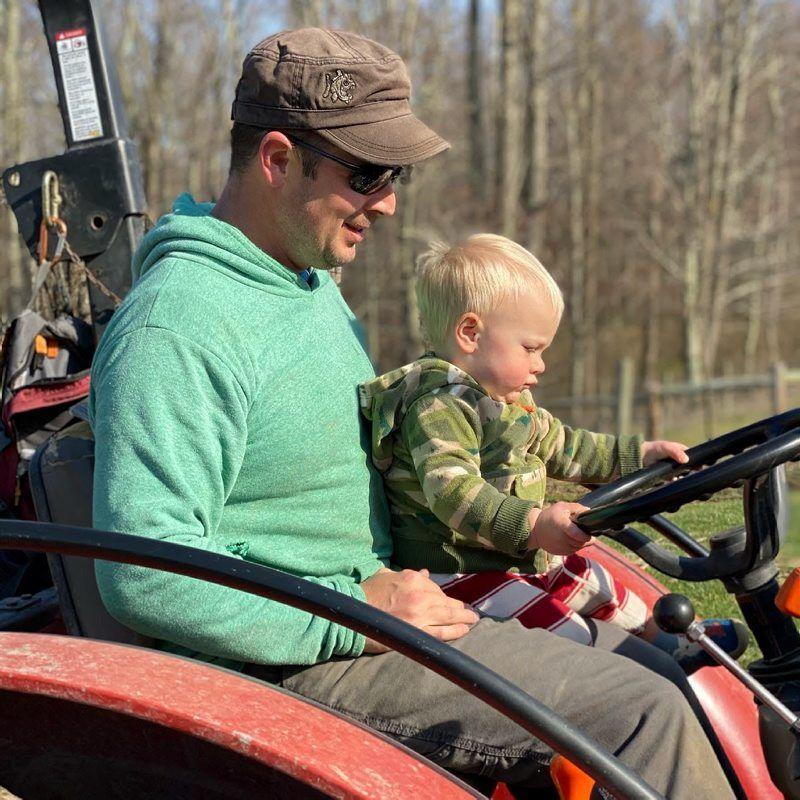 According to Liz, they are able to field-harvest all of their animals through their butcher, because bison are considered an exotic species and fall into the category that allows them to be field-harvested and still sold for commercial use.
"This is another reason we chose bison," she said. "A field harvest is way less stressful than trying to get this beast into a trailer and unloaded at a slaughter facility just to be shot."
Their bison meat is available in strip loin, brisket, and ground. The meat is sold online through the farm's website, for pick-up at the farm on Fridays, at the Morgantown Farmers Market and East Beach Farmers Market on Saturdays.
The COVID-19-pandemic impacted their business at first.
"Things came to almost a halt during the second quarter of 2020. But then (business) picked up double-time the last two quarters and into this year," she said. "I am so excited people have been searching for better food, and better meat!"
Since bison are novel to the area, Liz started a blog on her farm website to help inform and educate her customers. The bison species is often confused with the buffalo species, so one of her posts explains the difference between the two.
Buffalo and bison are distinct animals. Buffalo are native to Africa and Asia, and there are two different kinds: cape buffalo and the endangered water buffalo. In comparison, the two main species of bison are American bison (Bison bison) and European bison (Bison bonasus). There is also a distinctive northern subspecies of the American bison called the Wood bison (Bison bison athabascae), native to Alaska and Canada. Bison have a large shoulder hump of pure muscle and a massive head that makes their hindquarters look smaller than their fronts. Bull bison can grow up to 12-1/2 feet from head to rump and weigh as much as 2,200 pounds.
While raising bison, Liz has gotten involved with the species, joining the Eastern Bison Association and the National Bison Association. She has also worked with the Good Meat Project in Oregon, and she actually runs another sister business called The Honest Carnivore: A West Virginia Meat Collective, which offers whole-animal butchery classes.
In addition, Liz serves as a board member for the organization, Future Harvest: A Chesapeake Alliance for Sustainable Agriculture. She is also a member of the Farm to Consumer Legal Defense Fund.