Black farmers are entering their most promising moment for political change in a generation, but several told lawmakers last week that much work remains to catch up to white producers.
"Too many Black farmers have died with their cry for help falling on deaf ears," P.J. Haynie, a Virginia grain farmer, told the U.S. House Agriculture Committee during a March 25 hearing.
Haynie and his colleagues may finally have found a time when politicians are ready both to listen and to act.
The Ag Committee is led by its first Black chairman, Rep. David Scott of Georgia.
Ag Secretary Tom Vilsack has made racial justice a top priority — albeit after activists said he didn't do enough on that front during the Obama administration.
And most important, the recently passed American Rescue Plan gives USDA $5 billion to spend on improving the estate of Black and other socially disadvantaged farmers.
Some $4 billion of that money will be used to forgive Black farmers' loans, with the rest applied to technical assistance, outreach, and a commission to examine USDA for vestiges of racism.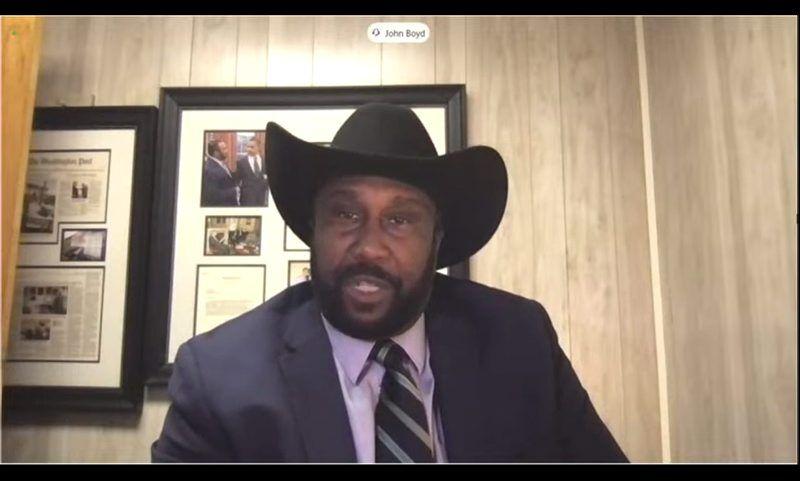 Vilsack estimated 13,000 to 15,000 loans could be forgiven as a result of the pandemic stimulus, which became law March 11.
USDA has settled particular cases of discrimination, most notably in the Pigford v. Glickman class-action lawsuit, which began in the 1990s.
But the American Rescue Plan is designed to address the long-term effects of discrimination.
The aid is a reversal of fortunes for Black farmers, who for years had difficulty expanding and staying in business because of unfair lending practices that denied them USDA financing.
"The result of decades of discrimination is that Black farms are smaller, and our revenues are smaller than those of our white neighbors," said John Boyd Jr., president of the National Black Farmers Association. "Therefore, eligible Black farmers receive less support from USDA and fall further and further behind."
White farmers received $5.6 billion from last year's Coronavirus Food Assistance Program, while Black farmers got just $20 million, Vilsack said.
White people have attained greater scale while exiting farming slower than Black farmers.
Since 1920, the number of white farmers has declined 40%, but the number of Black farmers has dropped by 95%.
Not for nothing did Boyd say, "We are facing extinction."
Scars From the Recent Past
And while it began long ago, the discrimination that the Black farmers described in the hearing is also more recent than many Americans might like to imagine.
Boyd said he was treated rudely when he sought loans from the predecessor to the Farm Service Agency in the 1980s.
"I was called 'boy.' I was spit on. My loan applications on numerous occasions were torn up and thrown in the trash while I watched," said Boyd, of Baskerville, Virginia.
In the 1990s, Haynie said, he visited his county office only to have a USDA official brandish a pistol at him and discourage him from going into farming.
"The discrimination by USDA caused a lot of young Black people to not want to be a part of their family's farms," said Haynie, chairman of the National Black Growers Council.
Many Black farmers are also held back by murky land ownership situations caused by parcels being passed down without a will.
Called heirs' property, this issue prevents farmers from accessing USDA programs and is a major reason Black people lose their land, said Cornelius Blanding, executive director of the Federation of Southern Cooperatives.
The 2018 Farm Bill included a program to assist with heirs' property issues, but it has yet to be implemented, Blanding said.
Potential Solutions
With $5 billion and an equity mandate from the president, Vilsack aims to remake the image of the agency that Black farmers have dubbed the Last Plantation.
To Oklahoma farmer Arnetta Cotton, the first step is to promote USDA programs with help from organizations that already have farmers' confidence.
"Help us to be your feet on the ground in order to get this information out," said Cotton, who runs an agricultural community development group with her husband.
Vilsack liked that idea and said he intends to work with local groups and Extension systems to do the outreach funded in the American Rescue Plan.
"We have got to restore trust out in the countryside," he said.
Republicans showed themselves both receptive to and skeptical about Vilsack's project.
Rep. Scott DesJarlais, R-Tenn., said the hearing's focus on the hardships of Black farmers seemed too narrow considering farmers of all races are struggling.
"It's hard for me to tell (my constituents) that there's help on the way, but only if you're a certain skin color. And it seems like that's discrimination in itself," DesJarlais said.
Beyond the racial justice component, the American Rescue Plan includes $4 billion in programs that will benefit farmers of all types.
That funding will go to commodity purchases, aid for farmers markets and small food processors, and efforts to build resiliency in the food supply chain.
In addition, the Supreme Court has held that the government may take race-based actions that are narrowly tailored to address the effects of discrimination, said Rep. Alma Adams, D-N.C.
The top Republican on the committee, Pennsylvania Rep. Glenn Thompson, said loan forgiveness may help in the short term, but it doesn't address why racist loan officers were allowed to keep their jobs.
"Their time has passed," he said.
Thompson voted against the American Rescue Plan, which he said contained too much spending that wasn't germane to the pandemic. Indeed, no Republican voted for the $1.9 trillion package.
Still, Thompson agreed with the broader goal of stamping out discrimination.
"If we're going to really achieve that vision that I think we share of restoring a robust rural economy, that means we have to lift everyone up, and we can leave no one behind," he said.
Scott, the chairman, chose to focus on the common ground between the parties.
"We did God's work in here today, Republicans and Democrats together," he said, making one of several religious references heard during the hearing.
Scott said he intends to develop more legislation that will grow the number of Black farmers, the acreage they own, and the market share they capture.
Perhaps in a nod to GOP feelings of being left out of writing the American Rescue Plan, Scott said the new proposal would be crafted in concert with Republicans.