Derek Edinger's craft beers might be inspired by Belgian drafts, but his ingredients are rooted in the Finger Lakes.
Edinger, co-founder of Brewery Ardennes in Geneva, New York, buys hops and grain from nearby farms, and sends his spent grain to local farms to use as animal feed.
"We're tied into the local ag ecosystem," said Edinger, who opened the brewery May 19.
Edinger buys from local farms because he wants to appeal to the farm-to-glass trend. But he also has to buy local to meet for the state's farm brewery designation.
At least 60% of the hops and other ingredients these breweries use must be grown in state. That percentage will rise to 90% in 2024, according to the New York State Brewers Association.
Farm breweries qualify for reduced licensing fees and tax breaks, and they face less red tape than larger brewing businesses. Edinger said those incentives have increased demand for local hops, a crop that had been largely absent from New York since Prohibition.
Ardennes gets its hops from Peterson Farms in Geneva and Cobblestone Hop Yard in Ontario, New York. The barley comes from Murmuration Malts in Bloomfield. All of these are within a 40-mile radius of Brewery Ardennes.
Local Roots
"I think people are really into locally sourced goods, and not just from us," Edinger said. "They ask what farms we're getting it from, and they want to hear the complete supply chain."
That supply chain includes disposing of the spent grain, a byproduct of brewing.
Like many small brewers, Edinger gives the waste material to local farmers, who use it as mulch or livestock feed.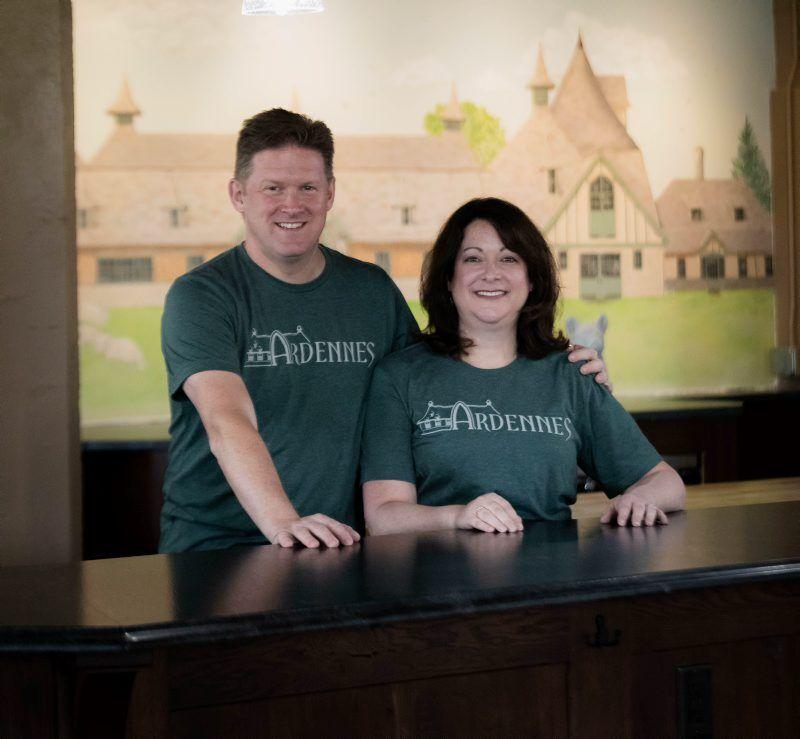 "I think it's a big benefit to them getting a free food source, and it's a big benefit to us" to offload the waste, Edinger said.
Dove Farm in Seneca Falls feeds the spent grain to cattle and pigs. The grain is rich in protein and carbohydrates.
"The farmers say their animals know the sound of the grain trailer and all come running," Edinger said.
Edinger himself knows something about raising livestock. He grew up on a 150-head cattle operation.
The brewery is also a family affair. Edinger's brother, Corey, was the first employee, and their parents are in charge of groundskeeping.
"It's cool to see the band back together," said Edinger's wife, Stacey, who co-founded the business and serves as head of hospitality. "I don't think his parents thought their grown children would be working together 30 years later on a farm."
The brewery is housed in a former sheep barn on 8 acres. The century-old farm once contained 800 acres but has since been subdivided.
Edinger has been brewing as a hobby for 25 years. He honed his technique until he won a few state and national homebrewing awards.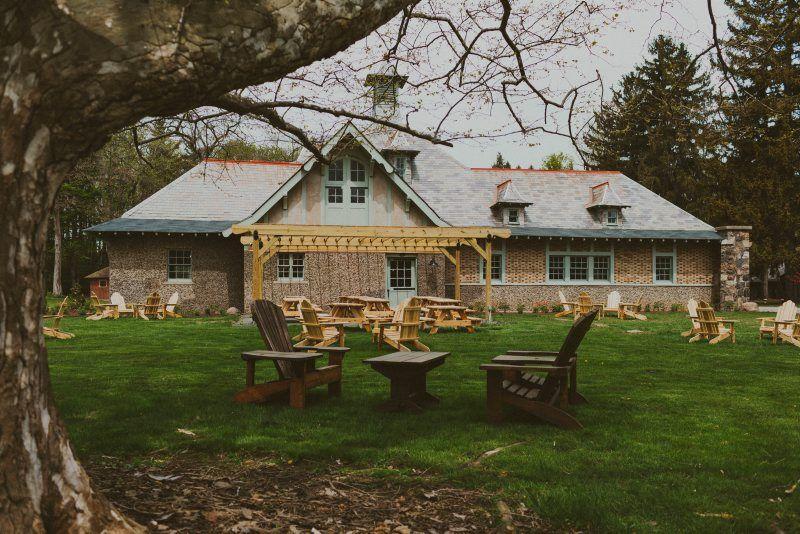 Ardennes currently serves 13 varieties, all modeled after Belgian beers. Derek and Stacey also designed their menu and seating area in Belgian style.
The namesake Ardennes is a picturesque, forested region in southeastern Belgium. The Battle of the Bulge was fought there in World War II.
"There are small towns in the Ardennes region similar to the Finger Lakes," Stacey said. "There are small communities that are self-sustaining with a lot of agriculture and hand-crafted goods."
Derek hopes to produce about 400 barrels of beer — approximately 1,000 gallons — in his first year, and eventually scale up to 1,200 barrels. Ten people currently work for the brewery and Edinger hopes to hire two more.