BERNVILLE, Pa. — The fir tree-shaped sign at the end of the farm lane says "Dry Hollow Farms, open weekends."
It's only open from now until Christmas. After that, no one will want a Christmas tree till next year.
That works out just fine for tree farmer Ryan Zerbe, the fifth generation of his family on this land.
"My grandmother's grandmother bought the farm back in 1921, so in three years it will be a century farm," Zerbe said, standing at the old farmhouse.
His 3 acres of choose-and-cut trees is not big for a Christmas tree farm, but for Zerbe, it's enough to connect him to the family land and heritage.
That might otherwise be a tough bond to maintain because Zerbe works full time as a watershed specialist in Montgomery County, Maryland.
While Zerbe has much-appreciated help from his family during the busy season, the upkeep of the trees is all on him.
"I do the trimming in July and try to be done before the end of August because I don't want to ruin the next year's bud set," he said.
The two-hour drive, which Zerbe makes regularly throughout the year, can put a little pressure on at home.
But Zerbe says his two children, ages 6 and 3, love to ride along, and play and work on the farm.
"It's a balance you've got to strike with family and everything, and you know, the kids are loving it now, and I hope to continue to have that influence and they want to, you know, come up here and be connected to the farm," Zerbe said, as his children ran up and down the tree field.
Six-year-old Alyvia said her favorite thing about the tree farm is "going with Daddy."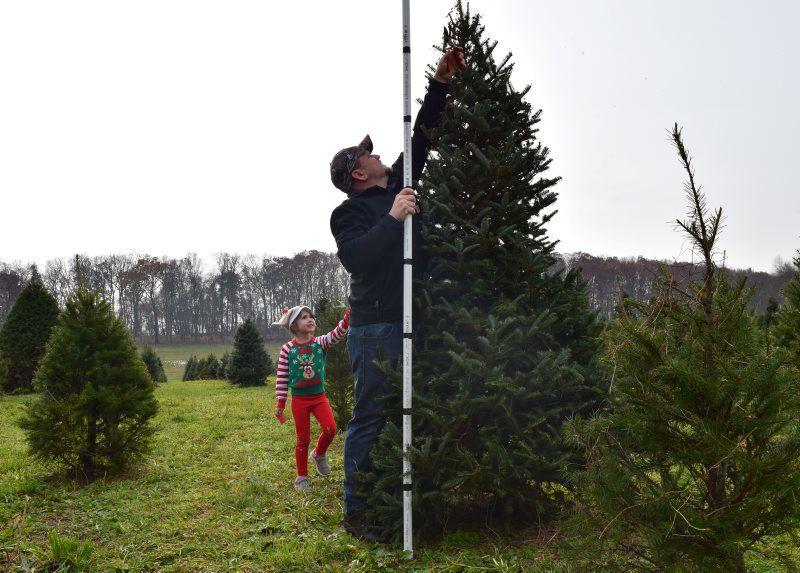 Open weekends until Christmas, Dry Hollow Farms' most popular tree is the Fraser fir, though Zerbe also offers blue spruce and Douglas, concolor and Canaan fir.
Zerbe, who has long been interested in trees, studied forestry at Penn State.
He started his tree farm after college when he went to a conservation district seedling sale.
"I went in with a friend of mine at the time, and we bought a thousand trees, and we split them, and I started planting," Zerbe said. "Asked my dad, of course, for permission."
His dad, Calvin Zerbe, a dairy farmer who became a chicken farmer after the milk market soured in the 1990s, wasn't so sure about his son's idea to plant trees at first.
Eventually he offered 3 of the farm's 168 acres. The rest of the land includes several poultry houses and a hay operation.
"It was a little ... uh, how should I say it? I didn't know if he knew what he was getting into. I didn't either, but I found out as the time went, there's a lot of work involved," Carl said.
Dry Hollow sold its first trees in 2012, five years after planting, and business has been steadily increasing since then.
"Last year was my best year — I sold 200 trees. So that was both fun and very challenging," the younger Zerbe said.
The operation is pretty basic. Customers roll in the farm lane, pick up a saw from the shed, go out to the field and cut down a tree. The price is usually around $40.
Customers come mostly from northwestern Berks County, but Zerbe said he's had customers from as far away as Philadelphia.
The drive to the farm alone is worth the price of the tree — contoured farmland, dramatic hills and a postcard-worthy view of Blue Mountain.
Zerbe advertised on Facebook for the first time last year, and he was pleased with the platform's tools that helped him target ads to locals.
"They want to come out and, you know, get a local tree from the farm and just have that experience," he said.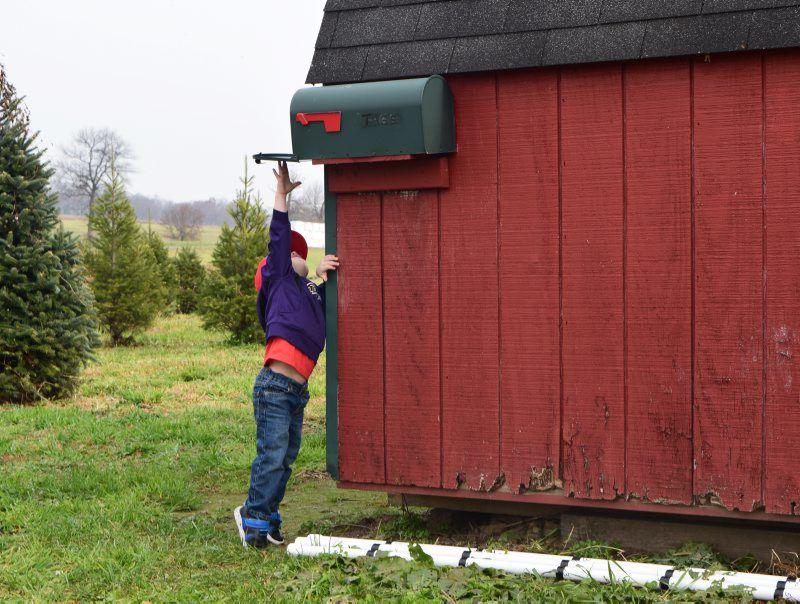 While his client base is local, Zerbe has recently noticed a few visitors from farther away, namely the spotted lanternfly, the invasive leafhopper from Asia that has quickly become the bane of fruit growers, landscapers and homeowners alike.
Checking the trees for pests is part of Zerbe's maintenance routine, though mainly he's been concerned with pests like whiteflies and leafhoppers.
"This year I was pretty diligent about checking the trees. I saw no (lanternfly) egg masses or no nymphs or anything like that," he said.
In September, though, he did find adult lanternflies sitting on the tops of the trees.
Zerbe took the online lanternfly management course offered jointly by Penn State Extension and the Pennsylvania Department of Agriculture.
He inspects each tree for signs of the dreaded bug before running it through his old Howey 214 baler, after which the customer ties the tree to her car and takes it home.
Most tree growers never see their trees in person after that. But thanks to social media, Dry Hollow's trees live on.
Zerbe encourages customers to snap pictures once they have decorated their trees and post the shots on the farm's Facebook page.
"People want to form a relationship," he said.
---
Dry Hollow Farms is located at 258 Manbeck Road, Bernville, Pa.