For many businesses, a boom in demand can be a time to expand and grow.
But for one custom butchering shop in Nazareth, Pennsylvania, it may be time to shut the doors even though business has never been busier.
Nello's Specialty Meats is a USDA-inspected facility that provides custom processing for farmers in the area. Owner Nello Loiacono transitioned the business into a full-time endeavor 12 years ago, and today he has 25 employees who process an average of 50 steers each week from farms in Pennsylvania and New Jersey.
Business has been brisk, and the current COVID-19 crisis has made it even busier.
"I am so busy right now that I'm already at 50% capacity for next year," Loiacono said. "The demand from local farmers to have their animals processed is just incredible right now."
But it's a demand that Loiacono may no longer be able to meet after a reclassification from the Pennsylvania Compensation Rating Bureau resulted in a spike in the cost of his worker's compensation coverage. It may be enough to force Loiacono to close his facility, even though business is good.
In February, Loiacono said, he was informed by the bureau that his business would no longer be classified as "Code: 119 - Meat Products Mfg." Under that classification, Loiacono said he was paying $13,700 a year in worker's compensation coverage.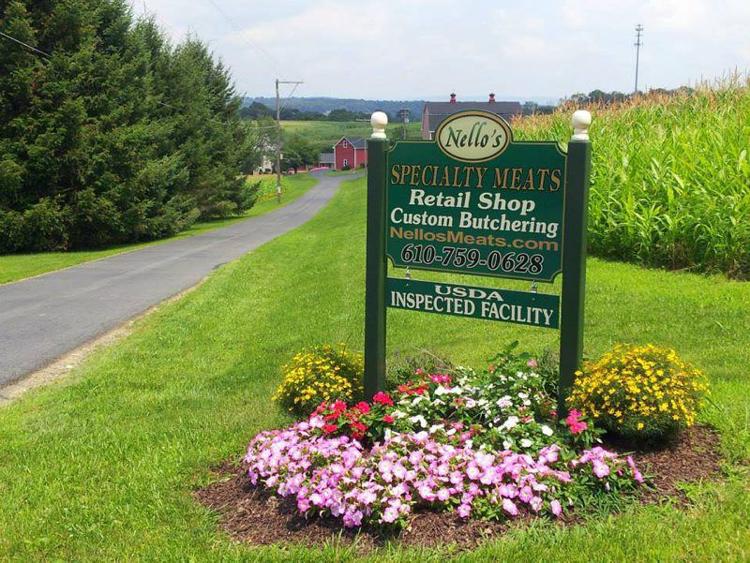 The new classification identifies the business as a wholesale operation, and Loiacono said it would increase his yearly worker's compensation cost to $50,000.
"It was all of a sudden. In February I got a bill from them stating that I owe $25,000 in 14 days," Loiacono said. "We appealed the change in classification, but it was denied.
"At the end of the day, I can't afford $50,000. I'd have to shut down."
And if that happens, Loiacono said the more than 100 farmers he deals with will be in dire straits when it comes to getting their animals processed.
One of those farmers is Kaitlin Farbotnik, whose family owns Shady Fox Farm in Doylestown. She said Loiacono's business is a major benefit to area farmers, not only as a place to get their animals processed, but also because he can make unique cuts and specialty products that appeal to customers at farm markets.
Under normal circumstances, Farbotnik said, if Loiacono closed she could find other processors in the region. But with many butchers already booked up, changing butchers isn't an option right now.
That means if Loiacono has to shut down, it could force some farms in the area to follow the same path, Farbotnik said.
"In a year like this one, everyone is completely booked. There's no way we'd be able to get appointments with the other processors," she said, adding once her farm runs out of meat to sell, it probably wouldn't be able to open back up until mid-2021. By then, after months without the farm generating income, it would be too late.
"It's simple — if Nello's closes, Shady Fox Farm and dozens of other small farms that rely on him would be closing, also. If this were to happen, we would be seriously looking at selling the herd we've spent years developing and breeding. It would be heartbreaking," Farbotnik said.
Loiacono believes the reclassification is wrong because he simply provides a service — custom butchering — for farmers. The animals are slaughtered at a nearby facility and then brought to Loiacono's business, where they are cut according to the farmer's specifications. Loiacono said he simply does the processing and the farmer owns the animal and sells the meat.
In addition to standard cuts, Loiacono also provides ground beef patties, sausage and smoked products.
"We are not a wholesale dealer now, nor have we ever been," he said. "I honestly think the entire workmen's compensation system needs to be revamped. They just put you in a cookie-cutter classification even if it's completely inaccurate."
Loiacono said he has hired a lawyer and will continue to fight the reclassification, and he requested the bureau conduct an on-site audit of his business.
"They just sent us a questionnaire, which we filled out, but the appeal was denied," he said. "I want them to come here so we can show them firsthand what type of business this is."
According to Joe Lombo, manager of classification for the bureau, on-site visits to any business aren't possible at the time due to state directives regarding COVID-19. Lombo said he could not comment further on Loiacono's situation because such discussion is limited to the employer, agent or insurance carrier.
Loiacono said he's prepared to take his case to Harrisburg, if need be, and in the meantime a petition has been started urging the rating bureau to reclassify the business. In three days, the petition garnered 7,500 signatures.
"I'm getting a ton of calls, and it makes me proud that people are sticking up for me," Loiacono said. "This isn't only for me. If I shut down, there will be 150 farmers scrambling to find someone else to process their animals. What we do is a crucial part of the food chain, and to lose that during a time like this would be devastating to so many people."
The petition to save Nello's Specialty Meats can be accessed at bit.ly/HelpNello