During a normal year, next week would be a promising time for flower farmers.
That's when tulip bulbs purchased last year are expected to bloom, and with it a welcome stream of revenue after a long winter.
But as this year's tulips bloom, growers are worried.
With the current coronavirus outbreak eliminating the gatherings and events that flower farmers depend on, hope for springtime income vital to their operations is dwindling.
Not only have growers lost the ability to sell flowers for gatherings such as weddings and fundraisers, many of the floral shops that served as sales outlets have been closed since Gov. Tom Wolf ordered all nonessential businesses in Pennsylvania to shut their doors.
"It's a pretty bad scenario," said Jennie Love, president of the Association of Specialty Cut Flower Growers. "Without the ability for people to have gatherings, a lot of our sales channels are dead-ended.
"It's a huge blow coming out of winter."
And it could get worse.
Many of those tulips that will bloom next week in greenhouses across the state would normally be destined to adorn homes and churches when Easter arrives April 12.
Current coronavirus restrictions could extend through April, Love said, and that could doom growers who would not only lose the money they spent to buy bulbs last year, but would also miss out on the revenue from one of the industry's hottest sales windows.
"Easter and Mother's Day (May 10) are the two biggest floral holidays in the country. Many flower farmers are also growing for Mother's Day right now, and there's a really good chance we might not hit either holiday," said Love, who owns a floral business in Philadelphia. "That could trigger some serious ramifications."
Some growers are already reeling from the consequences of lost business. Jane and George Albright operate Glen Summit Floral in Mountain Top, Luzerne County, Pennsylvania.
The couple rebuilt their business after a fire last year and rebounded with strong sales during Christmas. But they are approaching the spring season with little optimism.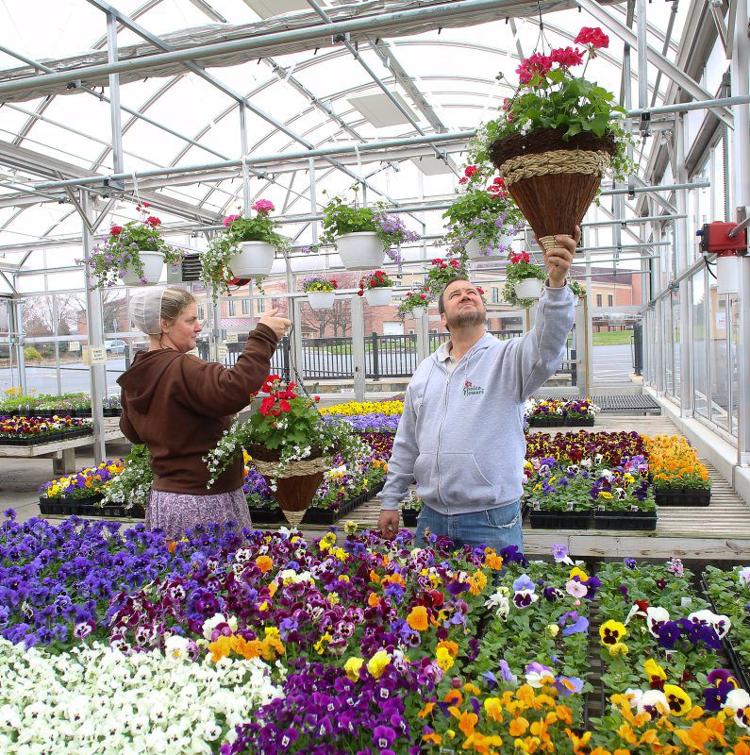 The Albrights depend on sales to churches during Easter, and it appears any chance to build off the momentum from Christmas is rapidly vanishing.
"We've had churches cancel orders and some that have cut orders to less than half," Jane said. "We're watching our lilies and Easter plants grow, but we don't know where they're going to go.
"We fully expect to have more cancellations, and we're sitting on eggshells just waiting."
As a result of the uncertainty surrounding the coronavirus outbreak, the Albrights have already scaled back their orders from suppliers for hydrangeas and other plants. As of now, they expect to open their greenhouse on May 1 to sell bedding plants, but even that is up in the air.
"Once we put the plants on the benches we can't send them back, so we're trying to avoid a bigger hurt than we already have," Jane said. "We've had roller coaster years before, but this is so different."
Fred Esbenshade of Esbenshade's Garden Centers in Lititz, Lancaster County, said many retailers are backing off from wholesale orders while growers are holding off while hoping for a turnaround by Mother's Day.
"Easter is the biggest immediate risk for an impact on sales, and the long-term risk is the main selling season which begins just before Mother's Day," he said. "It's getting quite close, but it's too early to conclude it's going to be a loss."
During the early stages of the coronavirus outbreak, Love said many neighborhood floral growers and shops saw a boost in direct sales. But since the state issued a recommendation to stay at home in many major cities, direct sales have also diminished.
Love has been busy splitting her time between her business and helping other growers with concerns. The association's membership has increased dramatically over the last five years, she said, but many of those new members are just starting out in the industry and are vulnerable to a dramatic drop in business.
"This could sink a lot of them. If we can get Mother's Day it would be a huge sigh of relief," Love said. "But it could be choppy water for at least a year."
In the meantime, Love is advising growers to diversify and consider adding other plants, such as herbs or produce, until stability returns to the flower industry.
But even after the coronavirus threat subsides, a depleted economy could continue to affect flower retailers and growers.
"I'm curious if people will have the money to spend on flowers after this. I like to think there will be a lot of purchases as people experience that initial joy and relief," she said. "I'm hoping for the best but preparing for the worst."