Instead of caring for a 100-head herd of milkers and young stock, Glenda and Leroy Newswanger now care for hundreds of berry plants — along with a few other ag enterprises.
Two years ago, the couple and their children moved to their current 40-acre farm in Lyons, New York, from the dairy that they sold in Gorham. They chose their new products based on the local market.
"We looked around for what was lacking and wanted to do something that would fill that in," Glenda said.
That turned out to be strawberries. They named the farm Bramblewood Acres.
The Newswangers' first year in Lyons was all about preparing the land, clearing trees from the overgrown farm and planting an acre of strawberries. Last year, a late cold snap meant a meager harvest for pick-your-own customers.
"We didn't have enough strawberries, and it didn't take much effort to get it picked clean," Newswanger said. "They were even picking green ones."
This year offered a much better harvest with large, plentiful berries. But the Newswangers felt gun shy from their 2020 experience; they did not advertise their pick-your-own operation.
They relied solely on word of mouth and passersby on their rural road. Such a strategy can be chancy for a highly perishable crop like strawberries. Newswanger plans to advertise in local newspapers next year.
"The you-pick wasn't keeping up with it," she said.
Newswanger made jam from some of the surplus berries and sells that and baked goods at his parents' farm, Countryside Greenhouse in Clyde.
In addition to pick-your-own strawberries, the Newswangers sold freshly picked strawberries from their farm stand and Glenda's brother's farm stand. They also sold berries wholesale to Martin's Grocery Outlet in Clyde and through a farmers market in Rochester.
During the first three weeks of June, that meant harvesting 70 quarts or more in the morning before opening to the public.
Plans for Diversifying 
The Newswangers have also planted several hundred blueberry bushes with hopes of future harvests as the plants mature.
Leroy raises 20 acres of timothy hay and works off the farm as a clerk at Pine Creek, a local feed store. The family raises cut flowers for sale at the farm stand and at Martin's Grocery Outlet.
The next big crop will be pumpkins. The family has planted a 150-square-foot patch.
The family also tends 50 broiler chickens, a few laying hens, a handful of turkeys, four adult goats and a few kids. These are all for the family's use, except the broilers and goats.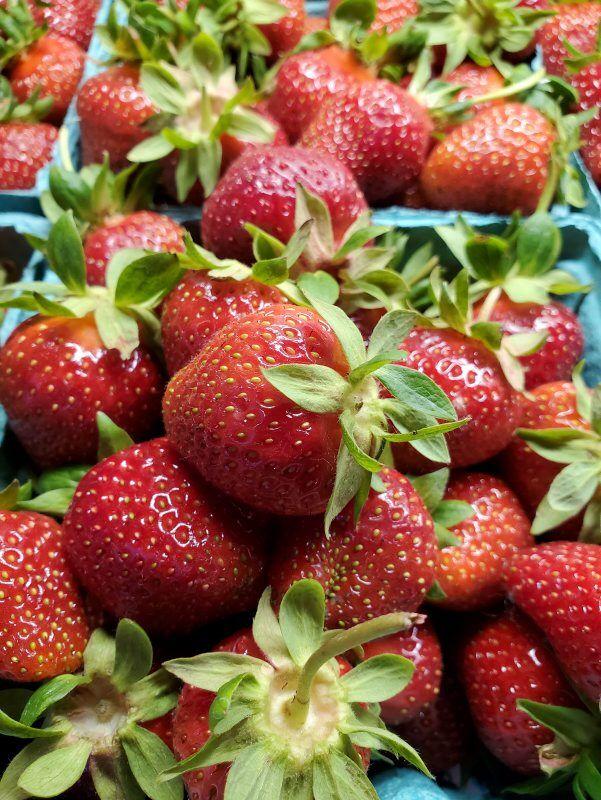 The Newswangers will sell the grown goats for meat. They'll sell the kids for pets or to goat farmers serving the ethnic market.
Although the farming life is not new to the Newswangers, growing berries differ vastly from raising cattle. Reaching out to experienced growers has helped them know how to deal with pests and other growing issues.
Newswanger likes the different pace of life that the new farm offers the family.
"We're not milking cows," she said. "We don't miss that. We like the weekends that are free. We still have chores here, but it's nothing that has a set schedule like the cows."
When the family purchased the farm, the property already had a barn and pole shed. The Newswangers added a pond for irrigation and solar-powered fencing for the goats.
Although an initial expense, planting the strawberries under plastic and using drip line irrigation saves the family lots of time in weeding and watering.
"We want to clear more trees and brush that the former owner let grow up and make more hay fields," Newswanger said. "Eventually, we'd like a couple more goats, but we're only set up for a few. We may grow more produce."
Glenda recently began beekeeping with two new hives. If she harvests enough honey eventually, that could provide yet another revenue stream to the farm. They also plan to plant everbearing strawberry varieties to lengthen the farm's strawberry season.
But this year, "we can now sit down and take a breath," she said.