Dan Lyness has only been a dairy farmer for eight years, but he's carving out a niche for himself in New Jersey.
Lyness hosted state Ag Secretary Douglas Fisher on June 10 for a celebration of Dairy Month.
Lyness started Spring Run Dairy in 2013 and began bottling his own milk a few months ago.
He caught the dairy bug at Delaware Valley University in Pennsylvania, where he milked in the ag college's dairy barn.
Lyness' parents, Gerry and Nancy Lyness, raised beef cattle, keeping 50 to 60 cow-calf pairs, and he found that dairy offered more of the hands-on cow work he enjoyed than beef production did.
"From growing crops, feeding them every day, milking them every day, breeding them, it's the whole gamut of cattle work that really drives me," Lyness said.
With Farm Service Agency financing, Lyness built a tie stall barn. While a freestall would be more efficient for a big herd, the tie stall allows for close management of the farm's 50 cows, he said.
Seeking high component production, Lyness began with an all-Jersey herd. He has since added some Holsteins to feed his and fiancée Sarah Phillips' interest in showing cows.
"There's not so many Jersey shows around here," Lyness said. "Everybody has Holsteins, so if you want to show cows, you own some Holsteins."
The couple have competed in the state Holstein show and in several New York events.
'A Little More Flavor'
Lyness' newest way to stand out, the on-farm processing plant, was born out of necessity.
Dairy Farmers of America imposed a base program early in the pandemic last year.
Lyness' production was very low in the month the co-op selected as the benchmark, so he needed something to do with his growing production above base. Direct marketing fit the bill.
"Instead of them taking my excess milk and charging me for it, I'm just bottling it myself," he said.
Lyness now bottles about 20% of the milk he produces and ships the rest — almost 4,000 pounds every other day — to DFA.
Lyness and his family process and package the milk in a shipping container next to the dairy barn. The unit was outfitted as a creamery by Don's Dairy Supply of South Kortright, New York.
The structure is insulated and has plastic walls, a concrete floor with drains, and stainless steel equipment. Fifteen feet of the container's 40-foot length is a walk-in cooler.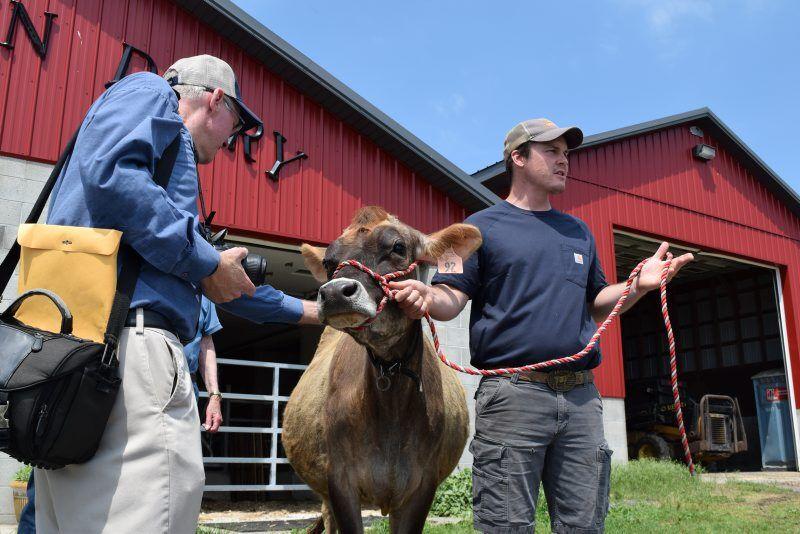 Lyness processes the milk directly from the bulk tank without adjusting the fat level.
"Whatever our cows are producing at the time, that's what's in the bottle," Lyness said.
As a result, Spring Run Dairy milk has more than the 3.25% fat content that is the standard for supermarket whole milk.
"It adds a little more flavor, a little extra taste," he said.
His milk is different from commodity milk in other ways too. It's pasteurized for 30-plus minutes in batches of 90 to 100 gallons rather than heated at a high temperature for a short time — the procedure used in large dairy plants' continuous-flow systems.
And Lyness' milk is unhomogenized, so each bottle comes with a "shake well" recommendation.
A few months into his new endeavor, Lyness added a third day of processing per week. He and his family do two batches of white milk and one of chocolate.
"My mom and I and my father, we all spend a lot of time in here getting the product out," Lyness said in the small but spotless shipping container.
Some of the milk is sold through a self-service farm store, which occupies a shed at the side of a barn. The store is open 10 a.m. to 5 p.m. on Saturdays and Sundays.
The farm offers half-gallon and 12-ounce bottles of white and chocolate milk. Lyness settled on those two sizes because he doesn't have the demand yet to sell gallons, and he wanted a single-serving size for children and for agritourism events.
Spring Run Dairy milk is also available at about 10 other retailers, such as Norz Hill Farm & Market in Hillsborough.
State of Dairy
New Jersey has 40 dairy farms, making it a relatively small milk producer. Neighboring New York and Pennsylvania, both top 10 milk producers nationally, have more than 9,000 dairies between them.
New Jersey's dairy processing has traditionally been closely tied to its Mid-Atlantic neighbors. But with advances in refrigeration, milk from as far away as New Mexico can end up being packaged in the Garden State, said Fisher, the state ag secretary.
"The herds became so large that the economies of scale made it difficult for a farmer who has less than 500 cows to compete," he said.
The average New Jersey dairy herd has 115 cows, compared to nearly 2,400 in New Mexico, per USDA.
The Federal Milk Marketing Order system needs to be reformed to help modest-sized dairies hold their own against big farms, Fisher said.
Still, Fisher and Lyness say that commodity and direct-marketed milk both have a place in their state. And they see New Jersey's high population density as an asset to keep the industry vibrant.
"This is a rural part of New Jersey per se, but there's still a lot of people around here to sell milk to," said Lyness, who farms in western Hunterdon County.
And while having lots of homeowners nearby could mean lots of neighbors complaining about manure smells and dust, Fisher said that isn't a problem in New Jersey.
"So many of these counties have had dairy in their midst for decades and hundreds of years," he said.
Its reputation for endless suburbia notwithstanding, New Jersey also has a good amount of space for farming, especially in the state's northwest and southwest, he said.
Lyness views his direct marketing as not just a business but also as an opportunity to educate the public about dairy. Like many dairy producers, he's frustrated by perceptions that farmers mistreat their animals and are poor land stewards.
He also wants consumers to know that dairy products are nutritious and have a place in most people's diets.
He recognizes that the consumption of fluid milk drinking has been declining, but he sees hope in the increase in overall dairy consumption. That growth is led by cheese and other manufactured dairy products.
"It's not like dairy's disappearing," he said, "because we still have lots of products that people are consuming on larger scales."
What type of milk packaging provides the best drinking experience?