LEBANON, Pa. — Madison Hetrick and Doyle Shertzer have a lot in common.
Both were members of the Lebanon County Goat 4-H Club, both go to Penn State Berks Campus, and both show market goats at the Lebanon Area Fair.
They even show market goats from the same farm, M3K Boer Goats, which is Hetrick's family farm.
Hetrick and Shertzer even placed the same in their respective divisions. Shertzer took first in class three of the lightweight division and placed third overall in the division. Hetrick won first in class eight of the light heavyweight division, placing third overall in the division.
Though neither walked away with a grand championship, both were happy to even be able to show.
"I placed first in class and third in division, which I consider an overall win given the set of circumstances for this year," Shertzer said.
Those circumstances, of course, refer to the ongoing COVID-19 pandemic. Many fairs have canceled for 2020, but the Lebanon Area Fair decided to have a modified event.
The main focus of the fair this year was on 4-H and FFA shows. There was only one livestock show per day, and only exhibitors and their families were allowed at the show. Anyone in the show ring or the bleachers was required to wear a mask and encouraged to maintain social distancing.
"I am just so happy that we have a fair board that is so dedicated to wanting to put this on and wanting to make it work," Hetrick said. "I'm really appreciative of that."
Hetrick and Shertzer both have one more year of eligibility left to show with FFA, and both plan on taking advantage of that next year.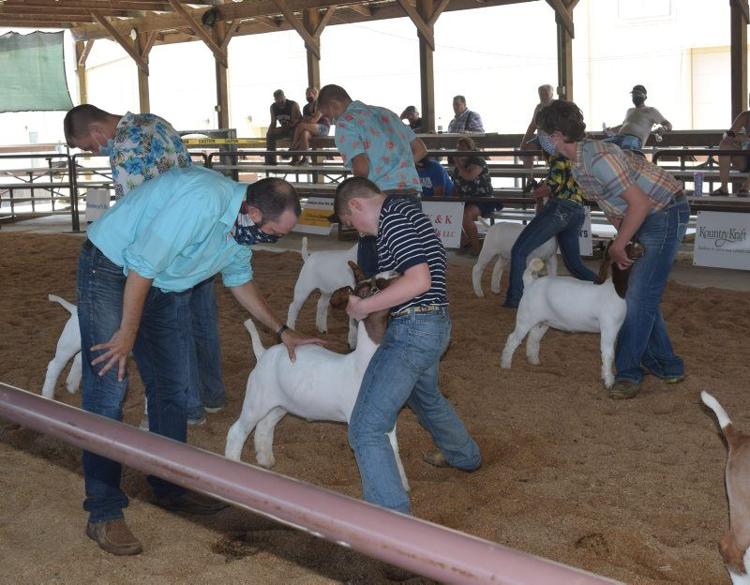 Hetrick has also shown horses and market lambs. Shertzer used to show market lambs and market hogs. For this year, they both only showed market goats, a favorite for both.
Hetrick shows home-bred goats, and M3K Boer Goats typically sells between 15-20 market goats to local families every year.
Shertzer always buys his goats locally and has bought from the Hetrick family for the past few years.
The two credit 4-H and the fair for their friendship. They first met in 4-H and served together as officers.
"It was just fun, because we had this experience together," Hetrick said. "Growing up and showing in 4-H together, and then we went to college and we got to still stay close."
At Penn State Berks, Shertzer is studying landscape design and management. Hetrick is majoring in communication arts and sciences with a minor in political science. She hopes to be an agricultural lobbyist after graduation.
Hetrick has been showing at the fair for 12 years and Shertzer for nine.
"Everyone knows everyone else and it makes it easier, especially in the show ring," Shertzer said. He said that he and fellow competitors were able to joke around with each other while showing this year, adding that it was all in good fun and they shook hands after the show was over.
"It's just so fun showing with people that you know," Hetrick said, adding that camaraderie is the best way to describe the feeling of showing at a local fair.
At this year's market goat show, banners were awarded to the top five.
Gavin Molnar had the grand champion market goat. Reserve grand champion went to Blayne Heisey. Rounding out the top five were Alex Heisey, Kylie Brown and Clayton Heisey.
The market goats will not be sold at a traditional livestock sale like in past years. The sale will take place online through SCOnlineSales.com
The sale will run from noon on Aug. 1 until 4 p.m. on Aug. 3.