LEBANON, Pa. — Why did the goat cross the Lebanon Area Fairgrounds last week? To get to its goat yoga class, of course!
It may have been the hottest new addition to the 62-year-old fair. After learning about it from the fair's schedule and Facebook, fairgoers loved it so much that a second class had to be added to handle the overflow of interested exercisers. This allowed a total of 80 yoga enthusiasts and seven goats to de-stress together in the fair's open-air pavilion &tstr; all under the watchful eyes of curious onlookers.
In case you haven't been keeping up with exercise trends, goat yoga has become "a thing." As the name implies, this form of farm-related fun involves goats wandering among humans who are practicing yoga poses in search of improved flexibility and inner peace. The goats are said to add a sense of tranquillity to the experience, as they settle in on a yoga mat or perhaps snuggle up on a yoga practitioner's back.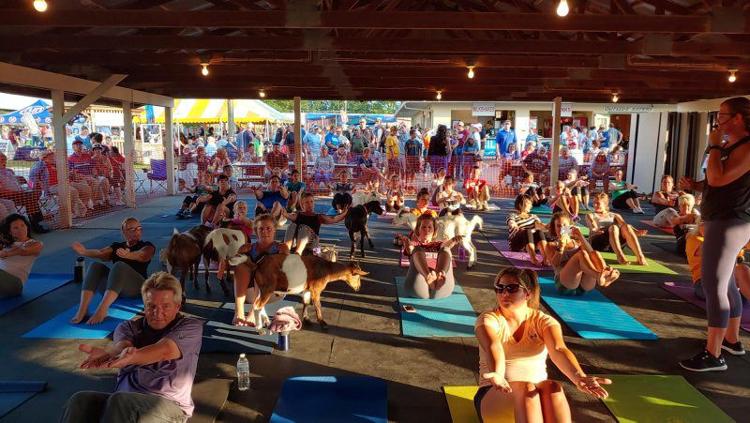 According to CNBC, goat yoga got its start in 2016, when a Corvallis, Oregon, farm owner named Lainey Morse found solace in her goats during a trying time. She began inviting friends to her farm for what she dubbed "goat happy hour" so they could spend time with her Nigerian Dwarf goats. One of her friends was a yoga instructor ... and you can guess the rest. It turned out to be a "very goat" idea.
It didn't take long for goat yoga to catch on and spread to the Midwest where, in 2018, the Iowa State Fair was the first to introduce its fairgoers to this perfect mix of agriculture and exercise. It was so popular that it's coming back to the 2019 Des Moines-based fair, but this time with the addition of piglets, ducklings and chicks. They'll also be offering a special Iowa State Fair yoga mat for the first 250 registered participants at the mid-August fair.
The Lebanon Area Fair exhibits goats aplenty, with classes for market goats and breeding does, as well as dairy, fiber and pygmy goats. Nevertheless, 4-H project animals were not invited to Lebanon's goat yoga party. This event called for professional yoga goats, which made the trek from Healing Acres Farm in Carlisle, Pennsylvania, to the Lebanon Valley Expo Center in their "tour bus" — an air-conditioned van outfitted with a special wooden holding box into which each goat can be securely anchored.
Healing Acres Farm is an 8-acre operation belonging to Christine and Darby Miller. In addition to a herd of 18 fainting goats, the Millers' farm is also home to two miniature donkeys. They offer weekly Saturday morning goat yoga classes in their farm's high tunnel, do monthly wine tasting events at the Crosswinds Winery at Hershey and average about one other off-premises goat yoga session per month at places like the University of Maryland. They even do private parties by request, all with smaller-size classes than the fair's. The Millers have been doing goat yoga since 2017 and have found fainting goats to be a gentle, people-friendly breed.
Goat yoga at the Lebanon Area Fair owes its introduction there to Dana Lape, who co-chairs the fair's entertainment committee. Lape learned about the Iowa State Fair's innovative use of goats on Facebook and thought it would be a good fit for his hometown's fair. He was right, and noted that about a third of Lebanon's goat yoga participants were fair exhibitors.
Rounding up the class participants and the goats was probably the easiest part of the Lebanon Area Fair's goat yoga adventure. They also needed a willing yoga instructor and had to figure out the logistics for accommodating this event. Melanie Wells, the community wellness coordinator for Lebanon's Well Span Good Samaritan Hospital, was already providing weekly "Yoga in the Park" classes locally at South Hills Park and didn't need to be "goated" into willingly teaching the fair's class. The local Tractor Supply Co. provided cow mats, which proved to be just as comfortable for humans and goats to lay on as for bovines. And the perfect location turned out to be the fairgrounds' open-air pavilion, surrounded by bright orange temporary fencing to prevent goat escapees.
Yoga students, who were pre-registered and paid a $5 fee, arrived before their caprine companions. Christine Miller, who has an animal science degree from Cornell and experience as a farm manager, gave the students a quick course in goat etiquette.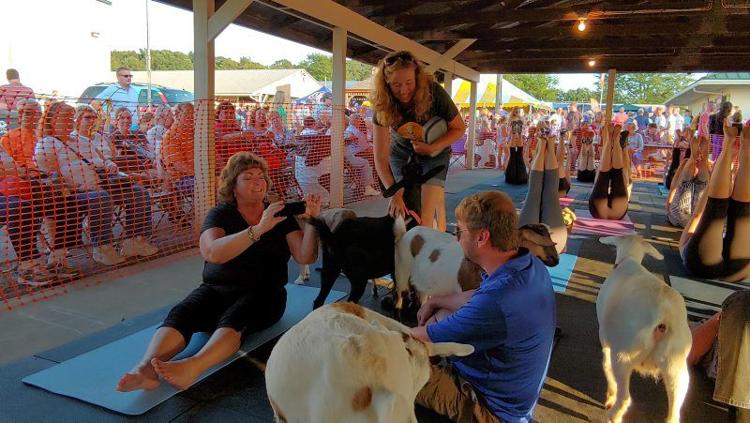 Goats don't like to be petted on their face or head, but welcome touches to their neck and back. She also pointed out the obvious — goats pee and poop, so she would be circulating with clean-up equipment during class.
As the goats &tstr; five does and two wethers — arrived on the scene, there were plenty of oohs and ahs and photo taking. By a show of hands, only one participant in the first class had previous goat yoga experience.
The reasons for wanting to give goat yoga a try were as varied as the folks taking the class, which included both men and women. Lori Gibson of Cleona noted, "I do yoga and when I read about this, I wanted to give it a try." Nearby, her friend Diane admitted she had exhibited livestock at the fair for years when she was a 4-H member. However, as a goat roamed nearer to her and pooped, she said hesitantly, "They're cute, but..."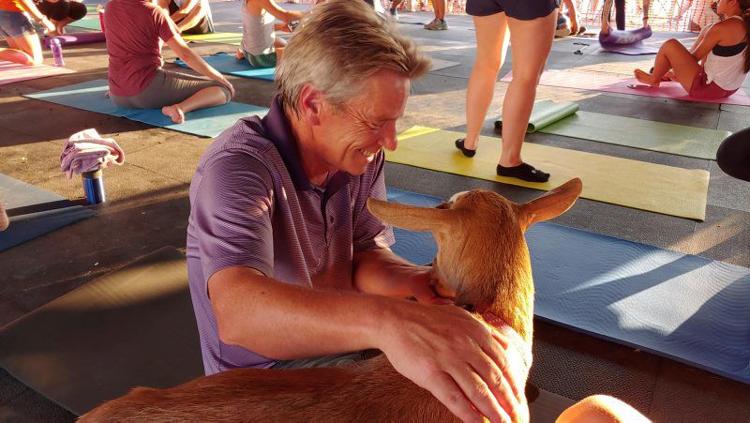 One well-known goat yoga participant was Russ Diamond, a member of the Pennsylvania House of Representatives who represents the 102nd district covering eastern sections of Lebanon County. Diamond, who serves on the House Agriculture and Rural Affairs Committee, said, "I see that maybe this could provide a little extra income to keep a farm in the family."
Another participant confessed that, "It was so much fun, I was getting distracted. I just wanted to pet the goats."
Many others echoed those same sentiments while snapping selfies with the goats. The consensus was that the event was enjoyable and relaxing.
Some of the goats were ready for a snack break by the end of the first class. Several of them clustered at a tasty-looking morning glory vine looped around one of the pavilion's support posts. Fortunately, Christine Miller reined them in before things got out of hand.
If you've been longing to try a goat yoga class, you'll get another chance Sept. 2, when The Great Allentown Fair hosts goat yoga sessions at 2 and 4 p.m. in their RCN Farmerama Theater. For more information, call 610-433-7541.
Healing Acres Farm is located at 380 Hollowbrook Drive, Carlisle. Their website is GoatYogaPA.com.