DORRANCE TOWNSHIP, Pa. — Scott Rinehimer planned on taking another cutting off a four-acre alfalfa field next to his dairy barn, but something beat him to it.
When Rinehimer checked on the field at the beginning of September, the alfalfa stand was reduced to stems.
"It was only a few days and it just disappeared," he said. "I never saw anything like it."
The mystery of the vanishing alfalfa wasn't hard to solve, however, as the evidence was found strewn across the ground and crawling on stems. Fall armyworm had invaded the field, an occurrence that was a first for Rinehimer but one being experienced by farmers in other parts of the state.
And it doesn't happen often.
Liz Bosak, a Penn State Extension educator, said she received reports of fall armyworm in August from Dauphin and Perry counties. Rinehiner's farm is in Luzerne County, and according to Penn State Extension's PestWatch Report for Sept. 1, fall armyworm has turned up in high numbers at monitoring locations in Bedford, Centre, Erie and Indiana counties as well. Infestations have also been reported in Franklin, Somerset and York counties.
"This isn't an every year thing, but we are seeing it this year," Bosak said. "It's being found now in alfalfa and some hay."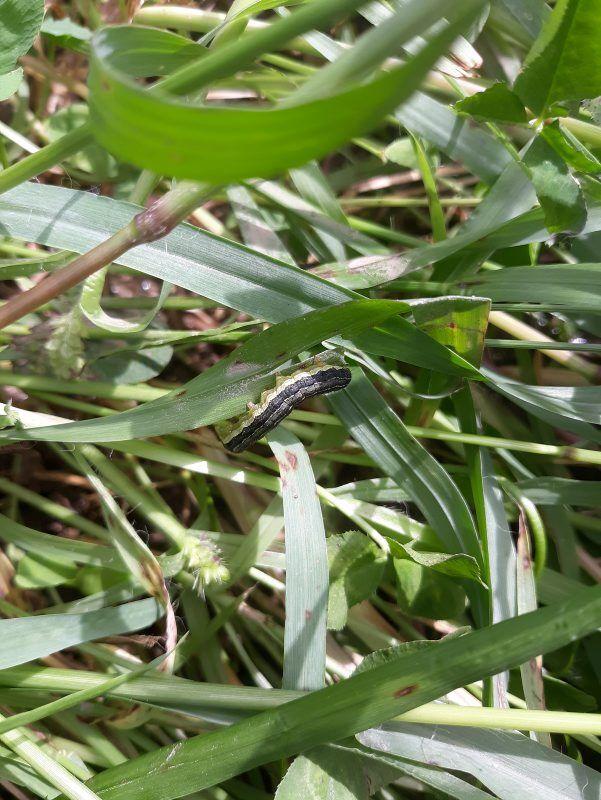 Armyworms in Pennsylvania
Like true armyworm, fall armyworm moths arrive in Pennsylvania from the Gulf Coast region, where they overwinter. Bosak said they are carried on storm systems, which is why infestations are sporadic.
The armyworms that are currently in Pennsylvania are the result of adults laying eggs, which hatched in late July, she added.
"They're called armyworms because they feed in groups. When they land in a field, they can devastate it," Bosak said. "In some of these places, farmers haven't seen an armyworm infestation for 25 years."
Rinehimer's alfalfa field was almost uniformly eaten down to the stems, and foxtail was present in the open canopy. According to Bosak, after fall armyworm consume the leaves in an alfalfa field, they'll eat the stems and then move on to a neighboring field.
In addition to alfalfa and hay, Bosak said a field in Perry County that was recently seeded in oats was also hit by fall armyworm this summer.
"They feed on over 60 different plant species, and any weeds that aren't eaten can take over the stand," she said. "An alfalfa stand should recover, but you lose that cutting."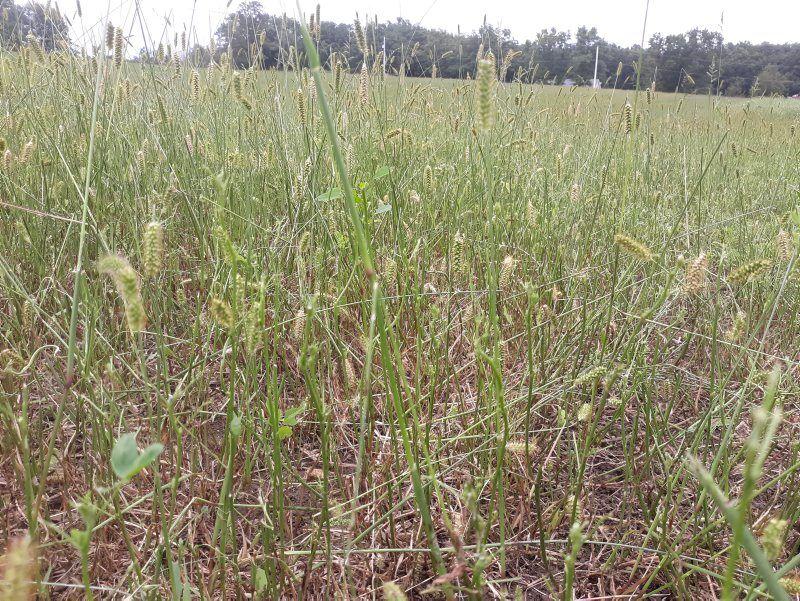 As far as what to do with a field of stems, Rinehimer debated between cutting and baling the residue just to remove it, or spraying the field with insecticide to kill the armyworms.
Bosak said the decision to apply insecticide should be based on the maturity of the armyworm caterpillars. If caught early when the caterpillars are in the first, second or third instar stage, an insecticide application would be effective, she said. The young caterpillars at that stage eat just a fraction of what they'll remove at later stages, and they can be killed easier.
If the caterpillars are larger, they can be harder to kill with insecticide, and a full rate should be applied. Still, larger caterpillars are likely close to pupating, Bosak said, and they won't travel as much.
"Sometimes it's a question of being worth the time and money to manage them if they reach the later stages," Bosak said. "This happens so rarely that it kind of takes farmers by surprise."
But there is good news for farmers like Rinehimer and others who experienced fall armyworm infestations this summer. The pests will be killed when freezing temperatures arrive, and even if they pupate, the eggs won't survive the winter.
"They can't overwinter here, so we don't know if we'll see them next year," Bosak said. "If we are getting more frequent storms in a similar pattern, it's possible they can be blown back here in the future."