Justin Geisinger sympathizes with the struggle he says many farmers face when it comes to disposing of agricultural plastic.
Bale wrap, silage covers, plastic twine — it's all beneficial when it comes to putting up quality forage, but when the feed comes out of the plastic, the benefit turns into a detriment.
"What do you do with the plastic? A lot of farmers either burn it or haul it to the landfill," said Geisinger, who operates Air Hill Acres dairy farm in Chambersburg, Pennsylvania.
Landfilling isn't a good option because the plastic is bulky and takes up space, plus it can wrap around machinery and cause damage, he said.
As a farmer, Geisinger knows the advantages of using ag plastic and the frustration of dealing with disposal. In 2014, he started Ag Plastic Solutions to give farmers another option to dispose of their ag plastic — recycling.
"My first love is farming, and my second is recycling. Ag plastic has a lot of potential," Geisinger said.
At his business, Geisinger accepts everything from bale wrap, silage covers and plastic twine to drip tape and buckets. At one time he accepted the materials for free, but changes in the market forced him to implement a tipping fee.
The major hurdle with recycling ag plastic, he said, is getting it clean enough so manufacturers can use it. That comes with a cost, and coupled with depressed prices on the market, a tipping fee was the only way Geisinger could keep the business viable.
"The market isn't high enough to cover the cost of handling it. The price for film is low, and I have to charge a tip fee. I started doing it in the last quarter of 2019," he said. "Guys don't want to pay it, so a lot isn't getting recycled."
Still, Geisinger believes there is a place in the recycling market for ag plastic, and much of the demand is from overseas. But even then, the plastic has to be remarkably clean before it's exported, and that's where the headaches come in.
When ag plastic is recycled, it's ground up, and even a small stone or clump of dirt can wreak havoc on plastic milling equipment. One of the best uses for recycled ag plastic is trash bags, Geisinger said, but cleanliness remains an issue.
"When used for trash bags, manufacturers can handle it being a little bit dirty, but we're talking 1%, and no one can keep plastic that clean," he said.
Mulch plastic, for example, is simply unusable because it contains as much as 50% dirt.
"It's not as simple as asking guys to hose it off," Geisinger said. "That's not going to happen. Cleaning plastic is not on most farmers' minds."
And that's why a lot of ag plastic is burned on the farm or loaded in a dumpster, destined for the landfill.
Aid is Growing for Sustainable Plastics Practices 
But Geisinger isn't giving up on the recycling front, and he said the option would get a major boost if the state would help subsidize ag plastic recycling efforts.
There are ag plastic recycling programs in the Midwest that are subsidized by grants, such as in Minnesota, where counties provide collection dumpsters and bags to farmers.
According to the Minnesota Milk Producers Association, 50% of the state's dairy farms participate in ag plastic recycling, and two years ago, 1,671 tons of plastic film were recycled.
"If Pennsylvania would subsidize the cost for farmers to recycle plastic, it would make a world of difference," Geisinger said.
The state isn't oblivious to the ag plastic issue. In February, the Department of Environmental Protection entered into a memorandum of understanding with the Pennsylvania Department of Agriculture to develop best management practices for agricultural plastics.
Included in the agreement is a $200,000 annual allotment, issued from DEP's Recycling Fund, to cover the costs of efforts to boost ag plastic recycling by providing balers and equipment, encouraging corporations that reuse ag plastic to come to Pennsylvania, and increase market demand, among other things.
The agreement also calls for increased awareness of the hazards of burning ag plastic in hopes of swaying farmers to discontinue the practice.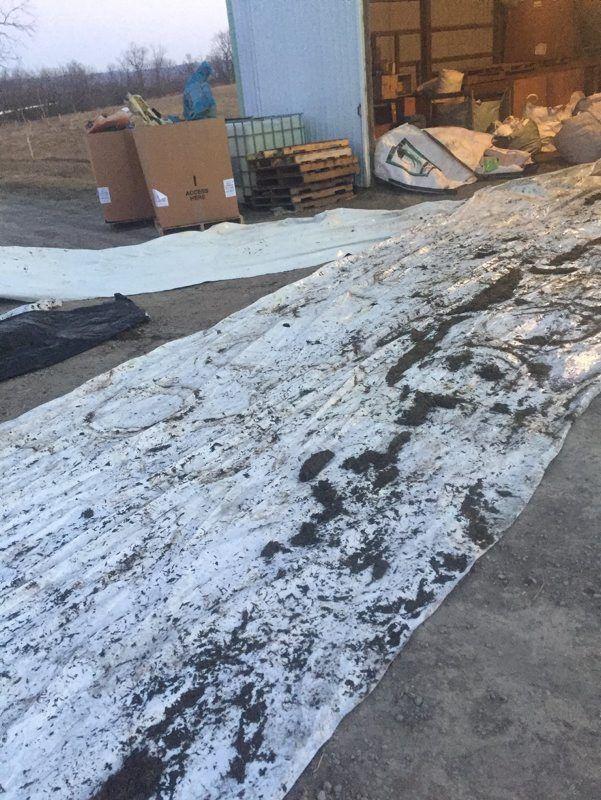 "Ag plastics should be managed consistent with the waste hierarchy of reduce, reuse, recycle, resources recovery (incineration) and lastly, landfilling," said Jamar Thrasher, DEP's press secretary. "We will have educational materials that address the issues associated with burning and burying ag plastics."
Shannon Powers, press secretary for the Department of Agriculture, said the agency will issue ag plastic recycling grants funded by the $200,000 allotment.
"The grants will promote and encourage the development of programs to reduce, collect, transport, process and reuse agricultural plastics and discourage the burning of agricultural plastics. The program is funded for five years at $200,000 each year. The department will issue a formal request for proposals later in 2021," she said.
Even though plastics markets are depressed and Geisinger has to charge a tip fee to farmers, he maintains that recycling it's still a more affordable option than landfilling.
"In our area, the dairy farms don't want to pay a tip fee, especially when milk prices are low. But at the same time, a farmer can pay a tip fee and recycle it cheaper than what they pay to have a dumpster sit around and then have it hauled away," Geisinger said. "All of the producers that recycle with me, once they got into the routine, they told me it's easier than dealing with a dumpster. It just takes a different train of thought."