WILLOW STREET, Pa. — To Donald Risser, being a farmer is not just about making money, or even taking care of animals and the soil.
It's about serving the community.
Risser, a Bainbridge dairy farmer, received the George C. Delp Award at the Lancaster Chamber's Agriculture Industry Banquet on Nov. 14 at the DoubleTree Resort by Hilton Hotel Lancaster.
The award honors a person or business for contributing to Lancaster County's ag industry.
Risser has served over four decades on the board of the Mount Joy Farmers Cooperative Association, including more than 30 years as president.
While he's a seasoned co-op leader now, Risser was still in his 20s when he joined the board.
"Many of these board members were older than my father, but they took time to encourage me, coach me, for which I am forever grateful," he said.
During his tenure as president, Risser helped forge connections with the Dairylea cooperative and, later, Dairy Farmers of America.
Risser has also served on the boards of the Center for Dairy Excellence, Agway, the Lancaster County Holstein Association and Elizabethtown Brethren in Christ Church.
Along the way, Risser said he got a lot of help — from his parents, as well as others who took chances on him when he was young.
Risser offered a challenge.
To farm parents: Train your children, give them opportunities to learn, and then give them space to make their own way.
To ag industry veterans: Find young, enthusiastic people to mentor.
"And to anyone, young or old: Get involved," he said. "Whether it be a church, a school, as a coach for the local ball team, as a leader for a 4-H club, FFA, become a co-op delegate, get involved."
Risser's exhortation was echoed by keynote speaker Jason Brown, a former NFL player who now runs First Fruits Farm, a charitable operation outside Raleigh, North Carolina.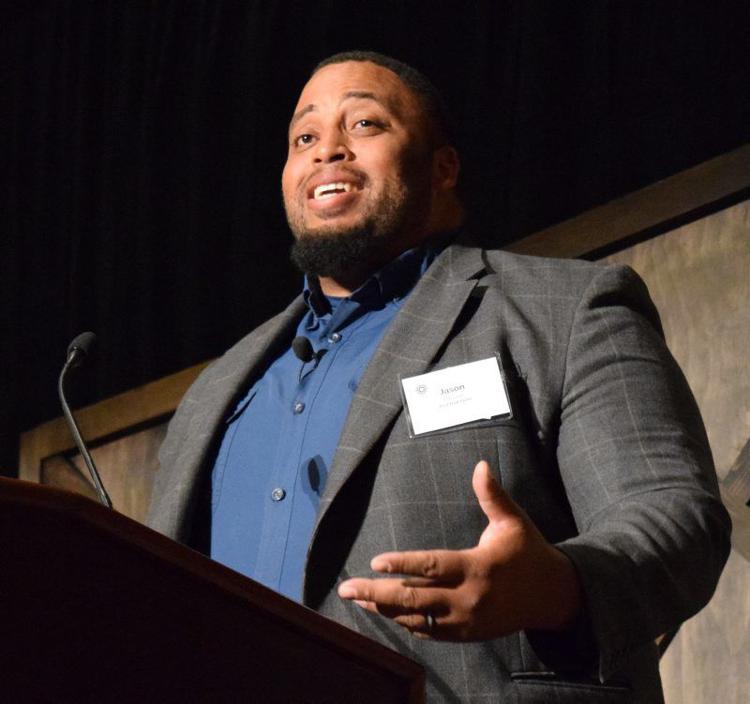 For much of his playing career, Brown said, he wavered between selfishness and responsibility.
In college, his world was shaken when his older brother, his role model, was killed by a mortar shell while serving in the Army overseas.
Brown decided to live his life as a memorial, wearing his brother's shrapnel-scarred dog tags, the jagged side turned toward his chest.
Drafted by Baltimore in 2005, Brown became the highest-paid center in the NFL with the St. Louis Rams in 2009.
He accumulated fortune, fame and a 12,000-square-foot mansion, but he still felt that he didn't measure up to his brother.
"I was living the life of entertainment. He was living the life of service," Brown said.
Brown came to believe God had called him to be a farmer growing food for needy people.
So at age 29, he turned down NFL contracts and moved back to North Carolina to embark on a career he knew nothing about.
He floundered at first, trying to pick up production knowledge from online videos. But an Extension agent, some generous farmers and a gleaning network stepped in to make his first season a success.
First Fruits Farm has now donated over 1 million pounds of food, and Brown is developing programs to teach people to grow food for themselves.
Critics have told Brown he could have made more money to feed the hungry had he stayed in the NFL. Brown contends that throwing more money at a problem isn't always the answer.
"It's people that care that are going to help solve problems," he said.
The transition from football star to farmer has required humility — children now want to take pictures with Brown's livestock instead of with him — but Brown approaches his hard work with good humor and even enthusiasm.
He also enjoys watching his children learn discipline and take ownership while doing farm chores.
His attitude toward life is embodied in the farm's slogan: "Never stop giving. Never stop loving. Never stop growing."