MERCER, Pa. — Rick Koller had cheese that needed a home and farmers who were facing milk dumping. The Central Pennsylvania Food Bank had people who needed something to eat.
Their story of rapidly shifting supply chains highlights the role food banks may play in driving dairy consumption during the COVID-19 pandemic, a role that will be facilitated by millions in federal funding.
Koller, president of Fairview Swiss Cheese in Fredonia, has a mix of on-site and leased off-site cold-storage space for his cheese.
But earlier in the pandemic, when supply chains were severely disrupted, all of that storage filled up.
"I knew when I told the milk processors that we could no longer accept their milk, local dairy farmers would have no choice but to dump milk," Koller said.
So Koller got on the phone to find a solution.
As the word got out that 200,000 pounds of cheese that needed a home, Koller received a call from Beth Hamilton, who handles logistics and distribution for the Central Pennsylvania Food Bank.
"When I learned of the availability of the cheese, I knew we could use it, but I wasn't sure where the money would come from to make it happen," Hamilton said.
Hamilton also contacted Laubscher Cheese Co., a cheese slicing, shredding and packaging company in Mercer, to convert the 100-pound blocks of cheese into consumer packages that are now being distributed to people in need.
Kevin Watts, vice president of Laubscher Cheese, said his company was happy to be a part of the project, which resulted in over 100,000 packages of cheese ready for distribution.
Hamilton worked with the Pennsylvania Agricultural Surplus System, or PASS, which moves Pennsylvania agricultural products into the charitable food-delivery system.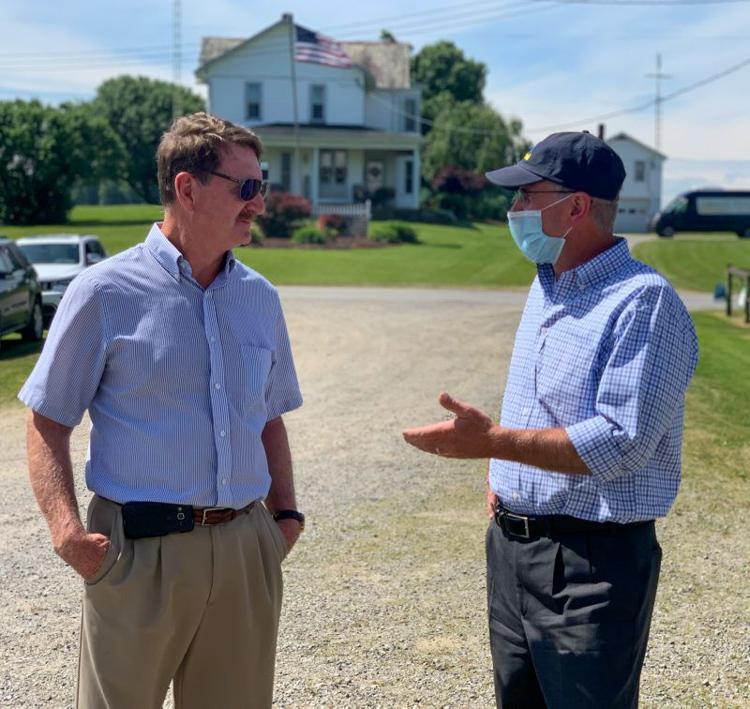 "I knew if these two ladies were involved, something good would happen," said Caryn Long Earl, director of the Ag Department's Bureau of Food Distribution. She was referring to Hamilton and Lori Weston, executive director of the Community Food Warehouse of Mercer County.
Weston said that the food banks across the state work together through a network called Feeding Pennsylvania.
Through that program, Mercer County was able to distribute food boxes at drive-thrus in addition to operating its normal channels.
"We had never distributed food boxes before," Weston said. "But it was all hands on deck."
Many people are receiving food assistance for the first time, she said.
Agriculture Secretary Russell Redding announced last week that the state will use $5 million in funding from the federal CARES Act to buy dairy products for people in need.
Another $15 million is available to dairy farmers who have been affected by the interruptions in the food supply chain during the pandemic.
Speaking at Amoore Holsteins, one of the 30 western Pennsylvania farms that benefited from the food banks' Swiss cheese acquisition, Redding said that any dairy farm that experienced financial losses because of discarded or displaced milk may apply for assistance.
Each farm with a documented loss will receive a minimum of $1,500 and a prorated share of the remaining funds, not to exceed the actual assessed loss.
The Dairy Indemnity Program is available through Sept. 30. The application is at bit.ly/dairycares