In the blink of an eye, Chris Brittenburg lost half of his business and worried he could lose the farm.
Brittenburg, who co-owns Who Cooks For You Farm in Armstrong County with Aeros Lillstrom, sold half of his organic produce at farmers markets and the other half to restaurants in western Pennsylvania. When the pandemic closed restaurants earlier this year, Brittenburg's farm was on thin ice.
"We basically lost half of our income overnight. We had to figure something out," he said.
Fortunately, a backup plan was already in the works.
Prior to the pandemic, Brittenburg met Simon Huntley, founder and CEO of Harvie Farms Local, a sales and distribution platform that connects consumers to local farms. The key to the program, according to Huntley, is the distribution differs from the traditional model used by community-supported agriculture.
Huntley's concept allows customers to choose what they want in their weekly produce boxes, and offers the convenience of picking them up on-site or having the boxes delivered to their homes.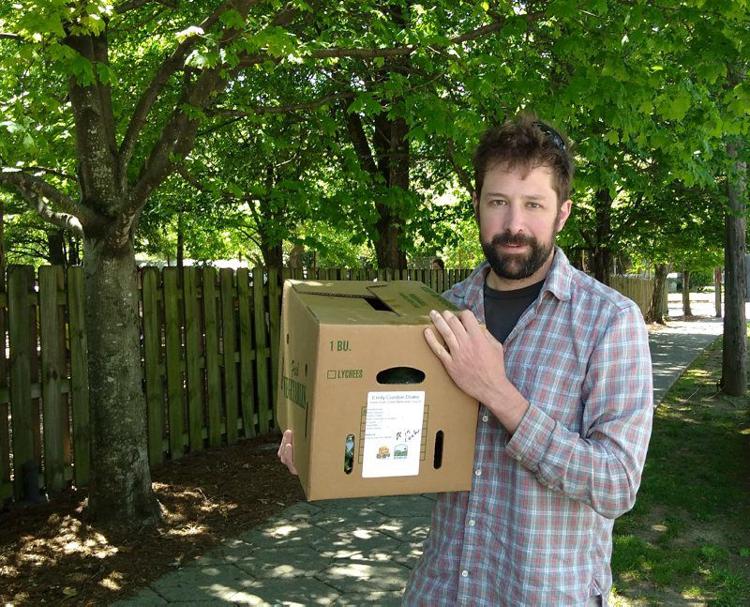 Since restaurants closed and people quarantined at home during the pandemic, Brittenburg said the timing couldn't have been better for the Harvie concept.
"Every Harvie customer I talk to says they love the convenience of the delivery," he said. "There was so much interest in this and we were able to meet that demand because we had so much produce intended for restaurants that were now closed.
"We're moving a good amount of produce through this, and it really saved us."
Harvie has partnerships with farmers across North America, including a recent business in the Pittsburgh area where the company is based. The first deliveries began in March, and today the Harvie farmers in the Pittsburgh area are moving 700 home deliveries each week with an average order value of $73. Participating farms pay a $1,000 setup fee, and additional costs are based on the number of customers the company generates through advertising plus options for warehousing, home delivery transportation and packaging.
Some farms in the program simply package and provide the produce and let Harvie handle the distribution. The Pittsburgh program, for example, has a distribution center where the products are held for home delivery.
And the program isn't limited to produce, Huntley said, adding that meat, dairy and other farm products are included.
"It's different than a CSA because we're bringing in products from many different farms. It's local groceries with home delivery, similar to ordering items from Amazon," he said. "We have 130 products each week that people can buy, where a CSA usually has 10."
The variety of offerings prevents the business model from being seasonal, but Huntley said some types of produce are placed in storage to give them a longer window of availability.
More options means the program is more appealing, Huntley said, especially during COVID-19 restrictions.
"At the end of 2019 I was calling 2020 the year of home delivery, and it's 100 times that with COVID-19," he said. "It really sped up a trend that was already occurring in the marketplace. Everyone's buying habits are up for grabs."
From a farmer's perspective, Brittenburg said the Harvie program did require an adjustment. His farm still sells produce at farmers markets, and the preparation for that segment coupled with the additional work of packaging food for Harvie deliveries was challenging at first because there is so much demand.
"We spent so many hours packing it was unbelievable," Brittenburg said. "But we have a system down now. We have our entire field crew go up at the end of the day and we all pack. We just had to prioritize it."
When COVID-19 restrictions do allow restaurants to open at full capacity, Brittenburg isn't sure if he's willing to go back entirely to that segment of the business. He sees sales to restaurants as being risky, and the Harvie model as having more long-term security.
"I don't see people walking away from the convenience of home delivery," Brittenburg said. "Even though there's a cost to it, people have a central place they can get everything."
While Pittsburgh was the first location to house a central distribution center for the program, Huntley said they will be opening another in New Orleans this fall. There is the potential to open additional distribution locations in Pennsylvania in the future, he added.
"People like that they can customize what's in their boxes, they like home delivery and they like local," Huntley said. "For August and September, we saw a 99% customer retention rate, and that reflects on the appeal of this business model."