It's finally here.
Eight years after the Food Safety Modernization Act was passed, the landmark law is finally starting to come into effect for produce growers.
For the first time, most producers will be subject to government food safety inspections, detailed recordkeeping requirements, and a bevy of do's and don'ts covering everything from bathroom breaks to water testing.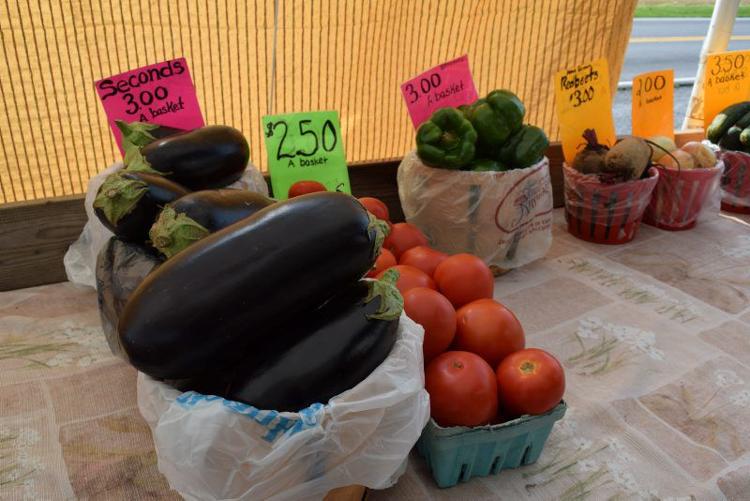 Still, complying with the law shouldn't be a big leap for many growers, said Juliet Glass, spokeswoman for the Maryland Farmers Market Association.
That's because a lot of wholesale buyers require growers to have a good agricultural practices certification. These programs have criteria similar to the federal law.
Farmers who have strictly been direct-marketing, however, may have "a pretty far bridge to cross" to come into compliance, Glass said.
After attending training on the new rules, Glass said she was surprised by the amount of documentation farmers will have to do.
Farmers all do some level of recordkeeping, but those with tiny, 5-acre farms probably aren't up to FSMA's standard just yet, she said.
The new regulations could also raise questions about growers' makeshift infrastructure — washing machines retrofitted to clean lettuce, cold-storage rooms chilled by air conditioners with the automatic shutoff disabled.
One of the most visible culture changes will involve, of all things, cardboard boxes.
Under FSMA, produce contact surfaces have to be new materials, or reused materials that can be washed and sanitized.
Cardboard — used in the banana boxes and green berry boxes ubiquitous at farmers markets — isn't great for washing or for sanitizing.
Boxes can still be used, though, if they're fitted with a plastic liner or if the produce is bagged.
"That's fine because the crop's not touching the box," said Jeff Stoltzfus, a Penn State Extension food safety educator.
Produce can be sold in new berry boxes without a liner. But customers often return the pulp containers for reuse, and growers would have to think carefully about that.
To help growers with their berry box dilemma, the Farmers Market Association developed a berry box made from recycled plastic.
The boxes are washable, sanitizable, even dishwasher safe, though they are more expensive than pulp boxes.
The boxes aren't a huge enterprise for the association's small staff, but "it was a solution to a problem that we saw on the horizon," Glass said.
To help with the cost of the plastic boxes, farmers could collect a deposit, similar to the one collected on glass milk bottles, to encourage customers to return the boxes.
Farmers seem to like the boxes so far, though some have said that their texture tends to show the dirt. That might detract a little from potatoes, for example, which often have a little soil on them, Glass said.
While FSMA ushers in new rules for cardboard, wooden harvest containers, such as apple crates, will still be acceptable.
Wood can't really be sanitized, but growers at least need to make sure it's clean and not contaminated with mud or manure, Stoltzfus said.
Water
FSMA will also, at some point, require farmers to test their water for pathogens such as E. coli.
The Food and Drug Administration has been reviewing the rules for several years and has postponed implementation.
When the rules do go into effect, most Pennsylvania growers should be able to meet the requirements without much trouble, Stoltzfus said.
At this point, well water will need to be tested once a year, surface water four times a year.
Irrigation water from a well or spring can easily meet microbial targets, and even the requirement for postharvest water — zero E. coli — is not too hard to attain, Stoltzfus said.
Drip irrigation water only needs to be tested if used on root crops often consumed raw, such as carrots, radishes and onions.
Overhead irrigation will need to be tested, but it's mainly used for sweet corn — a crop that is generally cooked before eating and so doesn't fall under FSMA rules.
Water testing will be most burdensome for large farms with multiple ponds or locations. Those operations will have to do the most tests and spend the most money, he said.
For now, Stoltzfus advises farmers to test their wells annually and their surface water once or twice a year — just so they know how they might have to adjust once the rules go into effect.
Exemptions
There are three ways for produce growers to be exempt from FSMA.
One is to grow only crops that are normally cooked before eating, such as sweet potatoes and beets.
Another option is to have a tiny farm — average annual produce sales less than an inflated-adjusted threshold that's now around $27,000.
That gross sales figure is so low that farmers would be making almost no money, Glass said.
There's also a qualified exemption for farms with an inflation-adjusted sales threshold around $540,000, but meeting the criteria is complicated.
Growers must tally sales of all of their crops grown for humans or livestock, and account for how and where they're marketed.
Growers have to keep records and prove they qualify for their exemption every year. They can lose their qualified exemption if there's an issue with their produce.
"I'm not sure at the end of the day if it's worth the trouble" to pursue the qualified exemption, Stoltzfus said.
Farmers can check their exemption status using a Penn State web app found at bit.ly/exemptiontool.
The date that a farm needs to be compliant with FSMA depends on its revenue.
The rules have already gone into effect for large and medium-sized farms. The smallest covered farms, from about $27,000 to $250,000 in annual sales, will have to be in compliance next year.
In Pennsylvania, the state Ag Department is doing the farm inspections that verify farmers' compliance with FSMA.
Because the feds took a long time to issue their regulations, the state is working a year behind the FDA's phase-in dates. The largest growers are getting their first inspections this year, Stoltzfus said.
To help farmers prepare for the inspections, both Penn State and the University of Maryland offer mock audits.
An Extension staffer will come to the farm and run the farmer through a pretend inspection to see how the operation might fare.
The service has proved popular. Stoltzfus has done 60 or 70 mock audits himself, and he's not the only one doing the consultations in southeastern Pennsylvania.
The University of Maryland also offers free water testing to farmers.