HARRISBURG, Pa. — Addison, Alyssa and Alexandria Neff would normally compete in roughly half a dozen contests at the Pennsylvania Farm Show, but all of their customary competitions —in poultry, rabbits and fiber arts —have been canceled for 2021 with the show shifting to a virtual format.
As a result, the Dauphin County 4-H'ers have refocused their efforts this year on promoting agriculture to the public.
"We love exhibiting and seeing how our projects do, but I think through this experience we have learned that it's so much more (than) that in Farm Show. It's about educating," said Alyssa, a high school senior and the 4-H State Council reporter and historian.
All three sisters have served in statewide ag leadership posts. Addison is a past State Council officer who aged out of 4-H last year, and Alexandria is the state rabbit queen.
The Neffs embody the promise of 4-H — to develop young leaders by building agricultural and life skills, no matter their ZIP code.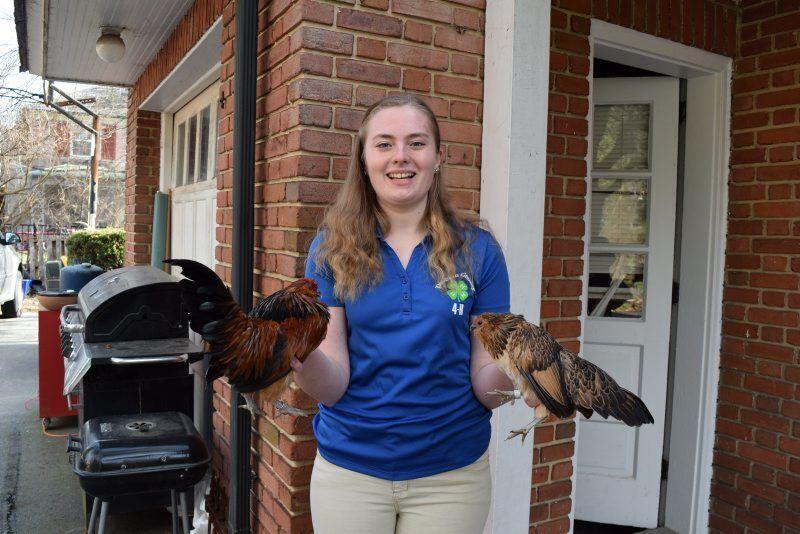 Parents Dale and Janell Neff grew up on farms, but they moved to the city of Harrisburg to be closer to Dale's construction job. Their daughters asked to move to a farm or get farm animals anyway.
The three sisters joined 4-H at the same time, when the youngest, Alexandria, was 7. Their father and grandfather had been in 4-H, but the family wasn't sure what the club had to offer for urbanites.
Janell took the girls to find out at the Dauphin County 4-H Roundup, which was held across town at the Pennsylvania Farm Show Complex. That building would become a big part of the family's life over the next decade.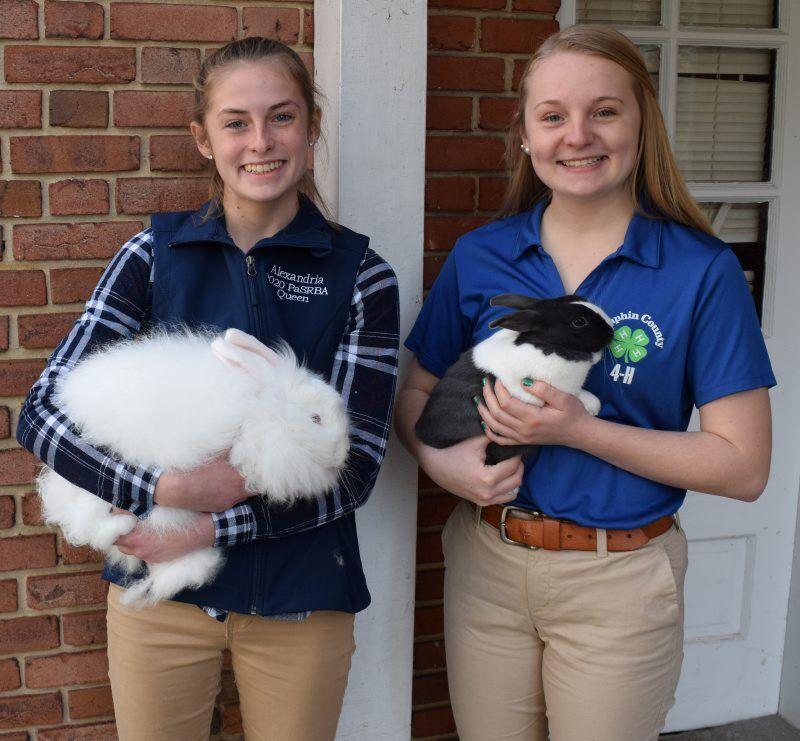 The Neffs live in a leafy patch of winding, narrow streets in one of Harrisburg's oldest developments. Their small yard would hardly accommodate sheep or goats, let alone a steer, so the Neffs had to focus on smaller animals.
They started in 4-H with guinea pigs, then moved to rabbits and chickens, even briefly keeping turkeys and guinea fowl. They also took up gardening, sewing and other family living projects.
"It went from one or two projects to like 11, 12," Addison said.
"Fifteen," Alyssa chimed in.
"Plus then all the animals," Addison said.
The family currently has eight French Angora and Dutch rabbits, a guinea pig and about 20 chickens. The sisters prefer bantams, or small-bodied birds, because more of them can fit on the property than would full-size chickens.
The rabbits live in a room of the house that opens to outside, and the chickens live in a coop that doubles as a canoe rack.
While backyard poultry has caused conflict in some localities, the Neffs' birds are well liked.
"A lot of times we'll have neighbors stop by and be like, 'We love your chickens. They remind me of when we lived on a farm or when I was young,'" Addison said.
Neighbors with young children also like to ask questions about the animals. It's been a good opportunity to tell them about 4-H, Alyssa said.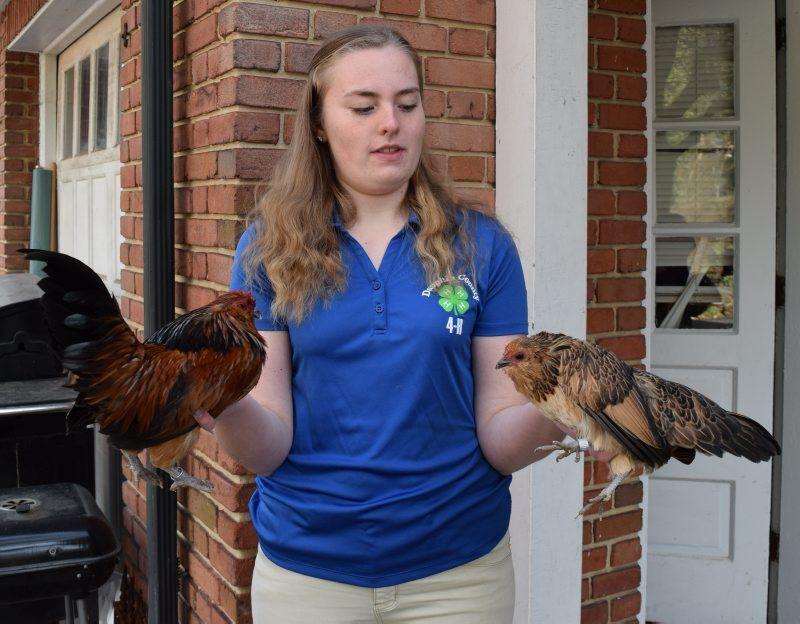 Some neighbors have even made a point of seeing the family's chickens on display at the Farm Show.
The Neffs have competed in the Farm Show's poultry and rabbit shows, the fleece-to-shawl contest, Angorapalooza (a spinning competition using Angora rabbit hair), family living projects and Fashions With a Flair, a fashion show with handmade garments.
Each of the sisters has a best in show or grand champion to her name, and one of their Belgian Bearded d'Anvers chickens usually wins champion or reserve champion in its class.
The sisters would normally spend the first days of January getting projects together and practicing for competitions, before launching into the exhausting Farm Show week itself.
"It's crazy. It's really busy. But it's so much fun," Addison said.
Farm Show food, especially milkshakes and cheese cubes, adds to the enjoyment. Addison estimated her family indulges in roughly two dozen potato doughnuts each year.
The family usually attends almost every day of the show. After all, it's just a 15-minute drive from home to the complex — a bit longer during the capital's rush hour or when the proverbial Farm Show winter weather kicks up.
Preparation for the pandemic-altered show has been unusually laid back, though as commodity representatives, Alyssa and Alexandria have still had plenty to do.
Alexandria, the state rabbit queen, has been making videos that will be used in her takeover for the Farm Show Instagram feed, and she recorded an interview with Pennsylvania Cable Network, which is providing extensive programming for the show.
"I'll be interested to see how it all looks the week of the Farm Show," Alexandria said. "It will just be very different. No one has ever seen this before."
Alyssa has recorded a number of videos for the state 4-H Council and may participate in a few live events.
Having concluded her 4-H career, Addison will have minimal obligations at the Farm Show, but she said the virtual edition has made her grateful for memories and friendships made at previous in-person shows.
In 2019, for example, Alyssa attracted a lot of attention when she exhibited a vest made with the pelt from a skunk she had trapped with her dad.
When Addison was a senior, the entire graduating class (10 students) from her small Christian school attended her final fleece-to-shawl contest.
The sisters said they will miss the Farm Show competitions this year, though this isn't the first time they've had to adapt to national events.
In 2015, they exhibited photos of their birds, not the animals themselves, as a precaution against the massive avian influenza outbreak in the Midwest.
More recently, Alexandria competed in a virtual rabbit judging competition. Lighting and camera work added to the complexity of the task, and few of the standard strategies were available to assess the animal's fiber coat.
"You can't feel the rabbit, and that's a big thing," she said. "Really for any animal, being able to see it in person is so much different than over a screen."
Even with the temporary challenges of the pandemic, 4-H has served its larger purpose in the sisters' lives. Each of them can point to a way that the club has shaped their career pursuits.
Building on her work with fiber, Alyssa hopes to attend South Dakota State University next year and major in animal science and textile science.
Addison, a sophomore at Lancaster Bible College, wants to be an elementary school teacher. She was already one of the older members when she joined 4-H at 11, so she's had plenty of opportunities to work with younger children.
In her second year of high school, Alexandria is thinking of doing something with biology or animals, perhaps becoming an avian veterinarian.
"We didn't join (4-H) to show at our county fair and win those awards, or even at Farm Show," Alyssa said. "We joined to educate, learn and just grow as individuals."